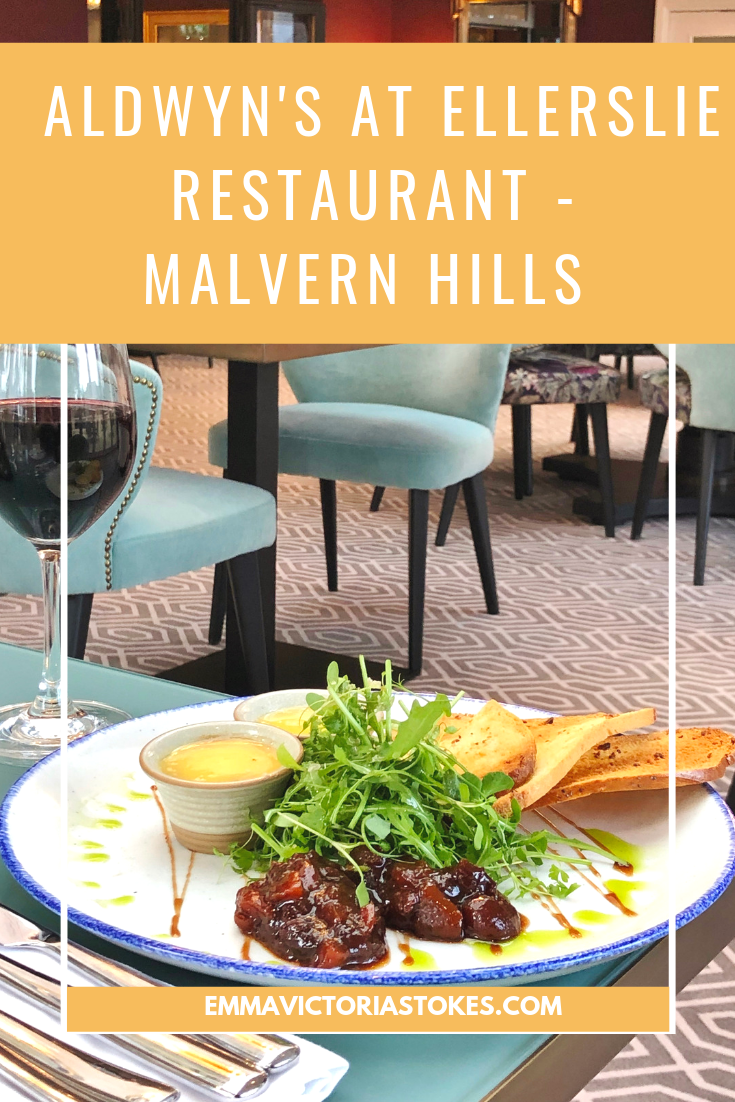 After hearing that Brum based 'Delicious PR' have snapped up another great food client, this time I was excited to visit the gorgeous Aldwyn's at Ellerslie restaurant, based against the backdrop of the Worcestershire countryside, in the town of Malvern.
I've been meaning to visit Aldwyn's at Ellerslie since their grand opening in October 2018. But considering it's an hours drive from Birmingham, I had to plan a date beforehand so that I could walk up the Malvern Hills prior to the visit. Essentially this was so I could build up an appetite before the three course meal. Needless to say it worked. Parking out the front is limited, but is easily accessible via road or public transport. Not only is Aldwyn's the perfect destination for those seeking to 'escape the office, or for those wanting a special meal out', but it's also a fantastic stop off point after a few hours of stretching out the legs.
Interior and Decor
There's no denying that I'm obsessed with the interior. I sent photos to all my mates whilst sitting at the table, it was that beautiful. Albeit set inside a residential village for stylish senior living, (which also sits under the same umbrella company as Three Church Road) the place is no doubt chic and utterly gorgeous. I'm already planning my return trip back there. It's light, airy, modern with pops of colour at every glance. On arrival we were shown directly through to the restaurant. I couldn't sit still until I had snapped 101 pictures of the interior and table settings. I wish I could be this creative when decorating my own home. There is both an all day menu and a dining menu to choose from. Serving afternoon tea to relaxed lunches, Aldwyn's at Ellerslie is a fantastic place to visit for some much needed down time and is a great place to escape from the world.
Starters at Aldwyn's Restaurant
For starters I chose the potted chicken liver parfait, accompanied by plum chutney, sundried tomato crostini, rocket salad & aged balsamic reduction. Sitting at just £7.50, I'd happily pay this much for the presentation alone. Each dish has been carefully curated with flavour, texture and depth that resonates with, and reflects, the gorgeous setting. Pan seared scallops, cauliflower puree, haggis bon-bon and lemon oil – £10.50 also arrives at the table and the tenderness of the meat is sensational.
Mains at Aldwyn's Restaurant
With an great amount of dishes to choose from, it was the oven roasted rump of lamb, gratin potatoes, glazed baby vegetables & red wine jus – £18.95 that won me over. The chunk of lamb was a delight, perhaps cooked a tad more than I would usually prefer – but this didn't take away from the fantastic tenderness and bitter sensation of the jus. The gratin potato was soft and creamy, a flavoursome combination in addition to the crunch of baby vegetable. There are no sides with the plate so I added some sweet potato fries as an accompaniment. The portions are large and although the fries, were a touch late to arrive, this was excused immediately as our server for the day was so polite and ever so wonderful throughout the entire experience.
The 28-day aged Sirloin steak, vine tomatoes, portobello mushroom & skin on chips – £24.50 was a visionary delight. The hue of the vine tomatoes next to the meat made for great pictures. It was also cooked to perfection (rare) and the fattiness wasn't too overwhelming and was very much enjoyed. Needless to say, both plates were practically wiped clean which clearly suggests how well they were received.
Aldwyn's Desserts
Hands down one of the best desserts I've eaten at a restaurant. This homemade Bailey's cheesecake was highly recommend and I can see why. The cheesecake sits handsomely alongside salted caramel ice cream and toffee sauce and comes in at around £6.50. No doubt the winning dish of the afternoon, I certainly made the right choice. The filling was extra thick, smooth, creamy with a subtle blend of cream liqueur. I'll let the photos do the talking. As for Josh, the classic chocolate brownie with vanilla ice cream and chocolate sauce. This was also £6.50 but didn't quite reach the levels of expectation we had for it.
Afterwards, we got to meet the General Manager Simon who kindly showed us around the facilities. Each different section of the residence is decorated differently, but with class and style. I love the pool area and is pretty much identical to the one at Three Church Road, Birmingham. The pool and spa is for residents are paying members only, but you can enquire via their website.
Thanks once again to Delicious PR for the wonderful invite. I can't wait to go back in the summer and sample the afternoon tea experience, Simon said it was definitely worth trying. The new restaurant, bar and bistro is yet to flourish but it's still early days. There are plenty of veggie options available and starters and main dishes vary between £6.50 and £24.50. If you're ever in the area and fancy a bite to eat, be sure to show your face at Aldwyn's at Ellerslie. Walk ins are welcome and I guarantee you'll enjoy a wonderful meal, fantastic table service and if that pudding is anything to go by, one of the best dessert dishes you're likely to taste in 2019.
Aldwyn's at Ellerslie, Abbey Road, Malvern, WR14 3HL
A huge thanks to Delicious PR for inviting me to try the new menu. Please note, I was invited with a +1 for a complementary three course meal. All opinions are my own. See more at www.aldwynsrestaurant.co.uk.