Hold your breath and jump! Go Ape is a thrilling outdoor tree top experience that takes visitors on a journey through a gorgeous forest canopy. With various activity parks located all over the UK, Go Ape, Coventry have opened their 34th location at Coombe Abbey.
Without giving too much away (because it's always better to experience something like this in person) – Go Ape Coombe Abbey, Coventry is set within a gorgeous 500-acre estate. This fun-filled day out is ideal for both adults and juniors, with various courses suited for the big ones and little ones who are still learning the ropes. On April 8th 2019, I was invited by the Go Ape, Coventry team to explore the brand new Tree Top Challenge. The overall experience takes between 2-3 hours depending on your speed and requires endurance to get you through to the end. Along the way, you will encounter various high ropes obstacles and challenges.
Once harnessed up by a member of the team, you will be shown through a demo course before you're let loose on the trees. Be sure to pay attention as once you're up there, there are no members of staff doing the course with you so you're responsible for your own safety. To be honest, I feel this is one of the best parts of Go Ape as you're not being babysat the entire way around. Simply kick back, relax and perhaps scream your lungs out. Enjoy every second because the hours fly by when you're having so much fun.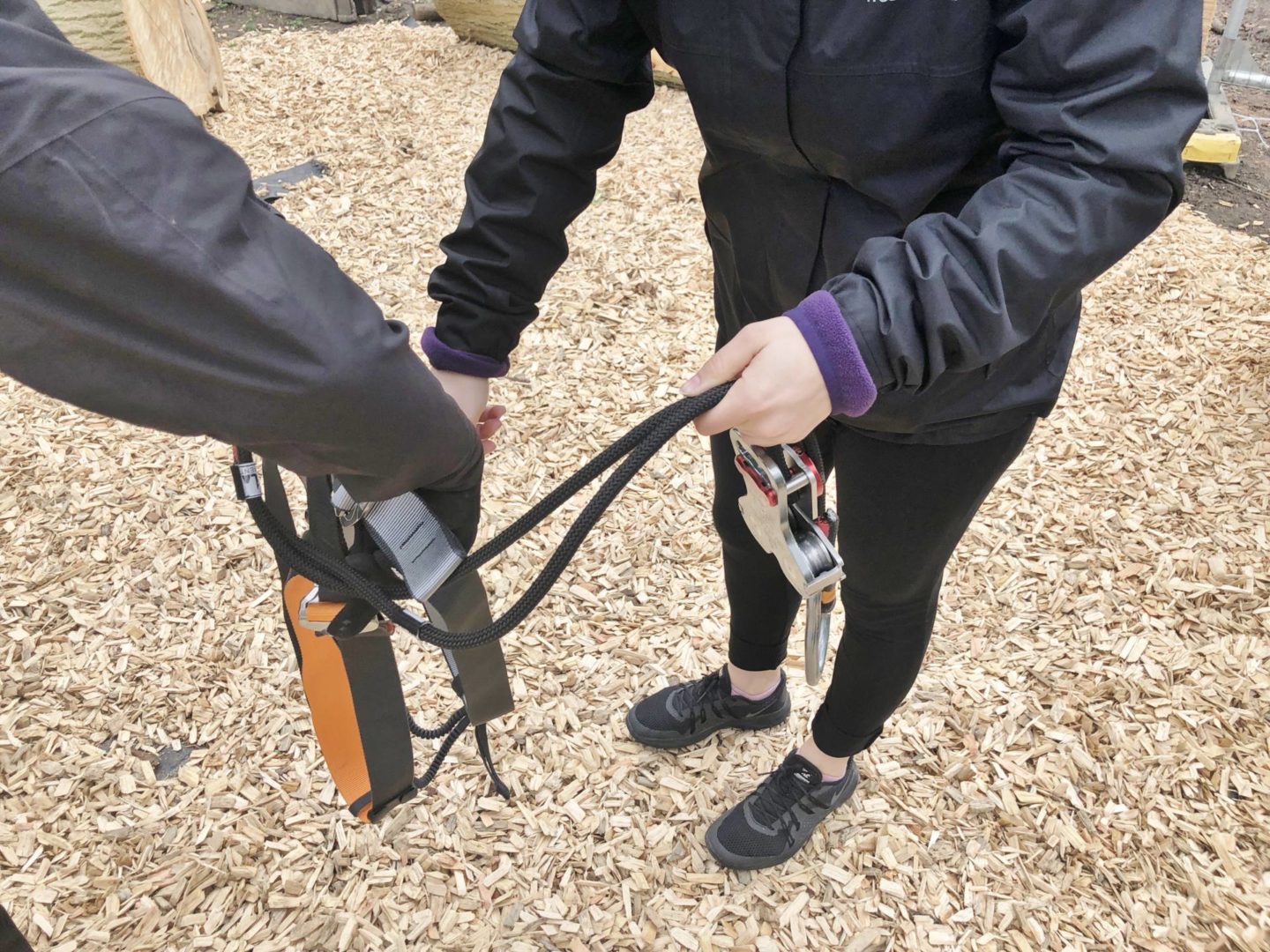 The Tree Top Challenge features some exciting new (and slighty testing) obstacles, so be sure to stretch out your arms and legs before you go. Regardless of how fit you think you are, you will no doubt ache in the morning. Live life adventurously with Go Ape by experiencing the dual Tarzan Swing, a 200m zip course finale and of course, end your day with a leap of faith. Believe me when I say, no experience at Go Ape is complete without experiencing the 12-metre free-fall plummet drop. Do you have what it takes?
The great thing about Go Ape, Coventry is that you don't have to be an athlete to take part. The courses vary from easy to difficult – but with some grit and determination, push through it even if your arms start to ache and you go weak at the knees. You might surprise yourself. Naturally I expected some bruises as you are after all, throwing yourself from great heights. But in order to do so, you need to climb up a lot of things first. During the course you will jump, leap and crawl across and up spaces, but you are connected to the zip line at all times. If you happen to find something difficult; or need a breather, another joy of Go Ape, Coventry is being able to sit back in your harness and slide yourself across. Some of the obstacles also require you to hold onto ropes to pull yourself to the next place. During our experience we found some of the dangling ropes to be a hazard as one of the girls ended up hitting her wrist. So be sure to tuck your arms in and lean back when jumping from any of the the zip wires.
Thankfully we attended on a gorgeous sunny day, so a coat wasn't necessary. I didn't realise this until we were half way up. If you decide to visit Go Ape Coventry, it's advised you wear comfortable clothing and perhaps sport a jacket if rain is expected. Personally, I suffer with eczema on my hands so the rope sections weren't always fun. Next time I'll be sure to pack gloves to avoid irritation. For safety reasons, the Tree Top Challenge is only open to anyone over the age of 10 and over 1.4m tall. Maximum weight for this course is 20.5 stone. The Tree Top Adventure is a brand new activity for children who might not be old or tall enough for the adult courses.
For more information about Go Ape, Coventry visit their website and find your nearest location. Prices start from £26 for early bird tickets and you can save up to 20% when you book in advance. Don't forget to pose with the wooden ape before you leave and scroll down to watch my video.
Huge thanks to the wonderful team at the Go Ape Coventry – Coombe Abbey location, considering this is a brand new opening our visit was fantastic and can't thank everyone enough for making us feel truly welcome. Please note: I was invited to Go Ape with complementary passes. As usual, all words and photos are my own.
GO APE COMPETITION
TO ENTER – LOG INTO THE RAFFLECOPTER PLATFORM ABOVE. COMMENT THE NAME OF THE PERSON YOU WOULD TAKE WITH YOU IF YOU WON. WINNER WILL BE CHOSEN AT RANDOM ON 18TH MAY 2019.
The prize at Emmavictoriastokes.com is for 2 x tickets for the Tree Tops Challenge at Coombe Abbey, Coventry. Once a winner has been picked, I will contact them directly and I will need to send details to Go Ape. A voucher to be sent to your email address so you can book yourself on when you would like. Tickets are a summer related prize and would just need to be used by 15th October 2019. Go Ape has the right to cancel tickets at any time.