Ad – This meal was gifted.

It's rare that I dedicate a whole blog post to a takeaway. But since trying Pinch of Masala, I've wanted to scream about it a lot on my social media. This is where outstanding food meets the convenience of a takeaway. I'm exceptionally happy about that.
During lockdown, the entire hospitality industry endured four rounds with Mike Tyson. Battered and broken, with many places shutting theirs door for good, it didn't seem as though many companies would pull through. Forbidden to dine in restaurants, not allowed to see your nan; and having to Zoom your employers in your underpants was, and is still, considered safe and completely normal. For a while, we were only allowed to eat, breathe, see family and basically survive at home. During this bonkers time, Pinch of Masala team – is a family-run company spread its wings and launched. Providing a fantastic delivery service, it's always beneficial to have the convenience of incredible food delivered to straight your door.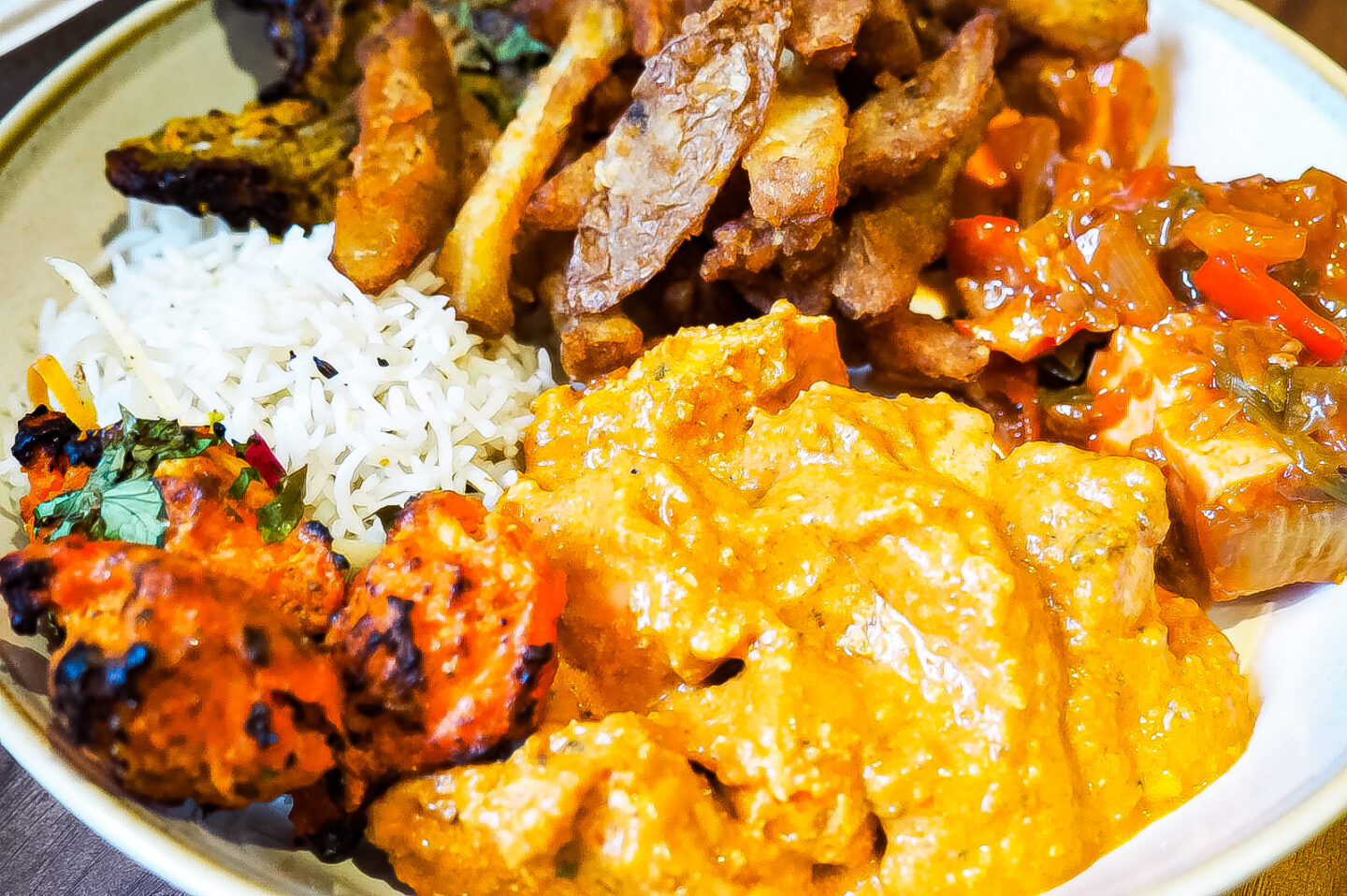 Located in Smethwick, B66 2JL, owner Dinesh got in touch to ask if I'd like to sample a few of their dishes. Now I've blogged about food for years and it takes a lot to surprise me. Then Pinch of Masala arrived at my door one Saturday evening. Based 20ish minutes away from #Stirchley, hands down the food and service we received was exceptional. Think Savoy of the takeaway world. They deliver up to 8-9 miles from their head kitchen depending on capacity.
I was asked to try anything I wanted from their menu. It's proper impressive stuff. Their website is quirky, full of colour and humour. Each dish (enough to serve two people) has its own caption. Enticing you to purchase, the menu is split into vegetarian options, meat dishes, naan breads, rice, & sides, garnishes, drinks and desserts. It's affordable and they have an allergens list too. They provide gluten-free meals too – simply ask in advance to your order so they can prepare in good time.
What did we order?
Chilli paneer – £5.75
Butter chicken – £8.95
Palak gosht (Spinach & Lamb) – £9.95
Lamb chops – £7.75
Peshwari naan – £3.25
Garlic & coriander naan – £2.75
Masala thick cut chips – £3.75
I asked POM to kindly include other dishes that he felt we needed to try. So were also given the Tandoori Soya (£6.75) and Gulab Jaman Cheesecake, 1 portion is 2 pieces. (£7). If you'd have told me last month I would enjoy eating Soya, I would've told you to politely walk away. This dish took me by surprise. It was tender and tasted just like chicken, there's clearly some black magic happening here. We had more than enough dishes for two plates each and even had leftovers the next day. One of the best things about this place? All of their food containers are recyclable. The bottom part of the food containers are made from plant fibres, so are easily compostable. The top plastic cover can also be recycled. Great food and no waste, everyone is winner.
What I admire most about Pinch of Masala is that they're not pretentious. The owner arrived my door with a beautiful takeaway bag that resembled something you'd see in Selfridges. The service and overall quality of this company goes beyond anything I've ever seen.
To say thank you to the team, I want to give something back and offer one reader a paid for meal. Head over to my Instagram page to enter my competition. In the meantime, pop over to Pinch of Masala's social media channels and show them some love. These independent services need our help now more than ever!
Deliveries are available via Ubereats and Deliveroo. They can only deliver so far, so if they can't come to you, give them a call and they can sort something out for you.
What you need to know
Pinch of Masala is open Thursday to Sunday – 5pm to 10pm.

Use their postcode checker when selecting dishes to see if they deliver to your area, including a delivery fee. Pick ups are also available.

It's free delivery over £40.

POM do bespoke orders, catering for more than 10 people – even up to a 1000 (when it's safe to do so for weddings, events, etc!)

Visit the Pinch of Masala website and treat yourself, you know you want to.
Please note: I was offered a free takeaway meal in return for honest feedback. I was not asked to write a blog post. I am running a competition on my own terms and it will be paid for by myself.
You can read more of my food reviews here.