Midlands Art Centre (MAC) Edgbaston are proud to welcome customers to new opening KILN café and restaurant.
Over the lockdown period, Midlands Art Centre (MAC) partnered with Birmingham-based 2G Design and Build to revamp their cafe area. They are proud to welcome customers to KILN café and restaurant. This modern, vibrant area is perfect for anyone looking for a bite to eat in Edgbaston. Adjacent to Cannon Hill Park, Kiln serves up a hearty range of breakfast, brunch, lunch and dinner options and they are proud to include fantastic stone baked pizzas using their very own MAC slow-fermented dough. Customers can also purchase pastries and cake if you're passing through for something sweet and a brew. Throughout the year, KILN will slowly introduce seasonal menus as they welcome families, theatre-goers, cinema lovers, park lovers and everyone in between. I urge you to go and enjoy some food in this clean and vibrant setting.
BREAKFAST AT KILN
After confirming a booking a few days prior, we stopped for breakfast on Monday (May 2021 Bank Holiday) and were the first ones in. If you plan on visiting during the week (between 9am-11.30am) you have options from the standard breakfast menu including: toast, porridge, baps, vegan baps, a selection of freshly baked pastries and granola. On the weekends (Saturdays and Sundays between 9am-11.30am) there is a separate menu which includes vegetarian breakfasts, quesadillas, smoked salmon on toast, chorizo hash and American pancakes. Light bites, pizzas and the children's menus are served from 11:30am. Kiln is table service only and customers can scan the QR code to purchase food and drinks. It's a simple process most places have nailed down.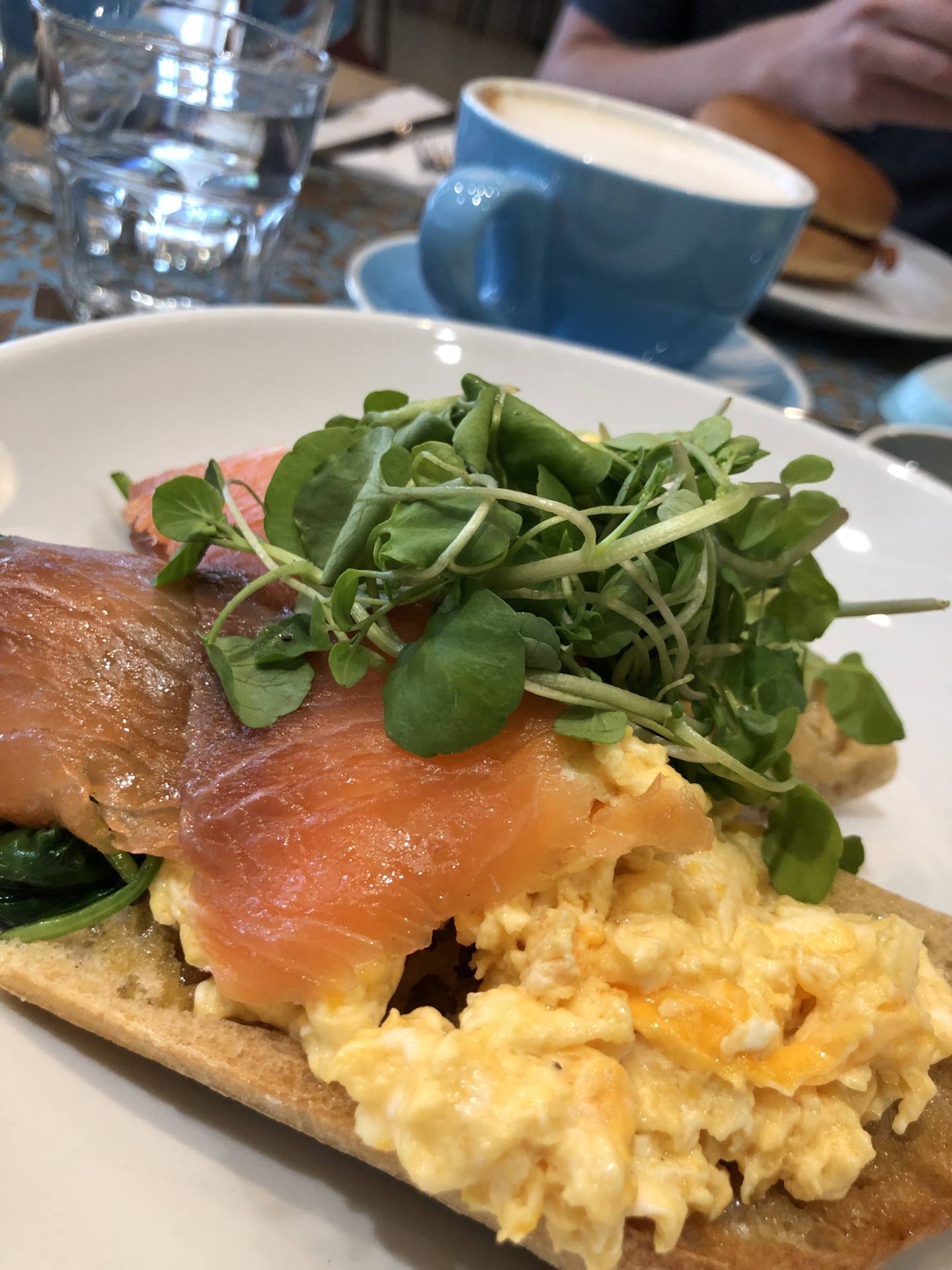 We ordered the Smoked Salmon on Toast (£8.50) – toasted sourdough topped with spinach, smoked salmon & scrambled eggs and Bacon & Hash Brown Bap (£4.95) – smoked bacon and a hash brown served on a soft bap.
The toast was buttered well and salmon serving was good, although felt it could have done with a more generous portion considering the cost. The latte (£2.75) was great and our toddler tried his very first Babyccino (50p)– milk and powdered chocolate on top. The staff were attentive and just let us enjoy our food, which is what anyone wants at 9am.
A side serving of pain au chocolate was flaky and still warm, perhaps freshly baked not long before serving. The brownie was by far the best thing about the breakfast and would definitely order a stack of these. It's exceptionally gooey and has a perfect scattering of nuts throughout. Grab one if you can and enjoy whilst you walk around Cannon Hill Park. To book your table for KILN, head to www.macbirmingham.co.uk/visit/kiln-by-mac. Be sure to follow @kilnbymac on Instagram for their latest updates.
A FEW THINGS KILN WANTS YOU TO KNOW
KILN is now open to the public and is family-friendly. For bookings of over 6 people, call them on 0121 446 3232 or email [email protected]. In line with current guidance (June 2021) KILN is table service only and customers can order meals via the QR code provided. You do not have to wear a face covering when sitting down at KILN, but you should wear a face covering when moving around the MAC.
Breakfast from 9am – 11.30am
Lunch from 11.30am until 5pm
Reduced dinner menu and drinks served until 8pm
Find them: Midlands Arts Centre, Cannon Hill Park, Birmingham, B12 9QH