#Ad-media stay – A family-friendly stay at the incredible Park Plaza hotel in July 2022 allowed us to enjoy some #ParkPlazaMoments during our trip.
First off, I'd love to give a huge shoutout to the superb PR team and staff at Park Plaza London Riverbank for providing a one bedroom suite for our family stay. The reason for our visit coincided with a stroll over to indulge in the London Superbloom Flower Event at the Tower of London. We checked into Park Plaza later on in the day after the concierge safely held our bags in storage. I should add, it completely took me by surprise as I thought I was reviewing a standard double-room. But a little treat awaited us as we entered our room for the night.
One Bedroom Suite at Park Plaza Riverbank London
Our room was spectacular – possibly one of the nicest hotels I've ever stayed in London. Complete with a lounge with a sofa bed, this generously sized one-bedroom suite is perfect for a family or a small group of adults. Having that extra bit of place also meant we could put our toddler down on the night and stay awake and watch TV without the risk of disturbance in the same room. In reality, this is every parent's dream. Admiring the floor-to-ceiling window with gorgeous views, our space overlooked the London Riverbank and out across the city. Everything from the room service to the bath tub was spot on, and I wouldn't hesitate to stay here again. The suite was incredibly spacious, clean, modern and came with its own living area and Nespresso coffee machine. Being pregnant at the time, I really enjoyed taking some time to run myself a hot bath using the Elemis toiletries, bathrobe and slippers. It felt like a spa day in my very own hotel room.
Sebastian loved the Queen size bed and took to bouncing on it straight away. "Wow" he kept saying as he looked around the suite, it was more than what I could have hoped for during our family trip away. What's more, the team had kindly provided an extra cot bed (on request) for him to sleep in. Ultimately this meant we all got a really good night's sleep and we pulled Sebby into the bed with us come morning. We all got a lie in until 6AM and it was utter bliss. I love the fact we had a separate lounge area which meant Seb could sleep in peace while we had the open space next door.
Before I headed out to a gig on the night, I took the opportunity to order room service. The TV in the bedroom showed us what was available and I ordered via my phone and paid in full. This was not part of the collaboration but I was more than happy to pay on my own accord. The total came to around £50 including drinks and a tip, so in terms of London prices, this wasn't too much of a hit.
FISH FINGERS WITH CHIPS – £9.50
CRISPY AROMATIC DUCK PANCAKES – £21
GRILLED BEEF BURGER + FRIES – £20
As part of my collaboration with Park Plaza, we were also given full access to the 12th Floor Executive Lounge for guests to enjoy panoramic views from Battersea towards the South Bank and beyond. We had breakfast here in the morning and considering we were with a toddler who loves early rises, it meant we were the first ones in the room and could choose from any table across the entire breakfast area. This entitled us to the most gorgeous views across London, plush seats and an ultimate buffet selection. It was an absolute joy to be able to sip coffee and eat food with such a beautiful backdrop. During our stay, Sebby was at that age where it's roulette whether he'll sit down at the table with us for food for a certain period of time – so sometimes plonking Mickey Mouse on the phone for 20 minutes is a lifesaver. Don't tell me you wouldn't do the same.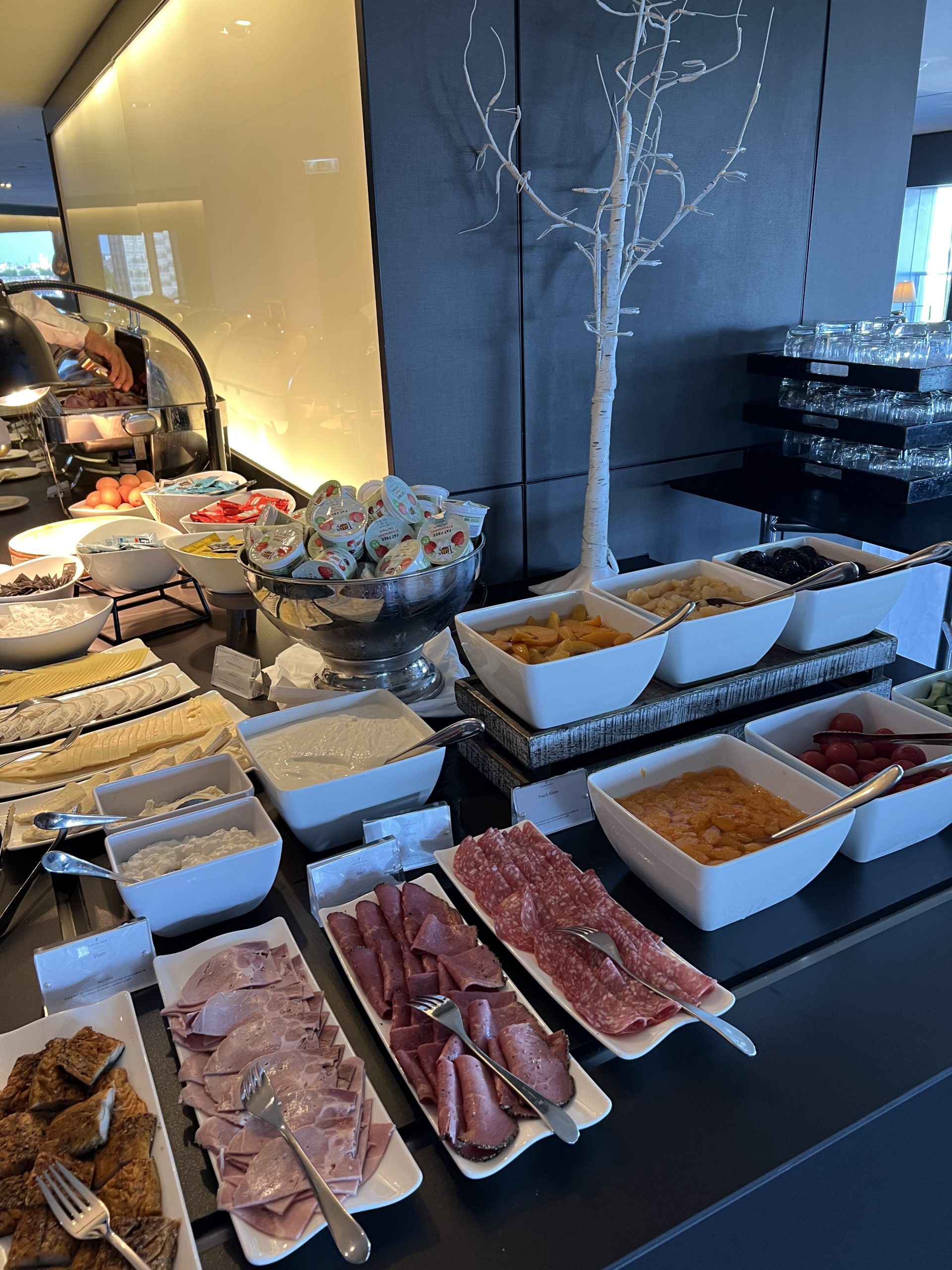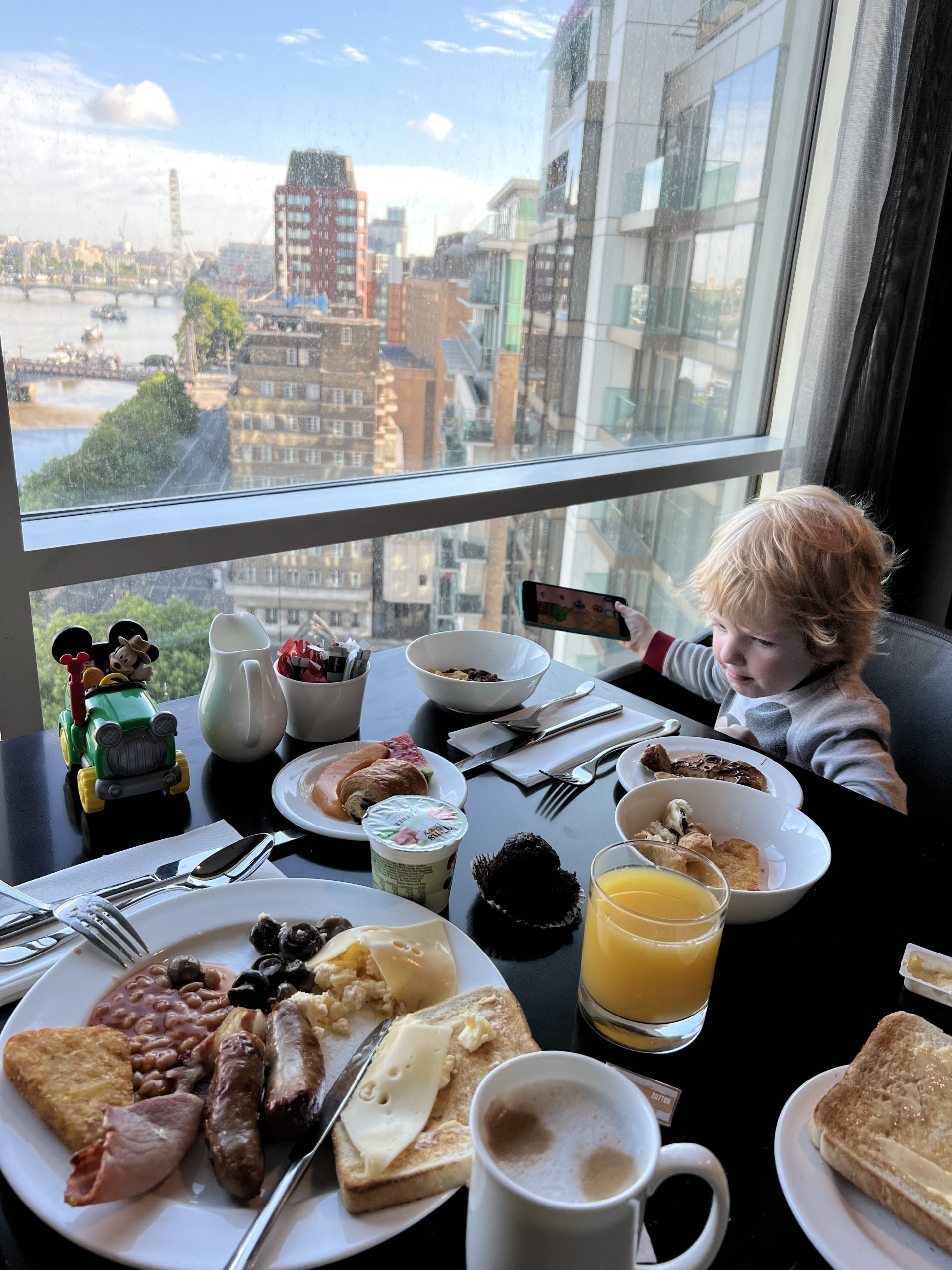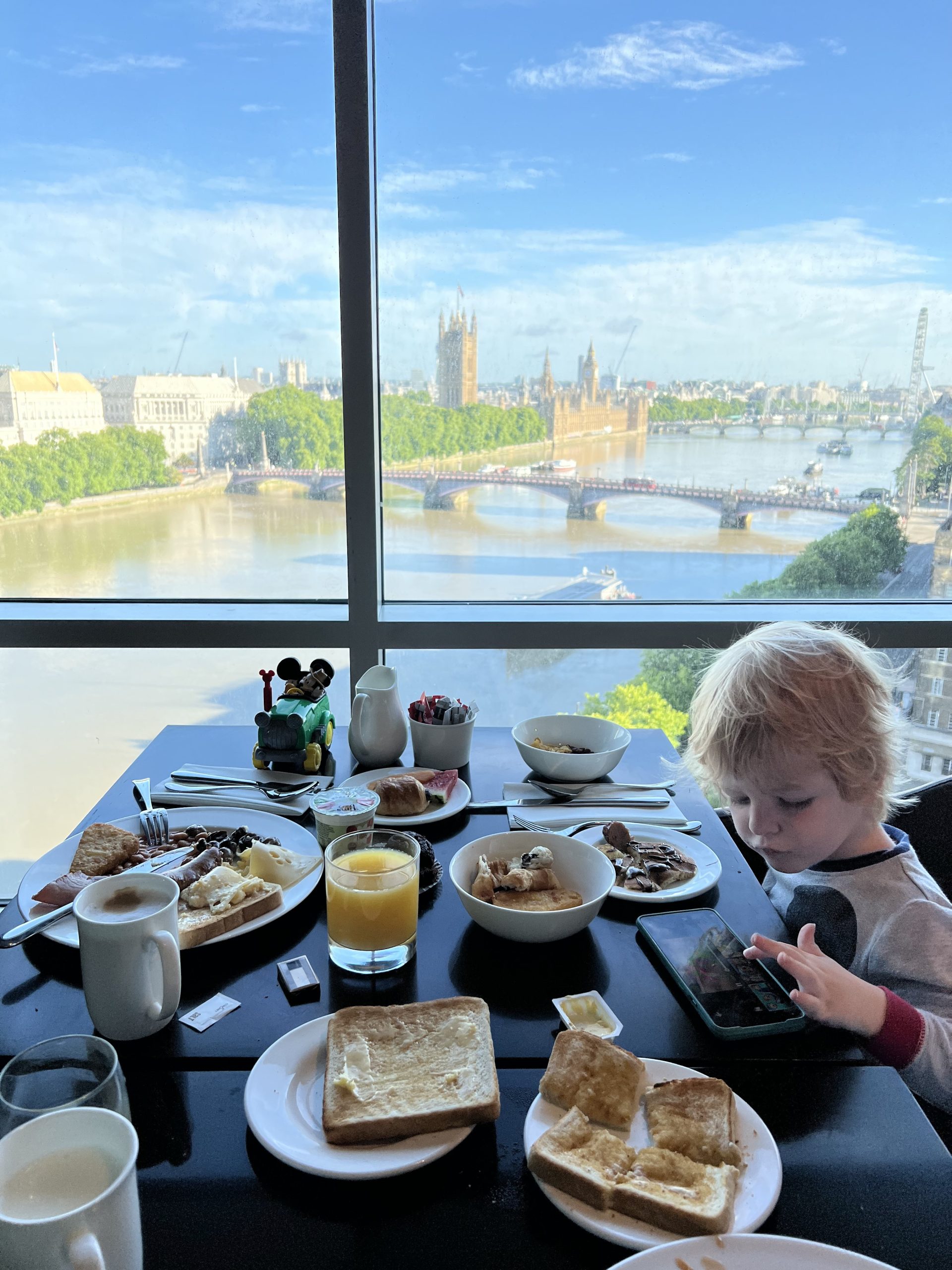 Breakfast is a buffet style so guests can choose whatever you like. They had hot breakfast options, plenty of fruit, croissants, pancakes, cereals and everything you can think of to get your morning off to a good start. Core hotel breakfast memory… unlocked! Park Plaza Riverbank, you were incredible and can't wait to visit you again in future with my little family.
Things to know – the hotel offers:
Over 600 contemporary rooms, studios and suites
109 suites offering river views, balconies and self-serve kitchenettes
Pan-Asian Chino Latino Restaurant and Bar
Executive Lounge overlooking the Houses of Parliament and Battersea
24 conference, event and meeting rooms
Coach drop off and pick up
A 24-hour Concierge
18 Albert Embankment, London SE1 7TJ
parkplazariverbank.com