Ad-press trip | Set in the heart of historic cathedral city and the county town of Cheshire, England – the surrounding area oozes charm and is the perfect place to relax and unwind.
When searching for highly-rated hotels in Chester, it comes as no surprise that Hotel Indigo ranks as one of the best. With its outstanding Forge restaurant, a cosy bar and 75 uniquely styled air-conditioned king bedded rooms, the hotel is a perfect place to base yourself as its conveniently located in the centre. It's a super easy reach of both Liverpool and Manchester (which we did the night before!) – and is easily located just off the M53 motorway. If you have yourself some free time, discover Chester's Rows and extensive shopping district, not to mention the award-winning Storyhouse theatre, and the 2000 year old city walls. The cathedral is pretty damn stunning too. The hotel itself is just a short walk from these attractions, so you'll be able to enjoy them all without having to rely on public transport.
King Deluxe Room – Hotel Indigo Chester
Prices for a King room vary depending on availability and weekend rates, but you can expect to pay anywhere up to £135 per night. A range of standard, twin, and double bed rooms are also available if you're thinking of staying with friends/family or for business purposes. Upon arrival, it was absolutely chucking it down, and should be noted there isn't an easily accessible car-park next to the hotel. The nearest spot is either the Chester Browns Yard or a NCP located around a 3-4 minute walk away. Thankfully, Josh dropped me safely outside in the parking bay with our bags and I checked us in which was a smooth and easy process.
Once upstairs on the first floor, I entered our King Deluxe Room which is incredibly spacious – offering free wifi, air con, a Smart TV (Josh took certainly advantage of this while I had a long bath) alongside a Nespresso machine, fluffy robes and slippers. Fresh milk can be found in the mini bar and there's an array of coffee pods waiting to tease your tastebuds. The theme is Tudor-esque and even the bin had an image of a cat on it. The details for the Hotel Indigo rooms are superb and is definitely something you'd expect from a quality hotel. What's more, you can find plugs, lights to the room and USB ports next to the bed.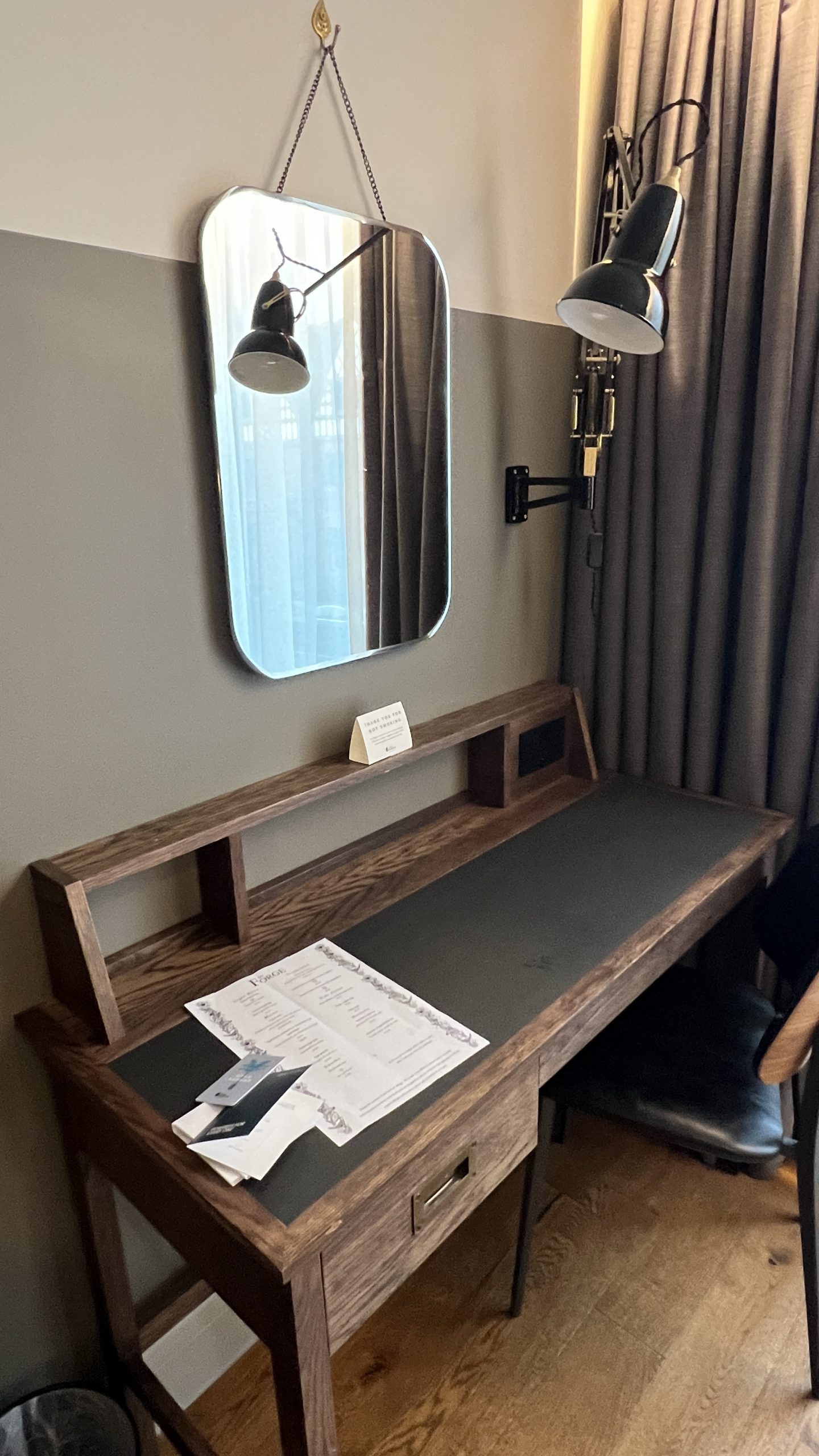 Forge Restaurant – Hotel Indigo Chester
The hotel shares its space with The Forge, headed up by restaurateur and quality chef, Mike Robinson. I'm an absolute sucker for room service and at the Hotel Indigo, guests can order food to the room 24 hours a day – although this comes at a cost of being a shortened down menu. Owing to the fact this press trip was to experience the restaurant at its fullest, we were excited to head down around 7:30pm to see what was in store. With a passion for great food, drink and a brilliant team, The Forge brings guests one of the most exciting menus in Chester and is definitely not something you'd expect to find within a hotel. We saw huge groups of people and couples walking in who weren't even staying at the hotel. This alone screamed volumes.
Chef Mike's food is modern British cooking at its best, using world-class ingredients to create dishes that are simply delicious. The kitchen offers a menu of seasonal ingredients and dishes and the wine/cocktail/beer list is extensive. We were seated in a booth which was phenomenally comfy, and I was embedded in a sea of pillows – perfect for me being a pregnant lady as I could easily recline back with ease. One of the most eye-catching features of the restaurant is the bustling open plan kitchen, by which guests and customers can see chefs working to their capacity to get plates out on time. The roaring ovens are steaming with oak and beech logs, waiting patiently for the slabs of meat from the maturation cabinet to be brought over. Customers can head over to witness the mammoth pieces of meat for themselves before selecting their preferred option.
During our visit, the staff were so incredibly attentive (to us, and everyone else around us) and I was sure to note this down. We were chatting to one of our servers who was asking me about my pregnancy and went the extra mile to make us feel right at home. We were guided through the menu and Josh absolutely loved the meat fridge. The restaurant isn't in any way pretentious, but it does have that calm and relaxed vibe that would be perfect for a date night. During our visit to The Forge, we spotted one couple causing some disruption with regard to how their gigantic slab of steak was cooked (the woman wanted rare, where as the male partner wanted medium-well done.) Naturally, the entire ordeal seemed orchestrated and they left without finishing their meal. It's a shame what alcohol does to some people! We didn't let this impact our meal in any way and we felt our own experience, including the serving times and overall ambiance was superb.
Starters, Mains & Dessert at The Forge
Menus are subject to change throughout the year owing to local produce selection, but if you are thinking of heading for a bite to eat, updated menus can still be downloaded via the Hotel Indigo main dining page. So at the start of our meal, fresh bread was given to us and drinks swiftly ordered. For starters, we opted for the Wild Venison Scotch Egg (£6.50) to share, Munjac Rissoles (which are technically wild deer meatballs) (£6.50) alongside a plate of the Cauliflower Cheese Croquettes (£6.50). All arrived at the table within 10-15 minutes of ordering. It was impressive to see how long the food was on top of the bar, to being bought over to the table, which was pretty much instant. There's no messing or hanging around here, the team are certainly on the ball.
The scotch egg was decent and of good size to share but wouldn't have been my preferred dish. The Croquettes were gorgeous and I thoroughly enjoyed and appreciated the cheesiness, especially when they were also sprinkled in parmesan. Muntjac isn't something I've tried before, or to my knowledge, but they were exceptionally tasty and are a warming dish for any meat lover. They were recommended to us by our server, and she, alongside the food, didn't disappoint. Other starter options on the menu consisted of game, chalk trout, risotto and venison tartare but we decided to stick with nibbles to begin. I'm glad we did, as when our main meals arrived, I feel as though as hearty starter would have been overkill.
Main Meal at The Forge
Grilled Pork Chop with shallots, crispy leeks, compressed apple and lardons jus (£24) was Josh's option, along with mine being the Braised Hereford Short Rib with Roscoff onion, charred broccoli and bone marrow gravy. (£24) Both plates were stunning and the meat was exceptionally tender. The way the short rib fell off the bone was incredible, and as a customer I could tell that my plate was cooked with precision and extra care. I love the fact we were encouraged to order an arrangement of side dishes too (the dirty mash was one of the winning sides of the meal for me) along with some BBQ Hispi Cabbage (£5). The photos speak for themselves, really.
At this point, we were so stuffed (even more so the fact I'm eating for two!) that I asked if we could roll out of our booth and take the pudding upstairs with us for afters. I would say the only little gripe I had was that I fancied the Chocolate orange fondant tart – with vanilla ice cream, but it was £12 for this alone. I think the dessert menu seems excessive in terms of pricing, although the fondant was another perfect dish to share and paired well with a cuppa once back in the room.
Hotel Indigo Breakfast
There's no doubt that we slept like logs that night. We had a really good night's sleep and awoke to our breakfast time for 8AM. We were slightly late for our reservation – because how often is it that two parents get a lie in? Needless to say, we raced down to our table. The continental breakfast includes a variety of freshly baked pastries, fruits, cereals, yoghurts, cured meats and cheeses, along with porridge options. Tea and coffee is offered upon seating and a selection of fresh juice can be easily poured from over at the bar.
A perfect breakfast for hungry bellies
Hot dishes range from Full English breakfasts to smoked salmon and toast options. Guests can also choose from egg plates to pancakes. The bacon and maple syrup did sound rather tempting so I ordered some. The hot menu is small, but they bring orders out freshly cooked to your table. If you were to walk in and order a breakfast (not as a hotel guest) – you'd be expected to pay £20 for adults and a fiver for children.
I love that my pancakes came with two extra large slabs of thick bacon, none of the steaky stuff you'd usually expect from a hotel breakfast. Josh ordered a Full English and the beans arrived in a pot on the side. You wouldn't believe the amount of times I've stayed at a hotel and the beans are brought over running off the plate – so again this is a fabulous indication that the staff take extra precaution and care to ensure your breakfast is as enjoyable as possible.
Overview of Hotel Indigo, Chester
We had a rather beautiful stay at Hotel Indigo Chester and it was the first time I've actually stayed at one of the IHG hotels. Considering I've deemed myself as a hotel blogger all these years, that's a pretty poor effort from me. Everything inside this modern hotel just felt extra cosy and secure, the fires were always lit and the staff always seemed to have smiles on their faces. The night before, we had wondered into the city on foot, mooched around and landed in a local bar for a drink. Christmas lights were already twinkling but in all honestly, I couldn't wait to return back to our room for a hot bath. It was worth the wait, believe me. Guests can expect a brilliant stay, paired with deliciously soft beds – and the best bit is having a rather decent restaurant onsite too. The train station is just 10 minutes away so your options to head out and see more sights are endless.
The hotel is certainly one of the cleanest, friendliest and stylish hotels you can find in Chester and I'm so very glad I got to experience a trip here before Christmas. All you have to do is read the Google reviews to see how wonderful Hotel Indigo place truly is. The cathedral is absolutely stunning and well worth a visit. Keep your eyes peeled for the Lego statue as pictured above.
Hotel Indigo Chester, an IHG Hotel
Grosvenor Park Rd, Chester CH1 1QQ
Please note, I was invited to review the Hotel Indigo, Chester hotel in return for honest feedback. All accommodation and food was complimentary but we paid for our own drinks.
Thinks to know
The Hotel Indigo group of boutique hotels is run by IHG – a British multinational hospitality company headquartered in Denham, Buckinghamshire.
Constructed in 2019, designed to reflect the cities famous architecture.
Check out all of your parking options here before arriving.
If you stay on a Saturday night, why not choose 2 or 3 courses from their Sunday Lunch Menu.
More info can be found on the Hotel Indigo Chester website.
Follow the Hotel Indigo Instagram page here.