IT'S HERE! I'm happy to announce the safe arrival of Pint Shop Birmingham – officially pushed out into this world on Wednesday 10th October after a very successful soft launch. By no mistake I've been eating an obscene amount of food lately – one is expecting a food coma any day now. So naturally one couldn't miss out on visiting Pint Shop on at 38 Bennetts Hill during its first official Sunday service. With an influx of positive vibes flooding in from foodies and general pubic alike, there's been a lot of anticipation on what this place would actually be like. There's no denying upon entering for the first time that it has a very 'manly' feel. Gentlemen if you will; brown chairs, slick black shiny floors, green bathrooms, wooden tables and chairs – all they need now is to add 'pipes and a monocle' to the set menu. Manly factors aside, inspiration for Pint Shop first came from the 'Beer Houses of the 1830's' and so far, it seems to be doing a bloody good job.
Let's start with the facts – it would be impossible to die of thirst here, what with the dozens of beers to line your stomach with. Entering the venue on the bottom floor is the bar area. The restaurant and toilets are located on the second and third floor so there's a bit of climbing to the top if your bowels scream release. It's hard to look past the gigantic board on your left which boasts a wide selection of beers, more interestingly with some iconic Brum based ones on there to swim through. There's a 'no faff' aurora about the place with prices and percentage clearly labelled for you to gauge. Also… super easy to read if you're blind drunk, I'm assuming.
Once we'd had a drink on the lower level and browsed through the bar snacks menu (which is bloody gorgeous by the way) I highly recommend diving into the Onion Bhaji Scotch Egg with Mango Raita. It's the purest definition of 'yolk pork' and I'm happy to be able to say, the hype is real people! As expected, the first menu is gorgeous and sets the bar incredibly high. Of course you'd expect nothing less than with Mark Walsh, from Opus leading the way. I'm yet to head back and try more of the bar snacks – the deep fried fish sandwich sounds delightfully pornographic and prices seem reasonable too.
Once upstairs, we were seated in one of the back rooms near the window, under the hanging plants. I made the conscious effort to prebook our table as I just knew every other table would be full. I wasn't wrong. The restaurant section resembles someone's living room (hanging carpets on the wall, pictures in frames – you get the picture) and is effortlessly beautiful. I would also like to address the service on the day was impeccable and was highly appreciated owing to Josh just running the half marathon. We needed food and drinks, STAT! Sunday roast offerings range of; 'Two courses for £21, or three courses for £25.' I chose the social-media famous Onion Bhaji & Pork Scotch Egg, Mango Raita £7.50 to start.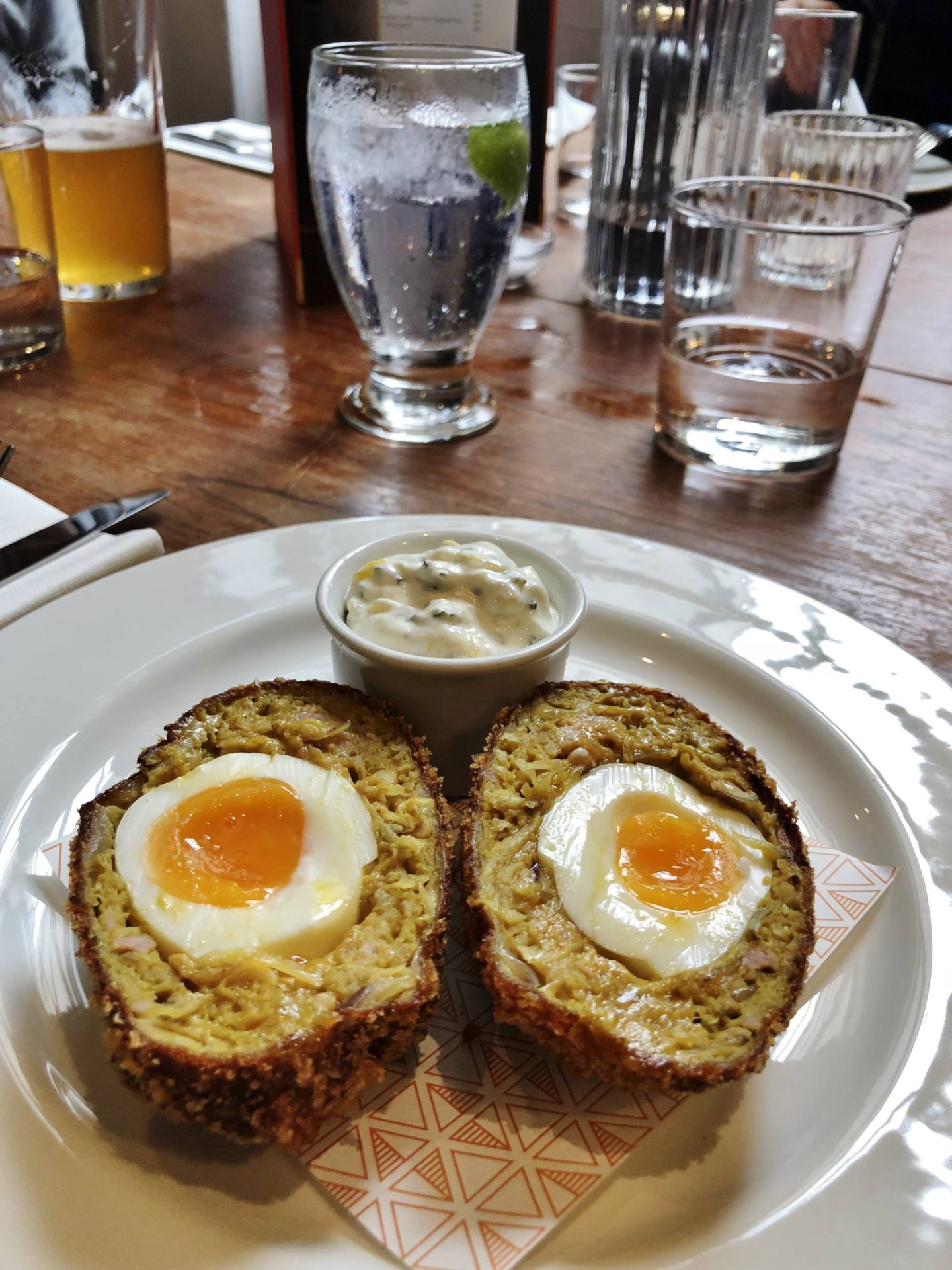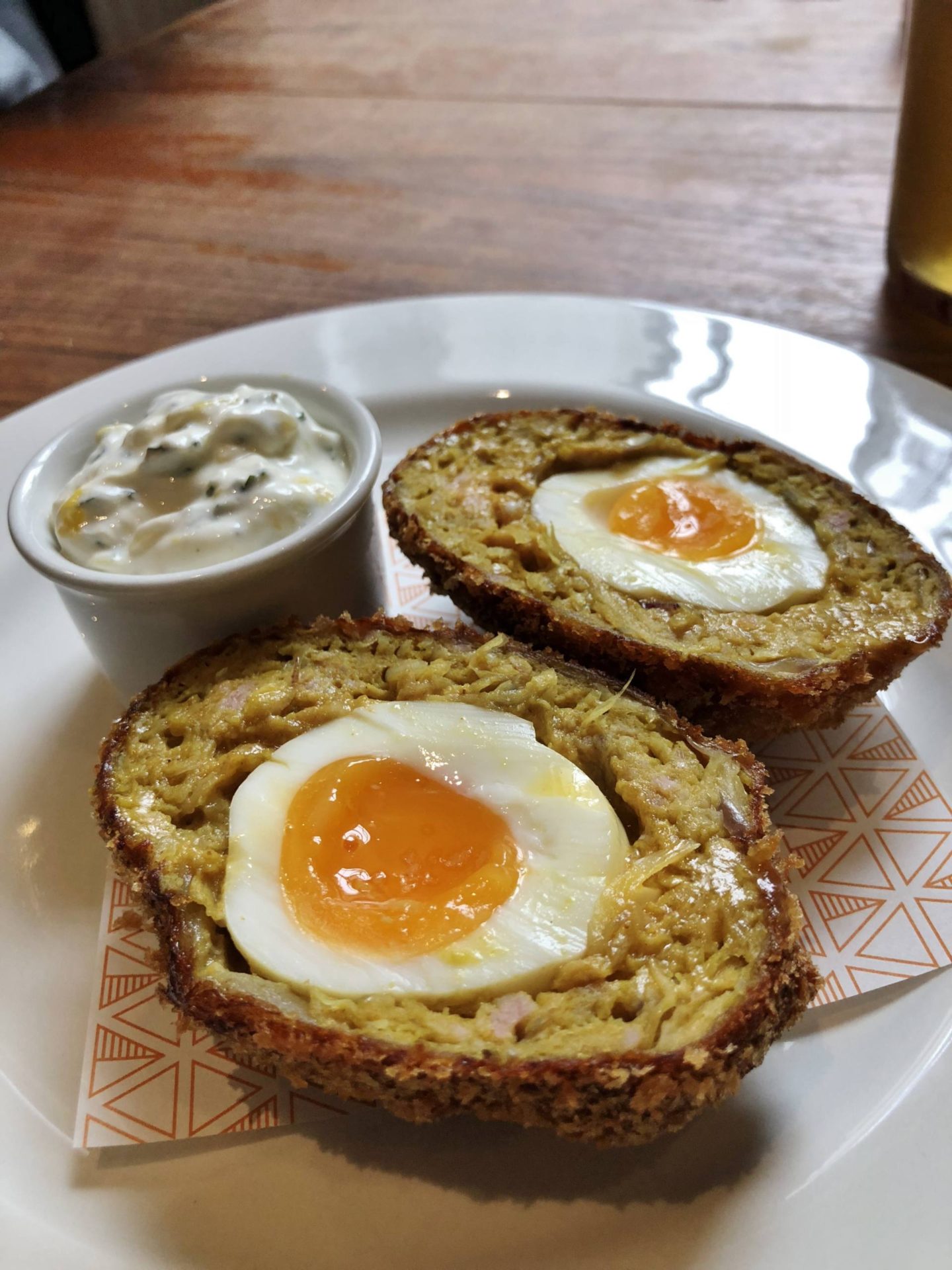 The gooey yolk is nestled inside a tender onion bhaji mix and will ultimately take the Birmingham food scene by storm. A fairly big portion for a starter, I agreed to share half with Josh who gave his nod of approval once taking the first bite. Once dipped inside the mango raita, I dont think I've tasted anything else quite like it.
Roasts vary from 'Spit Roast Beef Rump w/ Yorkshire pudding', 'Overnight Pork Belly' or 'Spit Roast Chicken & Stuffing'. All plates are served with roast potatoes, greens and gravy. See full menu here. I'm just putting it out there, this is quite possibly one of the tastiest Sunday roasts I've ever had in Birmingham. The pork was so tender it cut through like butter. The perfection of cracking just added to flavour. Roasties were cooked to perfection also, and I made sure to spend time cutting them in half and sprinkling table salt on top of each one. That's right, just call me Miss Piggy. Josh's parents had the beef and it was a pinky perfection.
With enough room to smash down a pudding, to be frank they all looked sexy. Friends on social media told me to go for the Chocolate Cremeaux £7. Others tried the Lemon Meringue Fool £6 which was tangy and sweet combined. Exceptional from start to finish and not forgetting other options such as the Chocolate Knickerbocker Glory £6  – I can't rate this place highly enough. Don't be fooled either – this place ain't just for the big ones as they serve kids portions too.
Naturally I've been very excited about visiting the Pint Shop and I'm veeeeery happy to say it succeeded all expectations by a million miles. I'm sure it'll have its teething problems and perhaps seasonal offers may be introduced at a later date too, but overall, what a beaut. I'm glad it's finally here and without a doubt, it'll be one of my favourite places in the city centre for a long time to come. The future is bright, the future is Pint Shop. High five to you all. P.s – Here's a photo of the ladies bathroom just for good measure. Pretty, huh?
Pint Shop, 38 Bennetts Hill, Birmingham, B2 5SN
Please note: I visited Pint Shop as a paying customer. The bill was paid in full and I'm writing this post off my own back. Make sure you visit at some point this year, you won't be disappointed.