It's been a hot minute since I last updated my blog. Truth is, I've been so busy swanning around trying some of the latest openings and food in Birmingham City Centre that I got so caught up in the sin of Gluttony I forgotten to update my website. Oh well. Here goes nothing!
Slim Chickens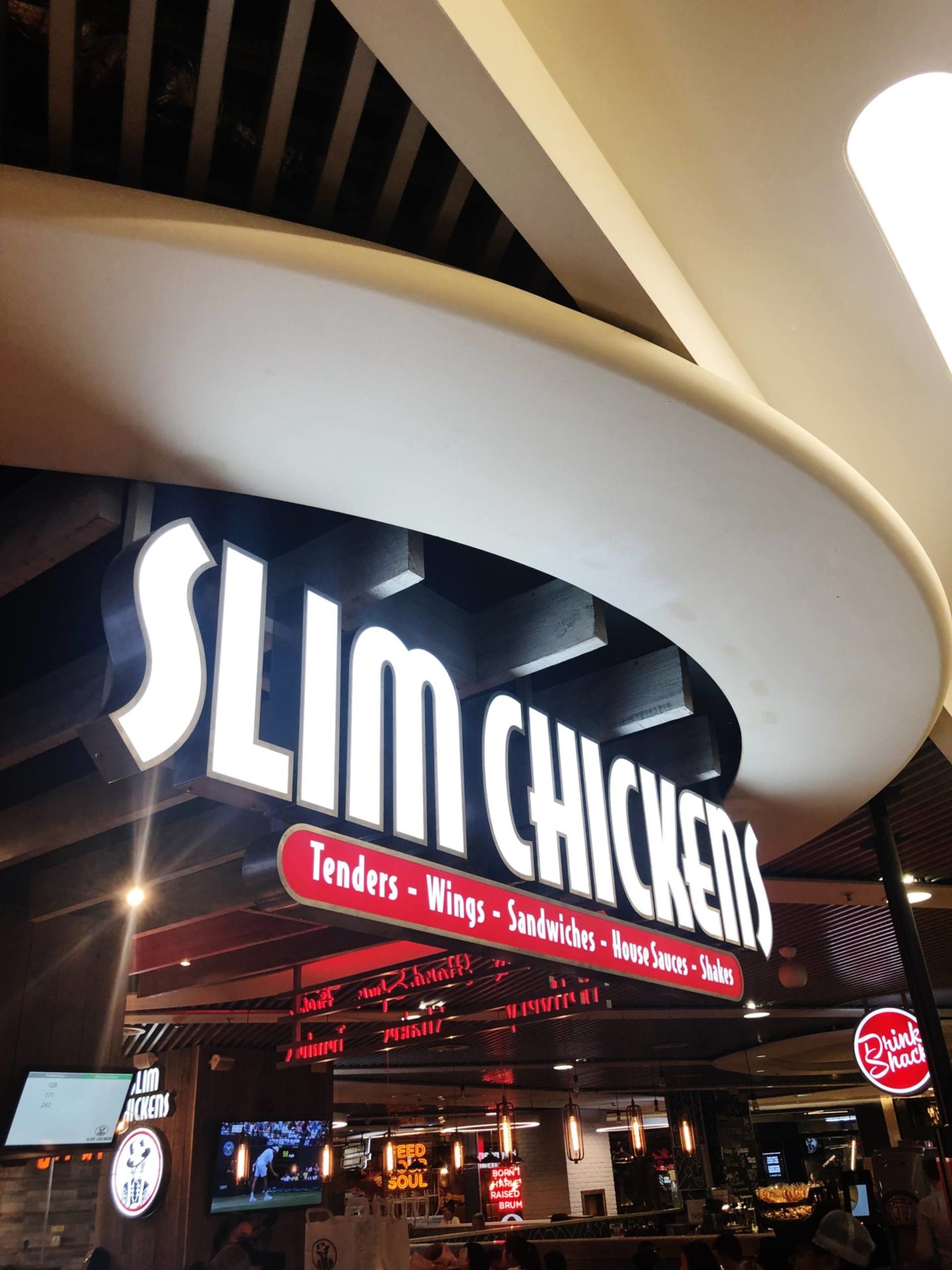 Located in Grand Central, Slim Chickens is one of the latest Birmingham food additions to arrive in the upstairs food court. This fast-casual restaurant chain has a small serving freshly-cooked, buttermilk marinated, hand-breaded chicken tenders in portions of either 3, 5 or 7 depending on which odd number you fancy. Not forgetting they also serve small portions of 2 for the small kiddiewinkles. Prices range from £7.45 – 19.95 for the main meals which come with Texas Toast (practically garlic bread) fries, two houses sauces and a bottomless drink. If tenders don't tickle your fancy, readily available is a selection of cooked-to-order chicken wings or mix and match meals and sandwiches (yet to try, look decent) if you can't make up your mind. If you're after a 'healthier alternative' – salads and wraps can be seen.
The place has plenty of seating and chicken was succulent, tender and to my utmost relief, not dry as Gandhi's flip flop. Sides can also be added if you're after a big munch. Not forgetting, the jar desserts – a selection of chocolate brownie, strawberry cheesecake, banoffee, etc – are sitting in the cooler fridges at the front. This place isn't groundbreaking but worth a shot if you're looking for something a bit different than just the standard sushi, tapas or crepes from upstairs. My visit was thanks to a PR invite.
Unit MK15, Grand Central Station, Birmingham B2 4XJ
Rudy's Pizza
The current talk of the town, it's frustratingly hard to get a decent pizza in the city centre. But thank god for the arrival of Rudy's Pizza – a Neapolitan Pizzeria. This place would even make the Ninja Turtles jealous. They're going for a relaxed, industrial vibe with hanging plants and plain wooden tables. No faff or fuss, it simply prides itself on tasty dough bases and even more delicious toppings. We were invited via their newsletter which meant that Josh and I each ordered a free pizza but paid for drinks, sides and puds. Prices range from £4.90 – £8.90 depending on pizza style and there's a one-size-fits-all approach. Menu is small, with rustic starters including a meat board, olives, salted crisps and a few salad options for good measure.
So far I've only tried the Tarantina Pizza which involved a generous sprinkling of anchovies, capers and olives. If I was paying, it would have come to £8.90. Bargain! Definitely would have paid more as it was bloody amazing. The base was soft but not soggy. The rim was perfectly charred with spots but not burnt. These guys know how to make a decent pizza and can only assume this place will grow to be one of the most popular to visit this summer. White pizzas and veggie options available, sadly no Gluten Free alternatives as they don't want to compromise on taste or risk contamination. If you're going for a dessert, I highly recommend the tiramisu which oozes strong taste of amaretto (£4). I only got to try a tiny bit being pregnant and all but when I can, I'm having more. Chocolate torte – £3.50 is not to be sniffed at and has a delicious, rich flavour served with orange mascarpone. Ice cream also available. Overall, I rate this place highly already and can't wait to go back. Definitely say it's one of the best in Brum so far. Psst – they are a walk-in restaurant only, so do not accept bookings.
9-10 Bennetts Hill, Birmingham, B2 5RS
Kaffee Couture
An advocate of independent cafes and coffee houses, I'm glad I was invited to try Kaffee Couture in the Jewellery Quarter recently as it seems I've found a new hidden gem just outside of the centre. It's a small, bustling place serving fantastically priced all day breakfasts, sandwiches, wraps, pasta, pizza, salads and vegan options, too. I tried the Couture Breakfast of scrambled eggs, avocado and toast for £5.50. Eggs were perfectly seasoned (probably some of the best I've ever eaten tbf) but did think the toast was a teeny bit floppy seeing as it was brown bread. Josh asked for the Full Monty – £7 consisting of juicy mushrooms, avocado, toast, eggs and a generous slab of smoked salmon.
Overall I thought the breakfasts were great and amazing value for money. It was heaving by the time we left so you know it's good as all the local businesses go there for lunch. I had a hankering for something sweet so I opted for a little dessert too even though it was midday, kill me. The French Toast portion is a breakfast in itself which comes with a variety of berries, syrup and cream. Would 11/10 order this again. Thanks to Kaffee Couture for inviting me and I'll certainly be back, if not to try some of the vegan dishes.
21 Augusta St, Birmingham B18 6JA
Please note, I was invited to all three of these places to sample their menus. All feedback and opinions are my own.