My recent blogger trip was located in the lovely land of the Lake District. I've only ever driven through Windermere once before, so when I landed an opportunity to review the Beech Hill Hotel & Spa, I couldn't wait to get there. The first thing Josh and I did on arrival was change into our swimming costumes and jump into the outdoor hot tub that I've been stalking on their website ever since I found out about the hotel. It really is the place to come to clear your head and since I had been poorly a few days prior, this was just what I needed to relax. Look how stunning that view is, it's ridiculous to think I was reviewing it for my blog.
After a three hour car journey from Birmingham, we received the warmest welcome on arrival. We weren't able to check into our room straight away, so we opted for a dip in the swimming pool and hot tub instead. Beech Hill Hotel and Spa really is a place of stunning views and is known as Windermere`s most distinctive 4 Star hotel. Overlooking the eastern bank, the views across the lake to the Western Fells are nothing short of beautiful and is ideal to wake up to. On entering the spa at around 11am, we had the entire area to ourselves which I very much appreciated, as you can imagine. It's definitely not a view I'll be forgetting in a hurry.
Vitality Lake View Spa
The Lakeview Spa is located in a seperate part to the hotel and includes two spa treatment rooms, a Himalayan Sauna, an aromatic Steam Room, an outside vitality spa pool in the scented garden and a 40ft indoor pool. Albeit a rather intimate spa area and the Jacuzzi being perfect for 4 people to sit in, there was nothing more soothing than overlooking the lake and taking in some deep breaths. On the website, they usually offer some spa deals so if you're thinking of visiting, have a browse beforehand. The spa is open from 9am – 9pm so you're definitely not rushed.
Afternoon Tea Experience
Our visit to the hotel was exceptionally good, not only because the hotel staff are wonderfully polite and attentive, but because they offered me Afternoon Tea as my spa massage was cancelled. Instead, they kindly gave us Champagne, tea, cakes and sweet treats. How could we say no to that?
The Champagne Afternoon Tea is served overlooking the lake, or during the Summer, I imagine a lot of people sit on the terrace. We were sat in the restaurant area, table for two, and were served sandwiches, cakes and scones. Tea for two costs £37 which consists of:
Tea and Coffee for two
Some dainty finger sandwiches consisting of Egg mayonaise & Watercress, Oak smoked salmon & caper mayonnaise, Home baked honey roast ham and Cucumber & cream cheese
Fruit scones with preserves and clotted cream.
An array of delicious cakes – Chocolate brownie, Lemon drizzle cake , Carrot cake and Blueberry muffins
and finally a trio of mini deserts comprising of Lemon Posset, Chocolate Mousse, & Berry pavlova.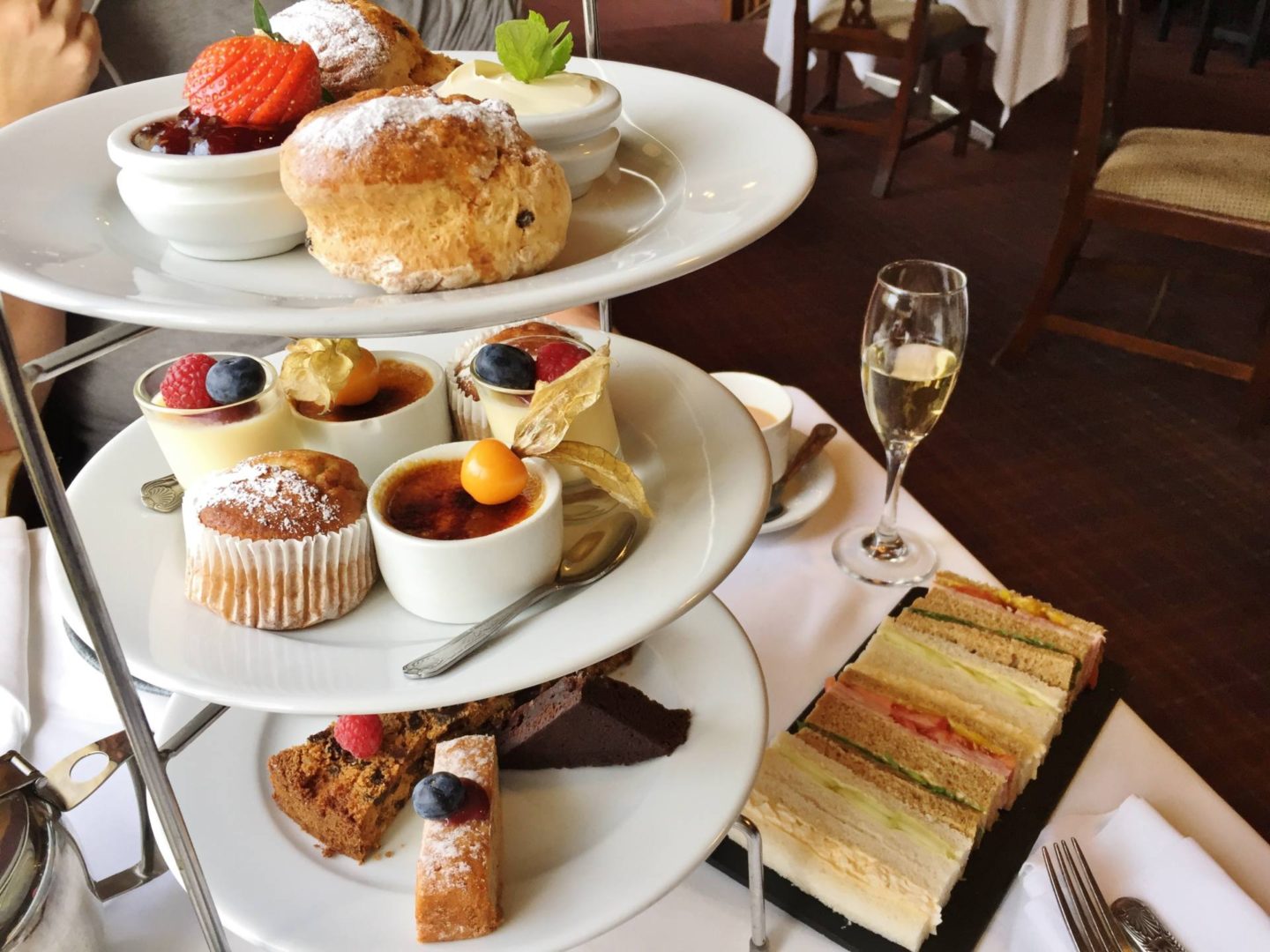 If you select the Champagne tea, which comes with half bottle of Baron de Beaupre Brut Champagne, the price goes up to £57 which I think is fairly pricey but you certainly pay for highly quality food with a decent view. Nevertheless, the food was pretty stunning and tasty and if I were to return, I'd definitely be having this again. All Afternoon Teas are served between noon and 5pm. Alternatively, I found out that you can purchase tea gift vouchers to buy for friends, family and loved ones.
Sleeping at Beech Hill Hotel
This Cumbrian hotel is home to 57 different rooms, ranging from luxury suites to premier and family rooms. A large majority of the rooms have a balcony which overlooks the lake too. This place really does pride itself on having the best views and you can see why it's rated highly. We were lucky to land in a gorgeous, modern and spacious Family Room with the cosiest bed for the night, which costs £30 per adult per night which is exceptional. As standard, all rooms have an en suite bathroom with a power shower and bath, a flat screen TV, toiletries, free WiFi, hairdryer, telephone, tea making facilities and a room service menu.
Dining at Burlington's Restaurant
After a long, hectic day (as you can imagine), we were booked into the restaurant at 7pm for a three course meal. I hadn't looked at the menu beforehand as I wanted to see it for the first time on the night. The hotel's head chef 'Lukasz' specialises in French and English cuisine and is known to cook with only the best, finest, freshest local produce and ingredients. What's more, the restaurant offers a two, three, or five course menu. Imprinted on the menu also is a request for people not to use their phones at the table as this can be distracting for other diners. I 100% agree with this rule unless I'm doing a food review, I'll take some photos and pop my phone away straight after.
No phones at the table rule
Although it looks a little bit outdated with dark brown tables and red patterned carpets, what I really admire about the restaurant is that, you are asked if you would like to sit by the fireplace downstairs beforehand while the staff serve drinks and starter canapes. While you wait for your drink to arrive, a member of staff will come and hand you a menu and a few minutes later, check back in and see what you would like to order. This is such a clever way of doing hospitality as it means the kitchen staff know what you have ordered before you even sit down at your table. Needless to say, our food came out in record time when we were seated and the service was faultless from there on.
Burlington's Starter
There's a whole range of menus to look through – main menus, Sunday lunch, vegetarian, children's and a wine list and I think the menu changes frequently. On the night, starters ranged from lamb to sardines, chicken liver to pork cheek. I opted for the Lamb Breast Roulade with lentils, crispy leeks and Tzasiki. The presentation is gorgeous and came in a little bowl which was filling. The lamb was so tender it fell apart as soon as I put my fork into it. Josh said he chose the wrong starter which makes me think I chose the right thing, but his Chicken Liver Parfait with Chutney, berries and ciabatta toast was so soft and moorish.
Burlington's Mains
Our main courses consisted of Fell-Bred Fillet Steak (supplement of £6.95) for me, and Josh opted for the Pheasant Breast. No word of a lie, and I know I say this a lot, but this steak was utterly gorgeous and possibly one of the best hotel steaks I've tried. It melted in my mouth and cut through like a hot knife through butter. The medium/rare ratio was perfect and accompanied by the chunky chips, it was a winning meal. A man and wife sitting on the table next to us ordered exactly the same dishes as us, and I think my head nodding and 'mmm'ing probably said it was the best choice. The photos doesn't do the food justice either.
Burlington's Desserts
After sipping on a few glasses of Malbec and enjoying Windermere's best steak(!) I had enough room for dessert. There were a few options I could have gone for – Strawberry Soufflé with champagne float, cheesecake, brownies, cheese board – but the Hot Chocolate Fondant with white chocolate ice cream called out to me. As soon as I put my spoon into it, the fondant oozed melted chocolate which won the night for me. Josh's Plum & Cinnamon Crumble smelled so sweet, it looked beautiful too but I didn't try any.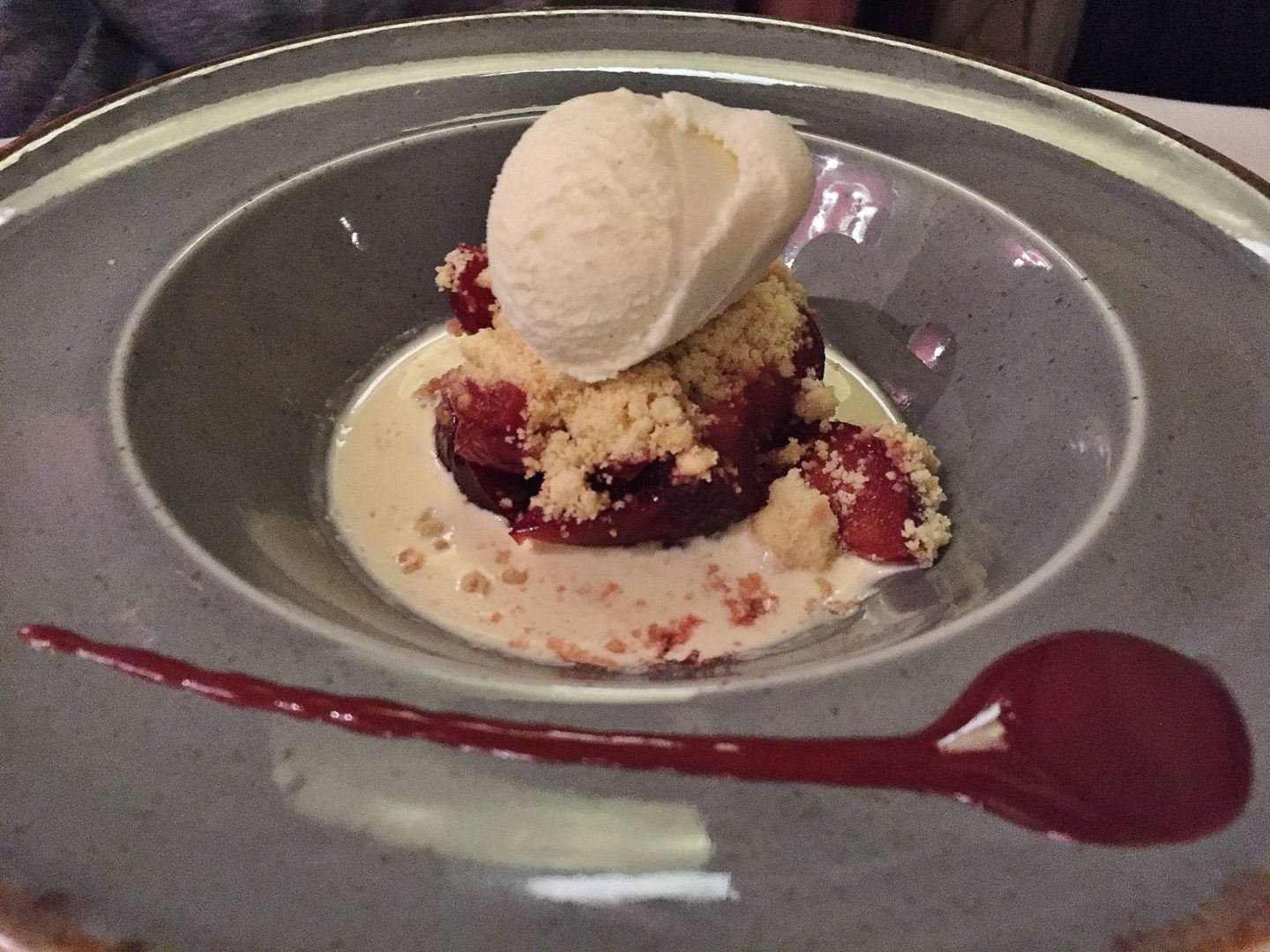 Soon after, we waved our goodbyes to the staff and headed up to our room for a good night's sleep. I'm happy to say we slept like logs that night after being pampered and fed so well. We can't thank the staff enough for treating us so well, even when most of them probably didn't even know I was writing a review about them. That's how you know the service is genuinely great!
Wakey, Wakey, Rise And Shine
Come 8am, we were ready for breakfast. When arriving at our table, we were asked if we would like tea or freshly brewed coffee. We could go up to get as much food as our heart's desired as there is a hot and cold buffet selection. The only downside to the breakfast is that for me, there were no hash browns. But what I did see was a vegetarian ordering from the 'cooked to order' menu, so it's great to know that they cater for all foodies. Supplementary items are charged £3.50 – but I'm not sure how I would feel about paying that bit extra for grilled kipper or a poached egg instead, it doesn't seem worth it to me.
I would love to thank the wonderful Jasmine from the Crimson Edge Public Relations team for organising the trip, and for Beech Hill Hotel And Spa for such an incredible stay. Since returning, loads of friends and family said they saw the image of me in the hot tub and got really jealous. I would be too – the overall stay was outstanding. If I'm ever thinking of a getaway near Windermere, I definitely know where I'll be returning to.
Address: Newby Bridge Road, Windermere LA23 3LR
Please note, I was invited to Beech Hill Hotel And Spa for a complimentary one night stay with spa access in return for an honest blog review. Dinner and breakfast was included but we paid for our own drinks. As always, all opinions are my own.