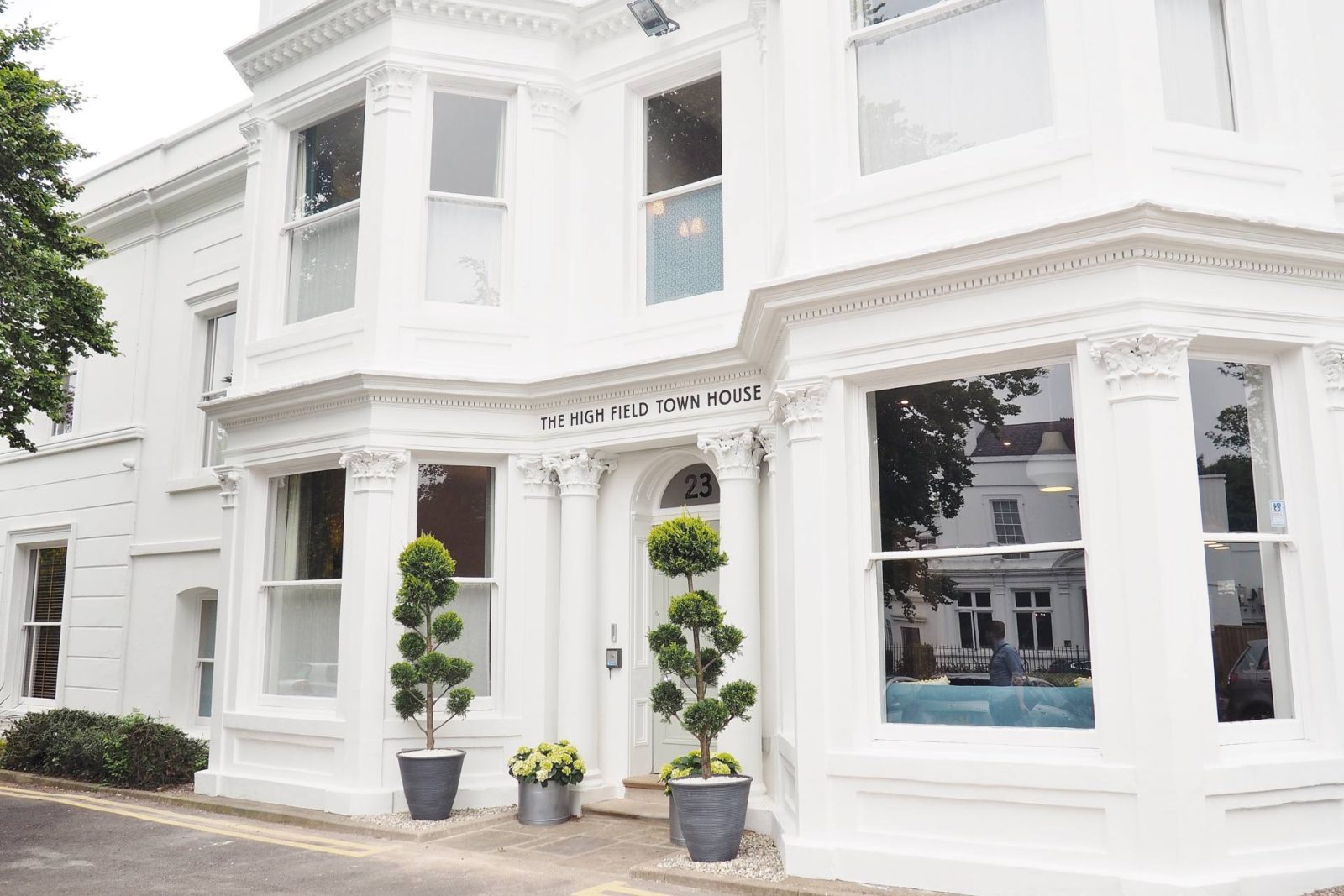 OK, I admit I might have a teeny tiny hotel obsession. I've had some of the most amazing opportunities over the past couple of months to review several brand new hotels in Birmingham. Starting with The Park Regis, St Paul's Boutique Hotel and now The High Field Town House. It's such a privilege to be able to write content like this for my blog and believe me when I say, it's not going to stop any time soon…

If you live in Birmingham, you'll have heard about the popular gastropub The High field, Edgbaston which opened in 2014. Next door now resides the brand new (and stunningly beautiful) Town House. A newly converted Victorian villa with 12 individually designed ensuite rooms ranging from cosy to premium, we were lucky to be able to stay in room number 5 before the place officially opens to the public on Monday 6th June. If you would like to book yourself into a particular room, you can do so when booking via the website.

A few days before the visit I was sent an email with a 4-digit keycode which gave me access to the front door of the house and bedroom. This is such a unique concept and I'm surprised no other hotel in Birmingham has thought of this sooner, unless they have – do let me know! This means there are no keys to lose and there is nothing to give back when checking out, simple! Upon first walking into the house there is a welcome room to the right with a reception desk, quirky yellow furniture and beautiful sofas for guests to lounge on. An array of magazines and newspapers are also scattered over the coffee table to take and read at your leisure.

We were booked into an elegant front facing bedroom which overlooks the main road. We were surprised at how quiet and spacious the room was, and the only time we heard voices and movement was when other visitors entered the house at 10pm. Apart from this minor disruption, you could hear a pin drop! I gasped as we walked in, the room was absolutely stunning. What caught my eye first was the size of the bed, a super king! It was perfect for snuggling down in after a long week and the crisp white sheets were so comfortable.  I can only speak for myself but I slept well in that bed, waking up was certainly harder than usual.

My ultimate dream is to own a roll top bath so imagine my surprise when we had one placed at the end of the bed. The bath oozes luxury and elegance, and soaking in the tub with a cup of tea was the highlight of the night. I used products from the bathroom to make it bubbly and I must have stayed in there for at least half hour. I would've loved for the them to have provided some snugly robes for when getting out of the bath – only to prolong the luxury experience, I feel this could be very much appreciated by other guests too. Saying this, the towels were ridiculous soft, rich in quality and snug, I want to know where I can buy some from.

There is also the option of using the tiled shower in the bathroom if baths aren't your thing. As you may have noticed from my last hotel post, I'm trying to gather as much bathroom inspiration as possible for upcoming projects. I did think the bathroom was a little too warm at times, but wasn't entirely sure how to turn the radiator down. Also owing to my boyfriend being over six foot, he struggled to fit into the shower without getting the whole of his head wet but that's more of an issue of going out with a giant I suppose…

On the desk area nearest the window, a tray  of cups and a variety of teas, coffee, hot chocolates, sugar were kindly laid out for us to use. I appreciated the fact the room also has a welcome booklet for the guests to read. This will tell you about the Highfield pub, what time breakfast is served (please note: breakfast is not served in the hotel but you can always visit next door), things to do around the area and how to work the TV. We were surprised to find no TV in the room, but at the time of our visit but were told by managers Adrian & Sarah that they were waiting for more deliveries, so I can only assume they mean more electrical stock.

Each and every room has been decorated with hand-picked antique furniture, wardrobes and from what I have experienced, some of the comfiest beds I've ever had the opportunity of sleeping in. Thank you to the High Field Town House for letting my boyfriend and I stay for the night and for such a wonderful welcome and drinks voucher. When we go back, we hope to see the promised TV with Apple channels and some bath robes. Apart from this, we couldn't fault the room. What do you think of the Townhouse? Would you stay here anytime soon?
Please note: I was invited for a complimentary one night stay. Opinions are 100% my own.
22 Highfield Rd, Birmingham B15 3DP