An impressive British dining experience in the heart of the city, family-owned British Restaurant Craft sits canalside at the Brindleyplace entrance of the ICC.
If you're looking for an intimate and unique dining experience, look no further than dining in an outdoor pod at Craft, Birmingham. You will find them opposite Pitcher and Piano along the canal. Separated by 3 distinctive offerings; the restaurant, the garden and the outdoor pods, Craft is easily one of the most impressive meals to be had in the town centre.
The vibe is a flirtatious combination: playful and relaxed. Whether you wish to visit with family and friends – or if you are simply looking for a date night option – Craft has it all. The outdoor garden space houses several private dining pods which I was invited to try. Craft is led by talented Chef, Andrew Sheridan, who rose to fame on Great British Menu. Alongside him, helping to portray this fantastic dining experience are restauranteurs, Emma and Sam Morgan.
Come and take a look inside the pods…
On entering the site, the restaurant interior has a floral tunnel, complemented by hanging plants and a foliage wall. All staff are hardcore mask wearers and when checking in, you're asked to sanitise your hands and stare into their temperature checker. It's a covid secure setting so don't feel nervous about coming here – they've got all that nailed down. We were quickly shown to our private pod at the end of the row. It was clean, sanitised and it was ours for the next couple of hours. Each pod comes with its own heater, an Alexa (so you can play any music you want while you dine) and the view is great as you look out over the canal. It's perfect for people watching too if you're that kind of weirdo.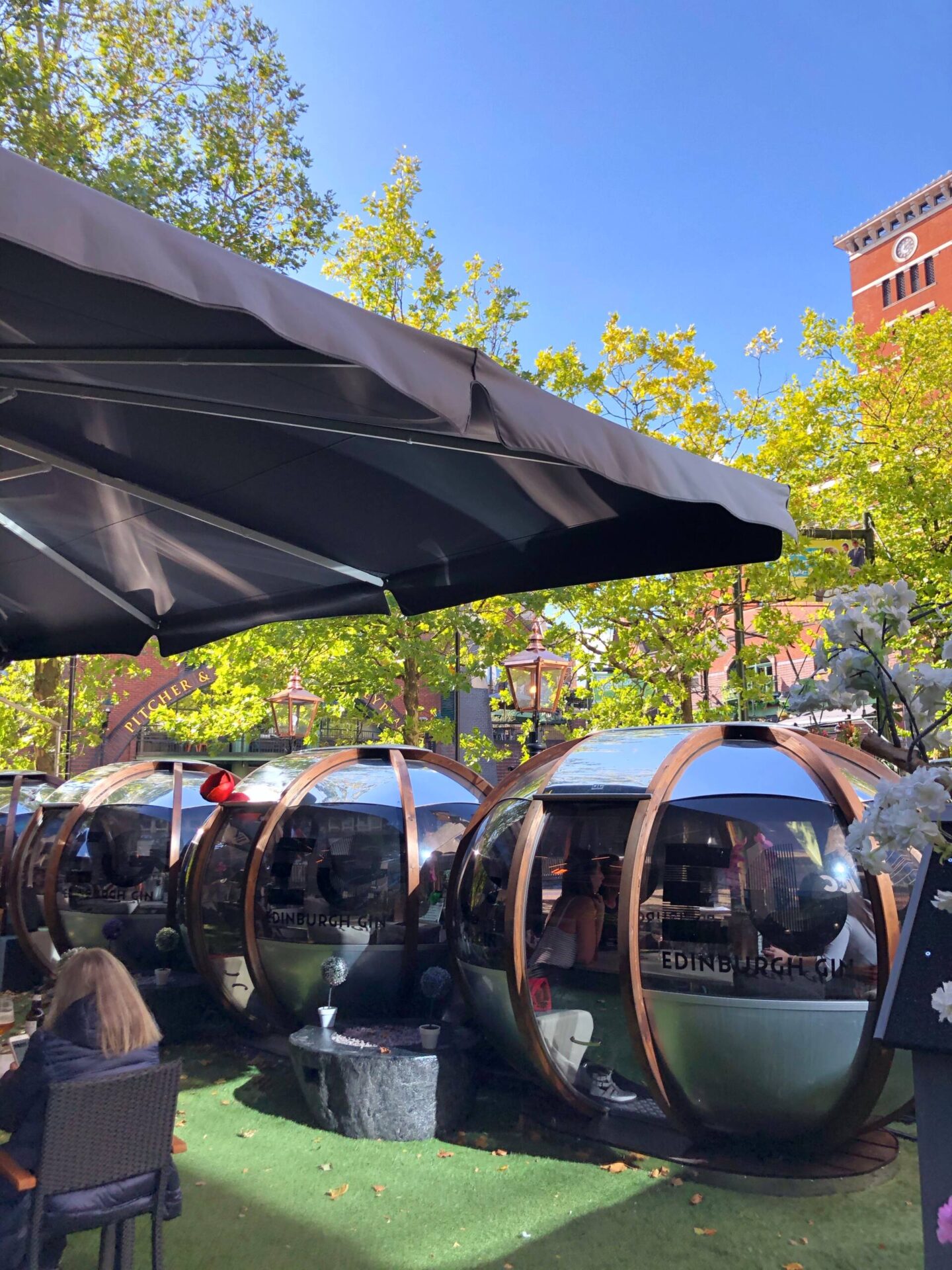 Craft Dining Outdoor Pods
Each pod can seat 8 people. The restaurant itself is family-friendly but those with babies and small children may struggle to seat them inside the pod unless you have them on your lap. It's quite snug in there so two of us dining meant we could have a bench to ourselves while we ate. Each pod is complete with a wooden block filled with clean cutlery and a water bottle. A private pod server comes up and slides open the hatch to take your orders – so you don't even have to step outside. It really is the perfect intimate dining space and they offer blankets too. Craft features an extensive drinks list, providing over 100 different English Wines some of which are local to Birmingham.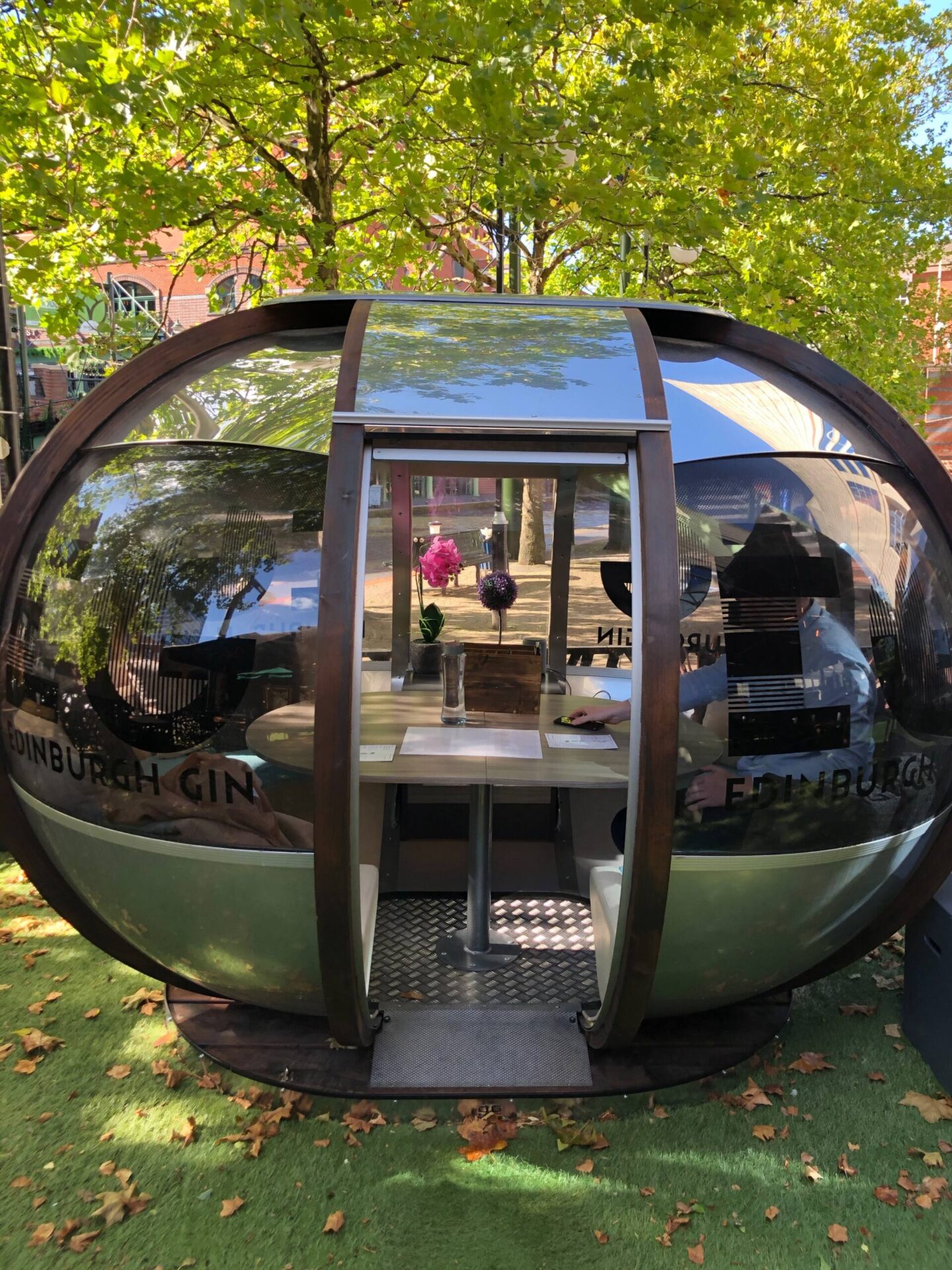 Set Menus At Craft Dining
Customers can eat in either the Dining Room, Private Dining Room or Dining Pods, all depending on availability. Two Courses – £33 – Three Course – £39 – Four Course – £45. They're open from Wednesday to Saturday – 12 noon to 2:30pm and then again from 5pm – 8:30pm. They serve set menus but you will also find garden picnics and afternoon tea option available. You can find the latest menus on the Craft website. Website menus are subject to change.
First Course at Craft Dining
Four menu options to choose from in each course, we opted for: Beetroot & Goats Cheese (Goats cheese, mousse and brined beet dressed in herb, vinaigrette with beet soup. On the side: beetroot and focaccia topped with beetroot relish and goats cheese.)

Smoked Salmon & Creme Cheese (Treacle bread, topped with cream cheese, smoked salmon, smoked salmon mousse, lobster jelly, dill pickled cucumber, finished with micro sorrel.)
Second Course at Craft Dining
Beef, Yorkshire & Red Wine (Roasted sirloin of beef, served with red wine and shallot puree, confit ox cheek, roast beef fat carrot, swede fondant, pomme puree, pomme maxine and beef sauce, Yorkshire pudding filled with ox cheek and garlic mayo.)

Roast Cod, Salt & Vineagar & Peas (Roast cod loin, tempura cod cheek in squid ink, pea puree, salt and vinegar chips, roe cream sauce and tartare pickles.)
Third Course at Craft Dining
Peanut Butter Doughnut & Banana Ice Cream (as it comes) and Rice Pudding & Hay Ice Cream. Both were fantastic, I'd go back to Craft for the pudding alone, it was the winning dish for me.
Fourth Course: A Little Extra
British Cheese Selection (Black bomber cheddar with rhubard jelly, English Brie with honey, goats cheese with apricot chutney, Wiltshire Blue with pickled walnut, Feta and Cheddar Cross with fig jelly).
When we finished our meal, we were shown a sneak peek of the upcoming About 8ight restaurant – a celebration of everything 8. There will be one sitting daily at 8pm, launched by Andrew Sheridan who is the mastermind behind the dishes at Craft. About 8ight's interior will reflect and show 'accents of Sheridan's life' and will take diners on a journey through each course. It's a highly anticipated launch that will no doubt be another welcome addition to Birmingham.
Huge thanks to Sam Morgan and the team at Craft for inviting me down. I've had a ton of messages on social that people are already booked in – so it's great to see a place like this thriving during these difficult times for the hospitality industry. It's been a difficult year dining out, especially with a baby in tow, but we managed to slip away and enjoy lunch as a couple. Honestly, it went above and beyond my expectations in terms of food, setting and the welcome service too. Bravo, team and thank you.
Please note: Craft are extremely accommodating and if you have any dietary requirements – the team are more than happy to cater for you but ask that you let them know at least 48 hours in advance or when booking your reservation.
I was invited to Craft to review their menu offering. All food was complementary but we paid for our own drinks. We made sure to leave a tip too as the service and food deserved it. For all of my other food reviews, you can find them here.
Craft, The Terrace, Unit 10 & 11, The International Convention Centre (ICC), 8 Centenary Square, Birmingham, B1 2EA