To do this blog post justice, I thought it best to turn it into a photo diary, because pictures really do speak louder than words – especially when it comes to blogging about Harrods! Lord knows I love a food hamper, because the festive season wouldn't be what it is without stuffing my face full of biscuits and pudding. But never in my wildest dreams did I think that I'd be sampling one of Harrods luxury gift boxes this Christmas. You could pretty much say that it's come early for me this year. Every festive season, Harrods release a wide range of world-famous luxury hampers that feature a beautiful array of classic festive treats.
The Christmas Carol Hamper really is a bloggers dream gift, could you imagine receiving one of these on Christmas Day from a loved one? The box is pretty awesome too, it's definitely something to keep afterwards. Full contents of the box includes: Spiced Black Loose Leaf Tea 50g / Spiced Omni-Grind Coffee 250g / Classic Christmas Pudding 200g / Winter Spiced Biscuits with Golden Sparkle 125g / Honey & Clementine Biscuits with Golden Sparkle 125g / Clementine & Sweet Orange Marmalade 340g / Spiced Plum & Fig Extra Jam 340g / Brandy Butter with Courvoisier VS Cognac 210g / Christmas Bauble.
The luxury gift boxes range from a respectable £25 all the way up to the ultimate Decadence £20,000 hamper. I think I'll save that one for next year… maybe! I chose to sample the Christmas Carol hamper (£100) and it's simply stunning. Think a strong mix of clementine biscuits, spiced black tea, spiced coffee, Christmas pudding, brandy butter and biscuits, all tucked into a gorgeous postbox red festive Harrods box. Truth be told, I'm saving a few of the jars for Christmas Day as I didn't want to demolish them all at once.
I might be the odd one out here, but I'm really not a huge fan of Christmas pudding. However the branding on the Harrods version is tempting me more than I thought. No doubt it will be a richly fruited pudding with belly-warming brandy. Obviously it will be the fitting finale to my Christmas lunch.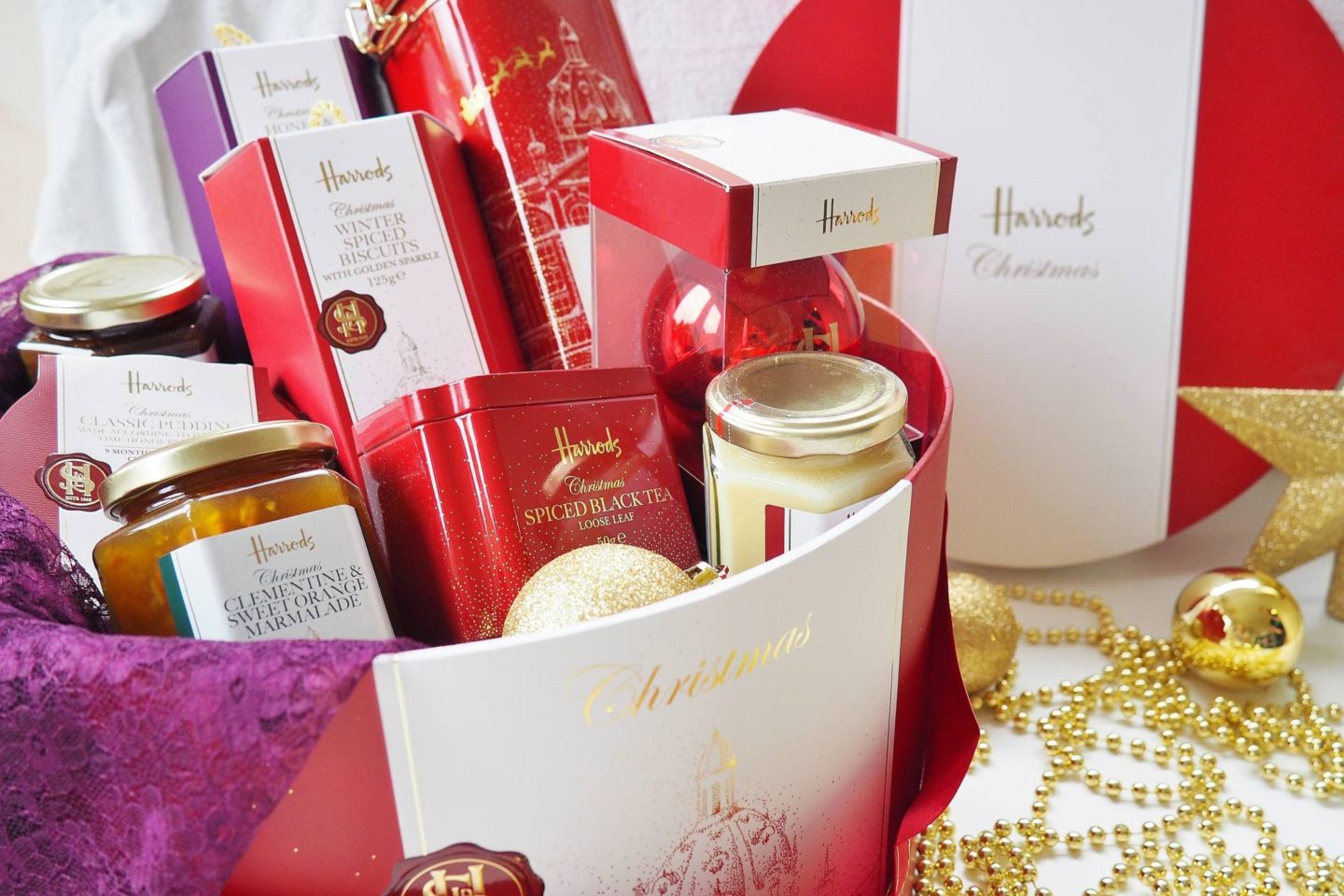 Harrods have decided to gift these luxury hampers to a selection of hand-picked bloggers and requested that my blog feature one of their current boxes, pinch me am I dreaming? I really can't wait to get stuck in to the rest of the box, Christmas Day needs to hurry up now please. It's worth remembering that the gift box selection varies from the traditional range, to fresh food and alcohol free hampers. There really is something for everyone and can be tailored to suit all budgets. Would you consider purchasing one of these gifts for a loved one or friend? Click here for a full list of Harrods Hampers.