I've unintentionally stalled in uploading this post as I've been (accidentally) indulging in vast amounts of food. A few years ago, Aldi supermarket seemed to have a really bad reputation. However over the years, and since I've been old enough to start cooking meals and grocery shopping for myself, I seemed to have fallen into the Aldi trap. They sell a varied (but decent) selection of cheese, meats, veg, fruit, and everything else that you can think of, for just a fraction of the price of a normal supermarket. I have recently collaborated with Aldi to create my own 'Christmas meal on a budget', and here's what I came up with…
I live a stone throw away from our nearest store which is also convenient and doing the food shop is a doddle. I had £30 in vouchers to play with and I wanted to create a varied Christmas meal; still keeping with the typical English theme of Turkey and sprouts, but I also included some recipes from their own website for trial and error purposes. Josh was lucky enough to have a huge Serrano ham bought for him from Aldi and we've been nibbling at it for weeks and still haven't made a dent, it's that big.  We also wanted to drunk mulled wine with our meal and ended up buying a pack of Aldi nibbles and olives to accompany our mains.
For starters, I tried my hand at Salmon and Pea Fishcakes from scratch which were so simple to make with all of the right ingredients. I combined butternut squash, sweet potatoes with cooked salmon fillets and veg and squashed them into palm size cakes. I quickly made a fry sauce combined of ketchup and mayonnaise to accompany the dish. It took around 15 minutes to prepare all the ingredients and 45 minutes cooking time. The fish cakes were extremely tasty and not too rich and filling, perfect for Christmas starter. If you are interested in trying these for yourself – especially since you know everything that is going into them – the full recipe can be found on the Aldi website – Salmon and Pea Fishcakes.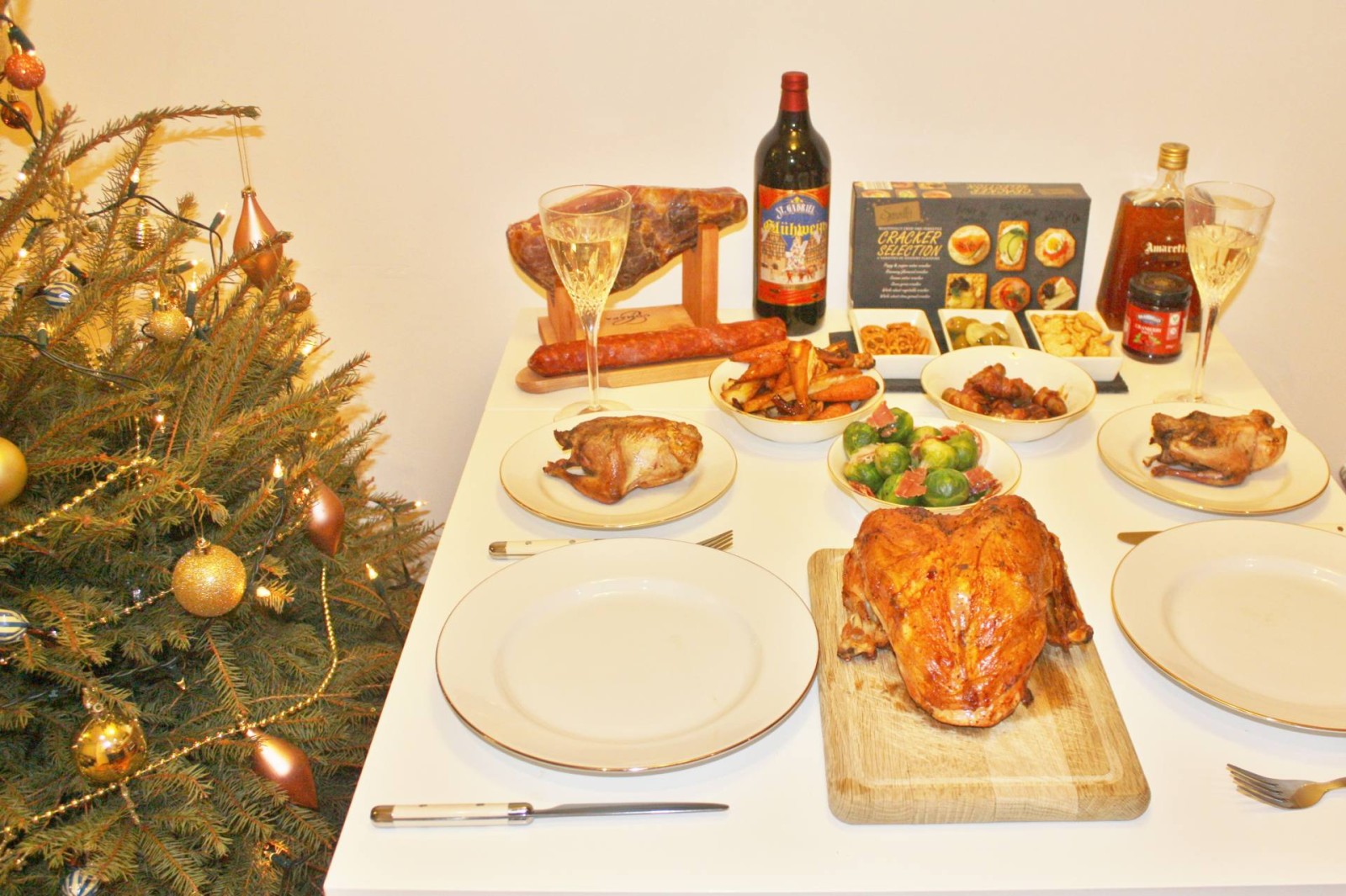 For the main part of the meal, I cooked an Aldi prepared turkey in the oven for 2 hours and seasoned it with salt, pepper and oil. On the side, we tried partridge but I don't think I'd have it again – they're way too small! Of course, cooked pigs in blankets and I prepared some crunchy seasoned sprouts with pancetta ham. A honey medley of vegetables was also served in a white ramekin dish and we roasted them inside the tin along with the turkey for extra flavour. One thing I forgot to take a photograph of was our Sweet Potato Dauphinois which I prepped using the recipe from the website (but can be seen in the photograph below). Although there is nothing better than roasties with your Christmas dinner, I wanted to try an alternative and tried this potato, milk, butter and clove potato dish. Not a lot last left over, it was that delicious!
And finally for dessert, I attempted to make an Amaretto Cheese with double cream. I'm not a huge baker as I prefer to cook hearty meals, but I dabble in creating different dishes from time to time. I surprised myself and the cheesecake was a perfect texture and tasted like it could have been shop bought – I know, I'm blowing my own trumpet but I won't lie! I adore reading recipes from the allrecipes.com website and after a while on Pinterest for ideas, I decided to go with this one.  30 minutes of prep time was needed and I cooked the cheesecake in the oven for 1 hour. If you decide to give this recipe a try, let me know what you think!
I really enjoyed creating our Christmas meal on a budget and surprisingly, we didn't spend all of our vouchers on this meal! Aldi is certainly underrated as a supermarket and although I feel the meat can be hit and miss sometimes, I would certainly give our fakemas a high score, especially since we spent all afternoon prepping and organising the side dishes which were incredibly tasty! Thanks to Aldi for the collaboration, I would certainly recommend trying out their turkeys next year, you might just save yourself a whole wad of cash!