Imagine this. You're booked into the Genting Hotel – Resorts World and the PR lady sends you over an itinerary which details your experience from start to finish.  Dinner at Robata on Friday night, a luxury night's sleep inside a superior room with plush lighting, fluffy robes, a goody bag… the works! The next day consists of a hearty breakfast and a spa day with complimentary treatments at Santai Spa. It sounds like a dream doesn't it? As far as hotel stays go – I was completely in awe of the hotel, our dining experience at Robata and the spa day which has been highly recommended to me by friends on many occasions.
The Genting Hotel and Superior Room
Resorts World is just under a year old and is a fantastic new complex in Birmingham. The four star hotel is a modern luxurious destination, planted in the heart of Resorts World, offering five-star suites, panoramic lake views and short walks to the NEC and train station. Once inside the complex, you're spoiled by a large variety of clothing shops, restaurants, a casino, cinema and various cafes and spa opportunities. Since we arrived at 7pm on a Friday night, I expected the place to be heaving, however check in was a breeze. The front of house staff are dressed smartly in black and are incredibly kind. I wasn't aware until the day but they kindly upgraded us to a Superior Room for my blogging experience which was excellent (thanks guys!).
One thing I love about the hotel is the privacy. You can't access any of the hotel floors without a key card so this prevents shoppers from entering the building. The corridors appear like something out of Inception and are floral scented which is a great touch but was a little overpowering at times. Once entering our room (on a quiet floor opposite a meeting room) I was thoroughly impressed by the golden layout.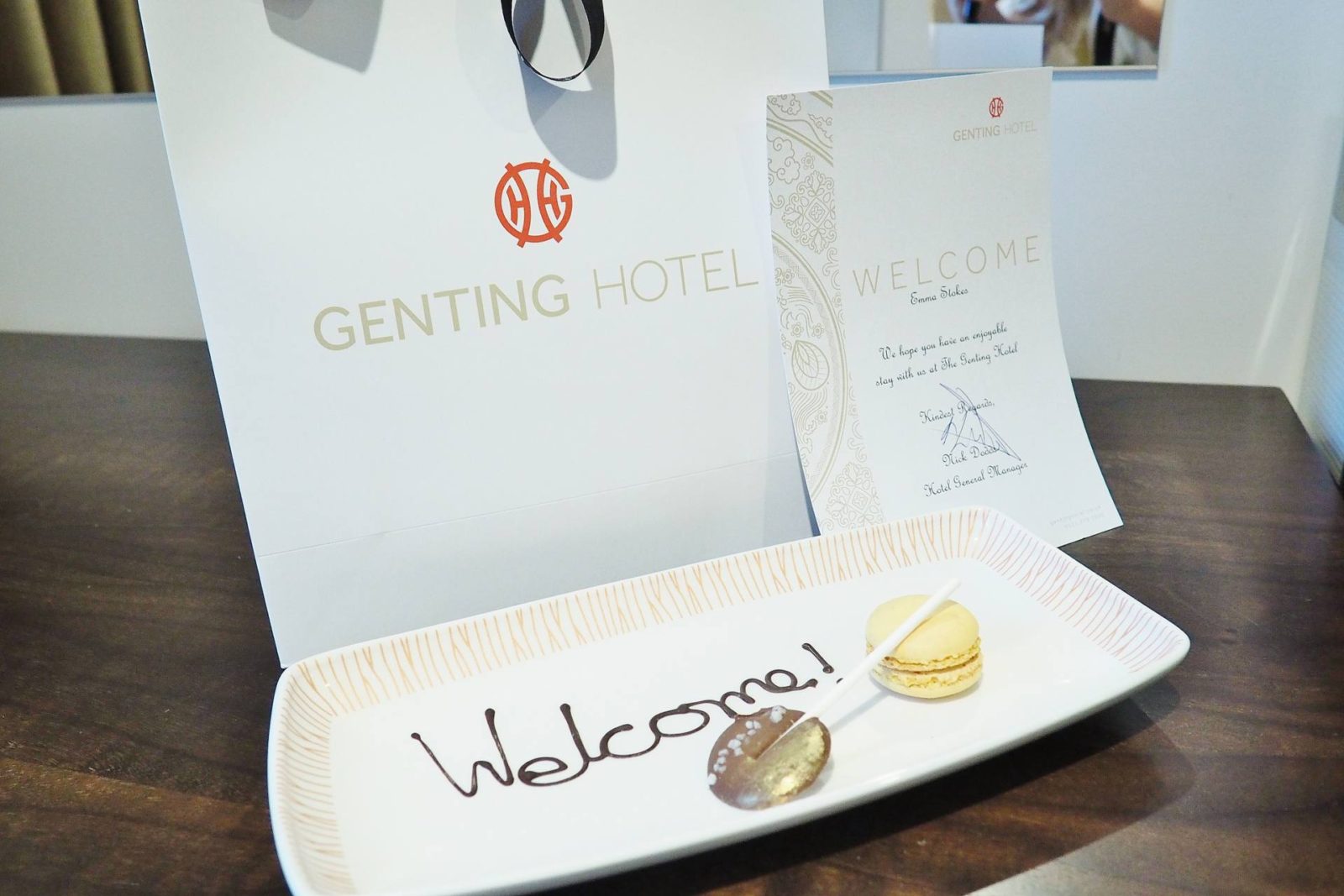 We were given a superior on the 14th floor, overlooking the lake across from the NEC. The golden themed rooms have been decorated in the same style as the Genting Casino on the floor above. We had everything we needed for our luxury stay and our comfy double bed had crisp white sheets and a golden bed throw on ready to jump into! The smart TV at the end of the bed also allowed us to view the Robata menu which was a fantastic concept. I am so grateful for Genting Hotel leaving me a goody bag and a personalised welcome message with macaroons on the desk – how sweet of them! Personal touches mean everything.
Josh loved the concept of a Nespresso coffee machine and the complimentary Wi-Fi was easily accessible. I loved lying in bed after dinner, Instagramming and Tweeting about my night without the fear of signal dropping out. The room plus breakfast would have cost £156 if we had booked beforehand. As we expected, our superior room provided a chiller, an ironing board/ iron and a hairydryer. Inside the bathroom I was happy to find big fluffy gowns, slippers and Luxury Heaven spa products (as I mentioned in my previous post this is something I rate highly in hotels!). This certainly got me in the mood for our treatments the next day. We spent half hour trialling the TV before dolling up and heading down for a long anticipated meal at Robata.
Robata Restaurant
My fantastic PR friend Charlotte who organised our stay kindly insisted that we try the restaurant during our stay and booked us a table for a meal at 7:30pm. Originally I was invited to try the Pan Asian Afternoon Tea on the Saturday but this changed when we found out we were sleeping over. I am incredibly lucky to be able to say I was the first blogger to be invited try the brand new menu. Josh and I sat for a good five minutes scouring the menu deciding what to have as there is such a wide (and tasty!) selection of meals… the menu is pretty fantastic! Robata Bar & Grill offers an international dining experience combined with top class service and is inspired by an exotic fusion of Pan-Asian, Australasian and European cuisine.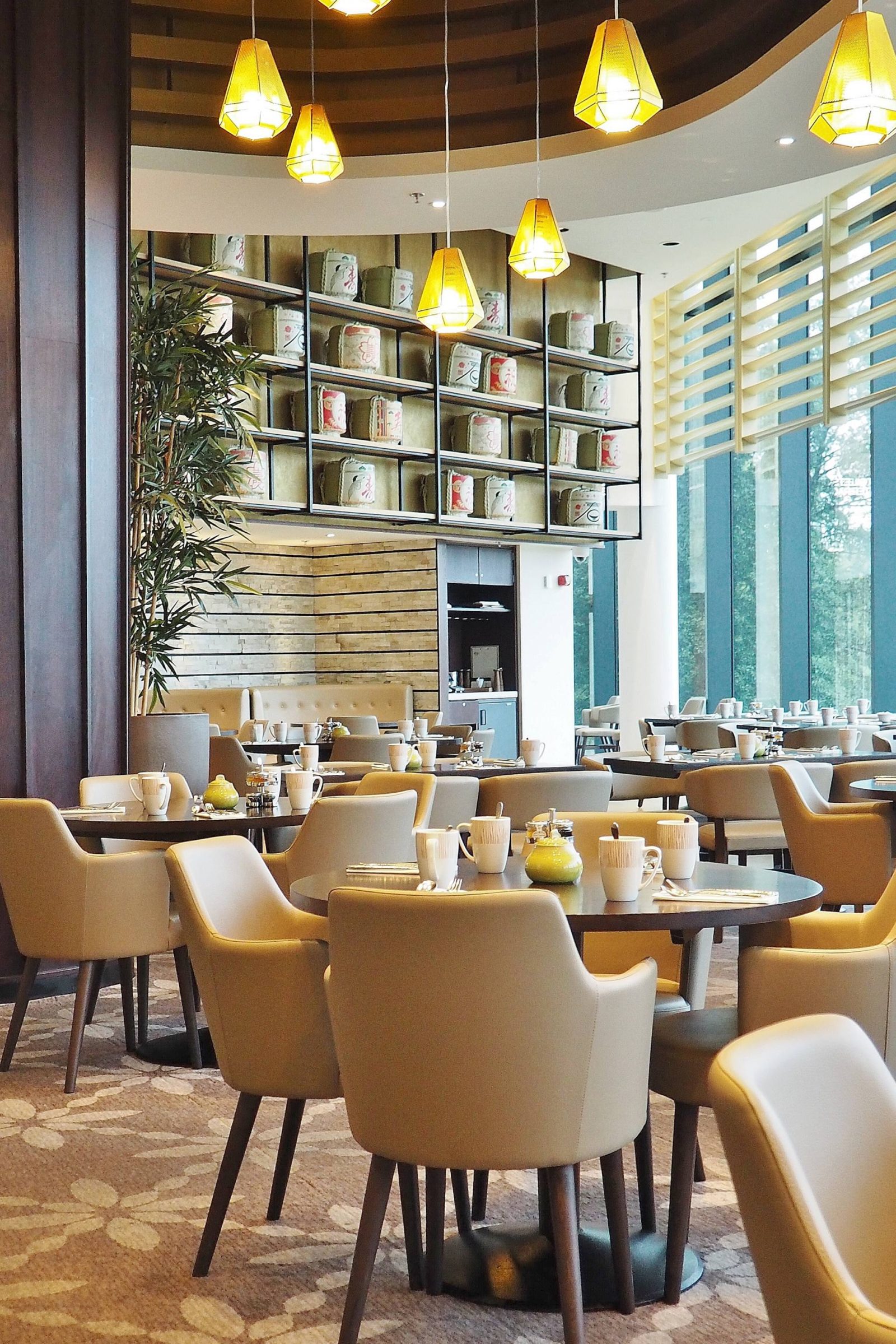 The restaurant is cosy, with a relaxed atmosphere and plush seats. I'm a big fan of unusual lighting so I made sure to take a picture. The tables were filling up quickly when we arrived so I would recommend anyone to book if you're thinking of trying their food. Before we ordered, a waitress came over to us with a huge smile (she knew I was there to review) and she explained the new menu to us and asked if we would like to sample some Oceania wines and Asian beers. PR Charlotte had thoughtfully arranged for some complimentary Prosecco be brought to our table before our starters which was a lovely treat but the waitress forgot to bring our wines out too– oops! Luckily she remembered and apologised for bringing them out late with our starters.
The menu is set out in different stages – Appetisers / From the top / From the Grill / From the Pacific Rim' / From Our Chefs / From the side. From the top we ordered Pork Belly Yakatori, Spiced Apple and Szechchuan Salt (£5.50) and Salt And Pepper Crusted Squid With Sriracha Mayonaise (£5.75) and the food tasted better than it looked. Two pork skewers came out on a little plate accompanied by the apple and boy, was it salty, rich and succulent. I was told after ordering it's one of the most requested starters on the menu so I did very well. The pork was tender inside and perfectly crunchy on the outside – it was absolute perfection. The squid was simplistic, also crunchy and perfectly peppered but the portion was relatively small. Perhaps my eyes were bigger than my belly but both dishes were presented well.
To my surprise, when I saw Aromatic Duck Breast, Hoisin, Pickled Cucumber and Chinese Pancakes (£17) on the menu I knew I couldn't resist them, even though the menu beams with other choices! The food is varied but I noted I would like to see a few more vegetable options on the menu! Albeit on the pricey side, the overall meal was pretty fantastic and the duck portion was impressive. All grills are served with Skin on Chips, Steamed Jasmine Rice or Singapore Egg Noodles. How good does my food looks? NOMS!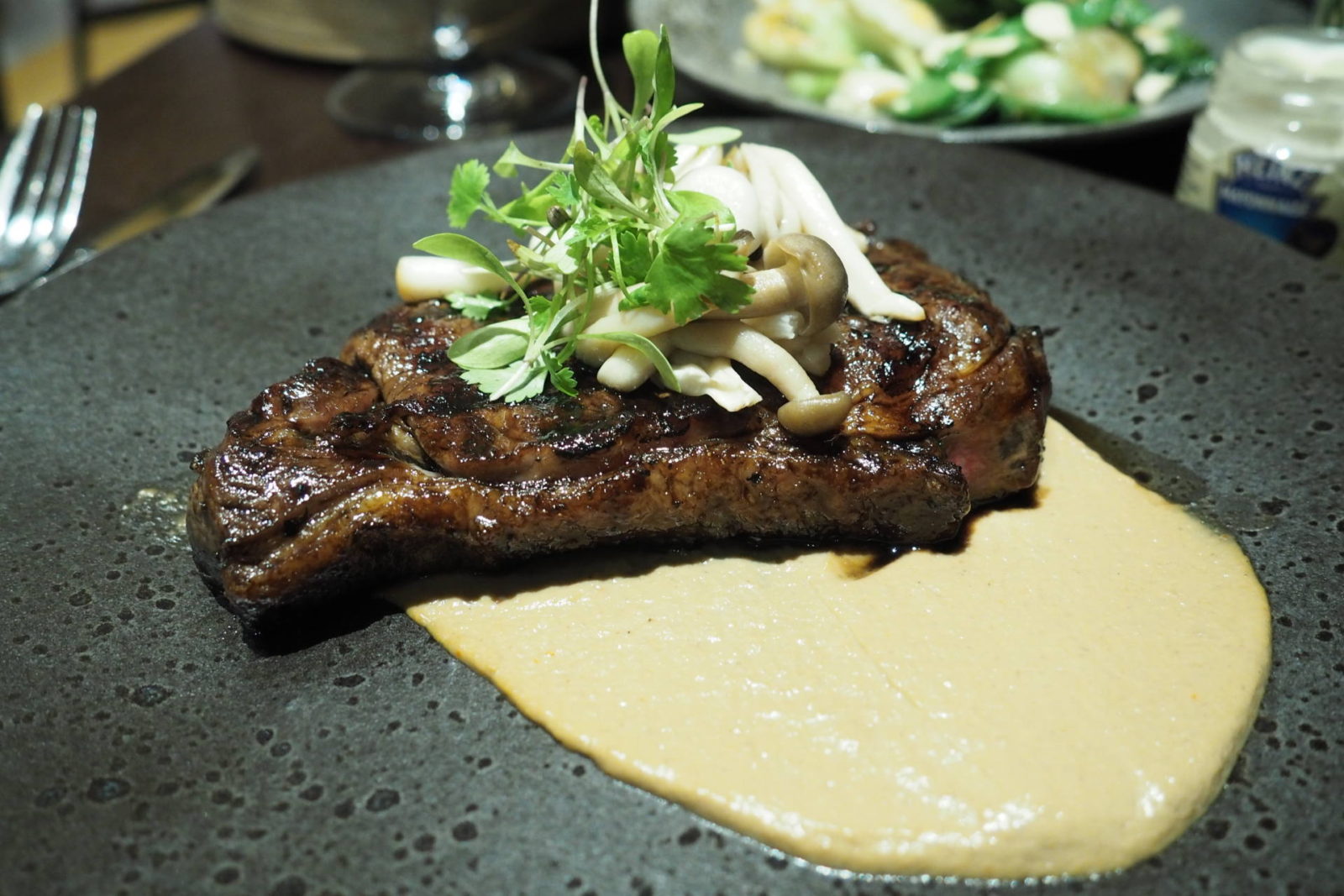 Josh ordered the Aged 8oz Ribeye Steak with Soy and Don Papa Rum Glaze & Pickled Shimeji Mushrooms (£22) which came on a fairly large plate so it looked a bit lost. I did try some of the steak though and it was cooked perfectly, medium rare, just how a steak should be! The meals were decent and although Resorts World is a little out of our way, I would happily go back and sample some more of the dishes from Robata. The Chinese Greens which accompanied our dishes completed the meal in my opinion.
All desserts are £5 on the menu aside from the sorbet which is £3. After our hearty meal there was just enough room to squeeze in a sugary dessert. The Toasted Peanut Parfait with Dulce De Leche and Salted Oreo & Butterscotch Cream (£5) is potentially one of the greatest puddings I've ever reviewed in a restaurant, it was sensational. I'm a sucker for Peanut Butter anyway and the combination of Oreo and butterscotch cream was a genius combination and tantalisingly sweet. My mouth is watering just typing about it. It was certainly way too creamy and filling after eating duck pancakes, but it just worked. I don't regret a thing.
Josh's Yuzu Curd Cheesecake with Coconut Panna Cotta And Basil Gel (£5) looked as though it had been concocted by aliens, the yellow gel made the pudding look extra-terrestrial. Over all, the service felt relaxed but I noticed the service slumped a little after 8pm as people were waiting to pay up but the servers were attending other tables. That comes with new restaurants though so I appreciate the chaos! Underneath Robata is one of the Resorts World bars and it's interesting watching people look up at you while you eat. If you don't like this, definitely recommend a table in the middle of the room instead. During the night, I also noticed no one on their phones which was incredibly refreshing. There seems to be an 'older crowd' vibe for Robata which lends itself well to a relaxed atmosphere without screaming children and rowdy groups.
We thanked our waitress and left our table when I spotted the couple next to us whisper 'but they haven't paid?'… it's just a perk of the job! After dinner, there are plenty of bars to choose from in Resorts World, as well as the options of the cinema and casino on the floor above. We were also told the SkyBar is a popular activity however you need to book in advance and they have a live DJ from 10pm. We defied these options and we went to the casino instead. At around 11.30pm, we walked back to our room and after a hot shower, we slumped into the cosy beds. The room was pitch black which is ideal and I nodded off within seconds.
Breakfast at The Genting Hotel
We woke up feeling incredibly refreshed owing to the early night and black out blinds. Noise was minimal too which is hugely appreciated. I woke up at 7am naturally and couldn't wait to attempt the breakfast bar. We didn't realise before, but they also hold their breakfast mornings down in the Robata restaurant. This time we were seated at a table in the middle of the room and ordered some pots of tea and coffee. By the time we returned from grabbing hot food and pastries, the drinks had promptly arrived.
We rated the breakfast highly as it was good quality food. I really appreciate that they serve the likes of black pudding and hash browns. There is a large selection of pastries, cereals, juices so you can eat as much or as little as you like. You can also order omelettes and poached eggs off the breakfast menu is you prefer. On weekends especially, I really love it when hotels serve breakfast until 'late; so you don't have to rush down before 9am. Breakfast is served in Robata from 7 – 11am on weekends so treat yourself to more sleep!

Santai Spa
PR Charlotte really took care of me over the course of the weekend and booked me in to try the Heaven back, neck & shoulder massage (£70) at 10am in the Santai Spa. Hotel check-out time would usually be 11am however we were given late check out for 1pm which can also be requested during your stay. After a fantastic breakfast, we jumped into our swimwear and headed down to the Spa via the internal lift.
The ladies at reception offered us lemon water on arrival and gave Josh and me a key for our lockers. Once completing some forms for my massage, we headed through to the spa area. The changing rooms were exceptionally clean and you are provided with fresh towels, hairdryers, shampoo, conditioners and body washes so you don't have to take anything else with you. I was so excited to trial the spa as I have always heard positive reviews. I was shocked to see there was one person using the facilities at the time so we practically had the whole spa to ourselves. What a perfect start to the morning!
There are some pretty fantastic spa packages are available at Santai Spa – Heaven Luxury Spa day (£230), For him package (£140), De-stress packages (£150) and you can also buy group packages for £80 which includes a treatment, prosecco, the use of spa facilities and canapes. After visiting for the first time, I would go as far to say the Santai Spa is one of the best I've tried in Birmingham, the facilities are pretty exceptional. During your visit, you are welcome to take advantage of the functional gym, a gorgeous 15 metre spa pool, outside hot tub, heated loungers, salt cave and sauna after your treatments. They have all you need to indulge in the perfect weekend get-away. I was told that Josh was welcome to use the spa facilities while I went for my treatment which was so incredibly kind of them. I can safely say as a person who doesn't usually do the 'spa thing', Josh enjoyed himself and said he would return… Bonus!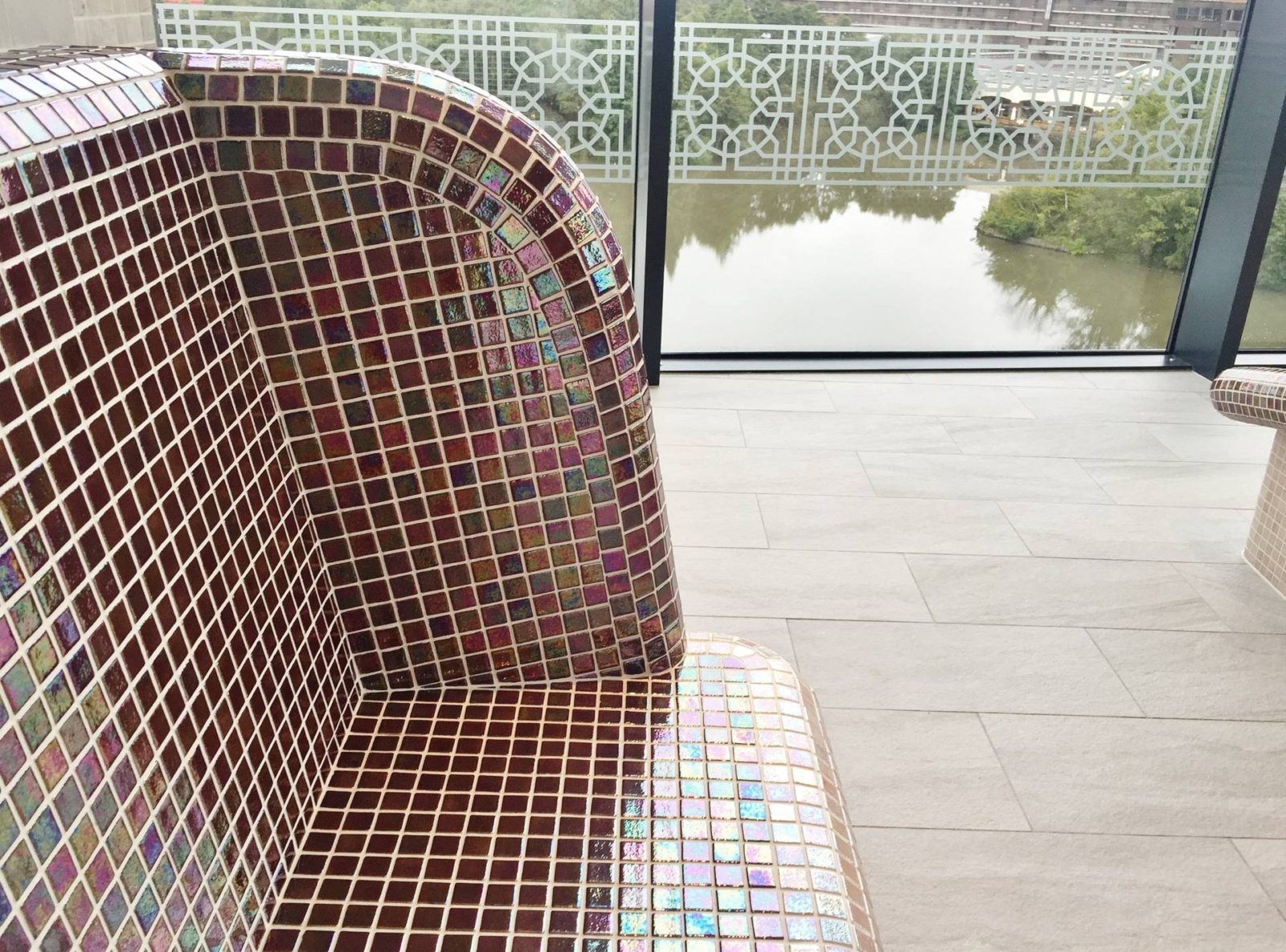 One of the lovely therapists came to collect me from the pool area and treated me to a Halo Back, Neck and Shoulder Massage. Dear god it was incredible. She used oils, lotions and potions on me and I had to try my hardest not to fall asleep. The entire morning was perfection from start to finish and 40 minutes later, the therapist showed me back to the pool. But I couldn't find Josh. I thought he had either gotten dressed and headed back to the room or was outside in the hot tub. OH NO. The staff came to collect him shortly after me and gave him his own surprise. 'Shoulder & Scalp' massage  The staff really went above and beyond to accommodate our needs. Soon after we relaxed in the ourdoor Jacuzzi where they brought us sorbet.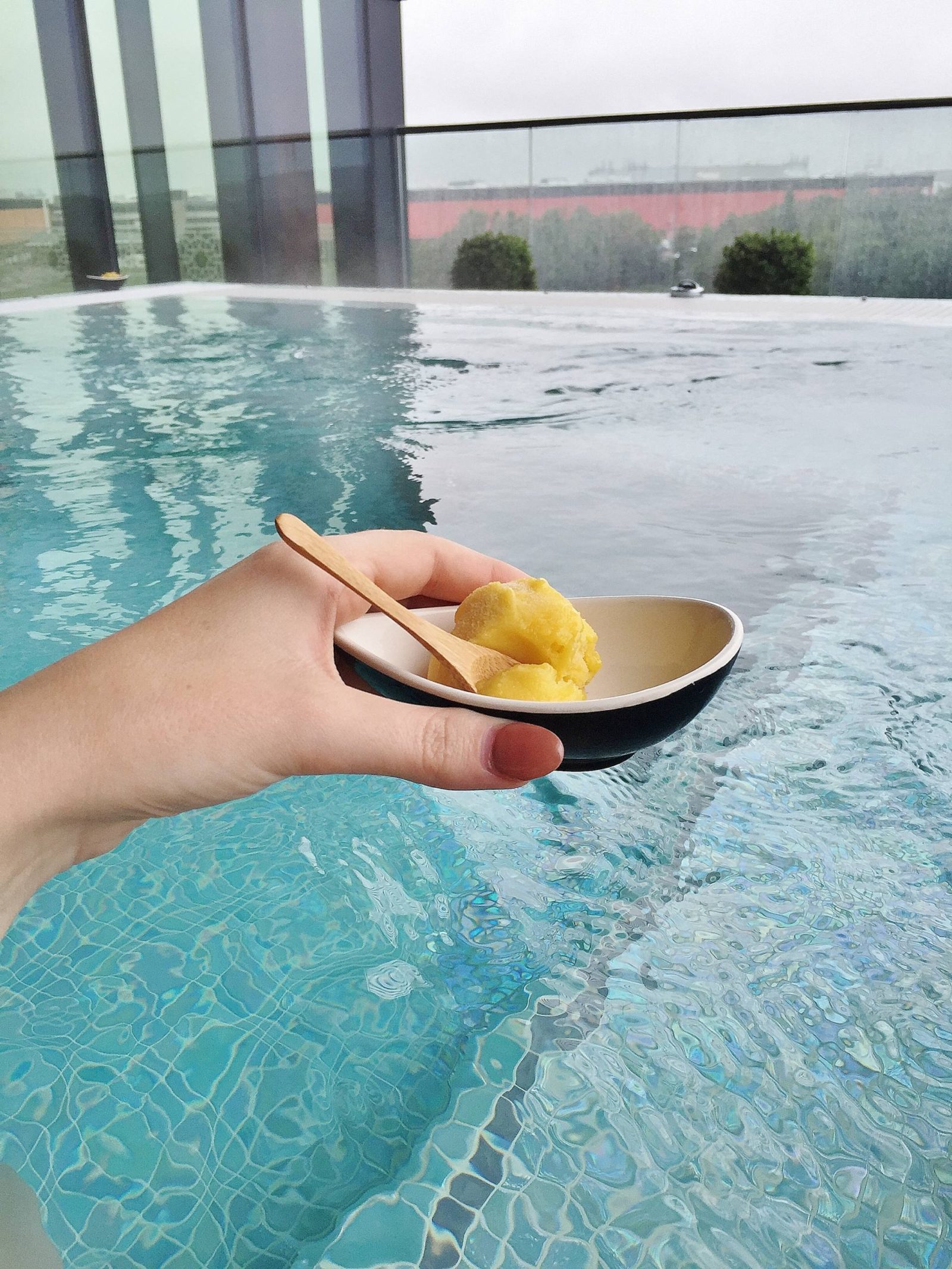 In the hustle and bustle of the modern world, we all need to take some time to relax and relieve the stress and Santai Spa look after every single one of their customers during their visit. The spa started to fill up at around 11am so we headed out to get changed, but I would certainly love to go back and relive the calming and stress relieving experience. I would like to say a huge thanks to the Genting Hotel, Robata and Santai Spa for treating us like royalty during our trip, it was exceptional. Would you like to visit here soon? Let me know in the comments below.
Resorts World, Pendigo Way, Marston Green, Pendigo Way B40 1PU
Genting Hotel Birmingham gifted me a complimentary one night stay with breakfast, dinner at Robata and Spa Access. Rooms are subject to availability and packages are also available. For more information on the spa access and restaurant options, click the Genting Hotel site.