Most people won't know that Warwick Castle dates back to around 1345 when the town was infected by the plague. It's full of gruesome tales and has a very dark history. To be honest, I've always wondered how spooky it would be in there at night. And considering I'm the type of the girl who watches horror films on her own in the dark or at the cinema, when I was recently invited to Warwick Castle for a Dungeons After Dark experience with a friend, I honestly didn't expect the night to be as fun as it was. Let the games begin…
When you think of 'scary dungeon' tours, my initial reaction is to think of children dressed up with face paint. Funny thing is, it was pretty much that exact experience, but with adults running around and holding hands in the dark which made the whole thing that tiny bit more scary at night. I mean, we're supposed to be the brave ones right? I was allowed to bring a friend with me on the night and I couldn't think of anyone better to share this with than Megan, the girl I watch all the horror films with. We were promised a fun filled evening of eating, drinking and scarily good entertainment. After a 40-minute drive from Birmingham to Warwick, we struggled to find the car park indicated on my blogger email. Luckily we bumped into aother couple who said the same thing so we gave up and just parked on the castle grounds and paid £10 for a day ticket.
In keeping with the mediaeval theme, reception drinks started at 7pm and I was given tokens for two glasses of free wine. We were greeted by costumed wenches and henchmen that ran the tour and came through into the dungeons with us. They had paint and blood on their faces and stayed in character all the way through the tour which was greatly impressive. It was very tongue-in-cheek and one woman playing a Jester didn't speak for the whole night as her mouth was 'sewn shut'. I'd absolutely love her job!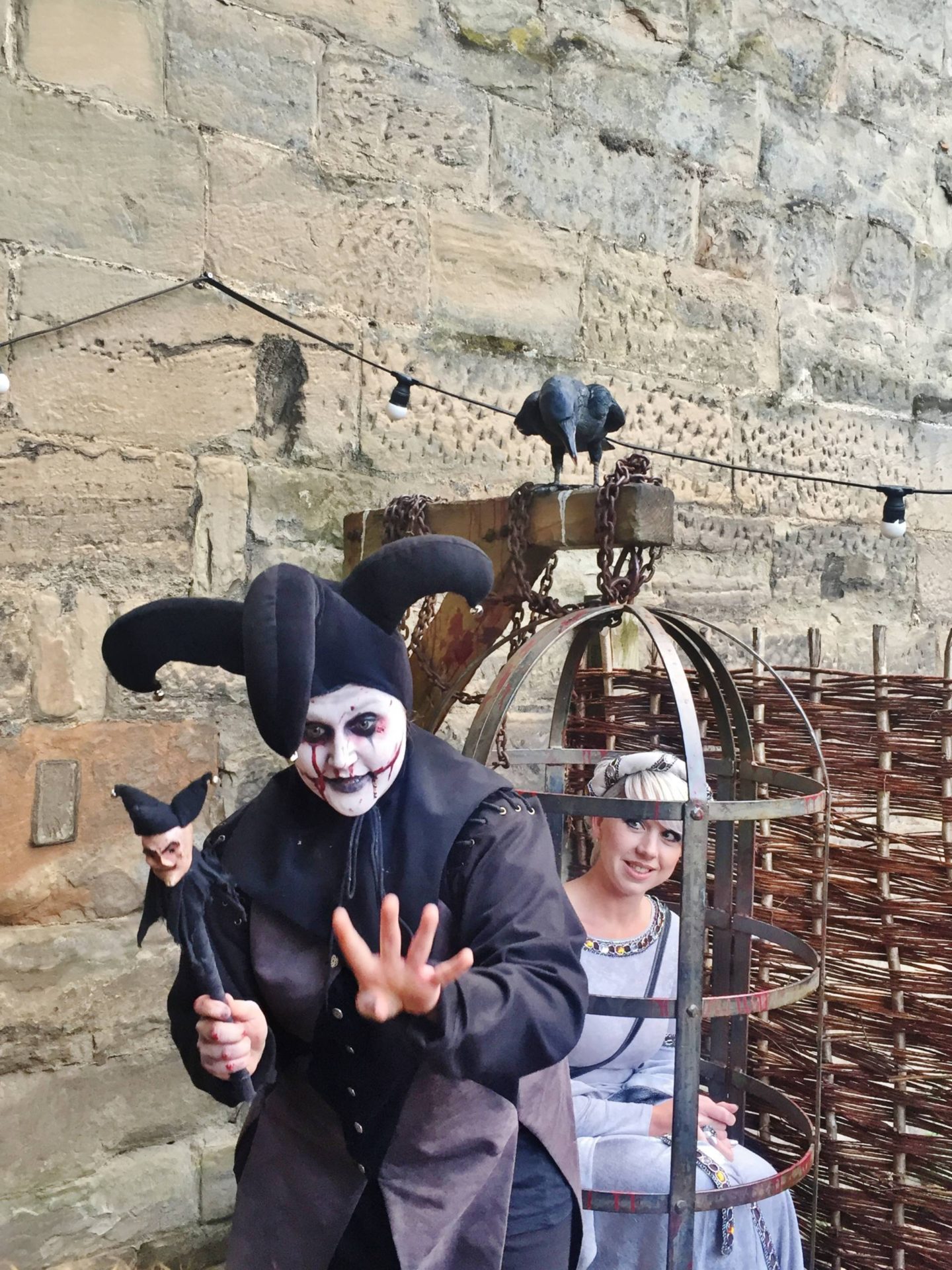 We were lead in small groups through to the dungeon entrance and we just so happened to join with a hen do where the hen was immediately locked in a cage by an old hag who's face was pretty terrifying. Start as you mean to go on, right? Once inside, we headed down to the dungeons by candlelight and through several rooms in which various scenario happens. I won't ruin it for anyone in case you decide to attend, but let's just say – at one point all the lights go out and there are people standing in front of you when they come back on. It's quite cringey at times, but very jumpy to say the least in others. Very predictable but with good intentions. It seemed a bit silly for adults to be screaming like kids, but I think it was good fun.
Once out of the dungeons, we were shown through to the Kingmaker's Mediaeval Banquet in the Castle grounds where we were served food at intervals between entertainment segments in the evening. Megan and I ended up sitting in between two other couples and we shared some banter throughout the night. In true medieval style, the food was served to the ends of the tables and we were all encouraged to pass the plates down and share bowls of accompaniments in true authentic style.
I was pleasantly surprised with the banquet food, although I feel that some of the dishes could have been accompanied with some condiments. For starters, we ate wild mushroom, leek and chestnut potato gratin (vegetarian) which everyone had. The potato was tasty but was a little dry for my liking. For mains, they served steak, stout and onion pie and for the vegetarians, they received a Chickpea, Pumpkin and Almond dish. Our mains came with Roast thyme potatoes, Chantenay carrots, broccoli and gravy. It was pretty much a Sunday lunch banquet but was well earned after being spooked for an hour underground, in the dark.
For pudding, we received a cinnamon and ginger pear cake accompanied by spiced pear liquor which I was too full to eat, but everyone around us seemed to be enjoying theirs. While the food was being brought to us and taken away, random people were being dragged up on stage and made fun of for their 'behaviour'. They even showed us some weird rusty devices that people would have been tortured with if they were to misbehave. One man was made to reenact what would happen if his manhood was chopped off.
Megan and I got talking to quite a few of the characters over the course of the night which made the experience a tiny bit more realistic. All of sudden whilst we were finishing pudding, I found it really bizarre that they started blasting music, one song being 'It's Raining Men'. I'm not quite sure how this related to a medieval style banquet evening but the hen dos seemed to enjoy it. I'd like to say that we had such a great evening and we heard people talking about the experience on the way out. To be honest, I would like try some of the other events to see how they compare. For anyone interested, there is a whole host of Themed Banquets taking place through the year at Warwick Castle for over 18's only. Full date lists and options can be found on the Warwick Castle Events page. Do you dare enter The Castle Dungeon after dark?
Please note: I was invited to the Dungeons After Dark experience at Warwick Castle in return for a blog post. Dungeons After Dark Banquets are open to groups of any size and start from £60pp. This event can also be booked as a private experience for groups of 60+.