Ad-gifted visit | A rare evening off baby-duty called for a celebration, and what better way than to eat some of the best lamb cutlets I've ever eaten – all cooked by a friend and brilliant chef, Sudha Saha at Entouraj in Droitwich.
I'd like to also personally thank the brilliant team, including Tuhin Ahmed, Shah Hussain & Ameer Hussain for making us feel most welcome.
Renowned for their celebration of exquisite Indian flavours, the Entouraj menu is orchestrated by award-winning head chef Sudha Saha, recognised by both the Michelin and Hardens Guides. Sudha has gone above and beyond to produce a menu that focuses on intricate pairings and delicious flavour combinations. I'd love to revisit here again as soon as possible as it really stands out, predominately for its overall chilled vibe, great service and superb dishes.
I don't want to sugarcoat anything in this blog post because the food at Entouraj quite honestly speaks for itself. It's a beautiful restaurant and bar, frequently recommended as being one of the best Indian restaurants in Cutnall Green, Droitwich. I can see why. Serving up a moderate range of traditional and modern Indian dishes, the food is quite stunning and barely pretentious.
Easily a 30 minute drive out of Birmingham, this is a place worth leaving the city for. We arrived on a late August evening just as the sun was setting. The landscape across from the restaurant is something of beauty. Being a Monday night, I half expected the place to be quiet. I was wrong. There was a generous amount of tables filled with couples, alongside a sturdy amount of families joking and drinking beers. Once seated, we saw a few men wonder in with their shirts and sandals. Anyone is welcome here as long as you can appreciate honest, quality food and you don't have to dress for the occasion but small formal is probably best. Note the following photos were taken later in the night before closing so didn't capture anyone in them.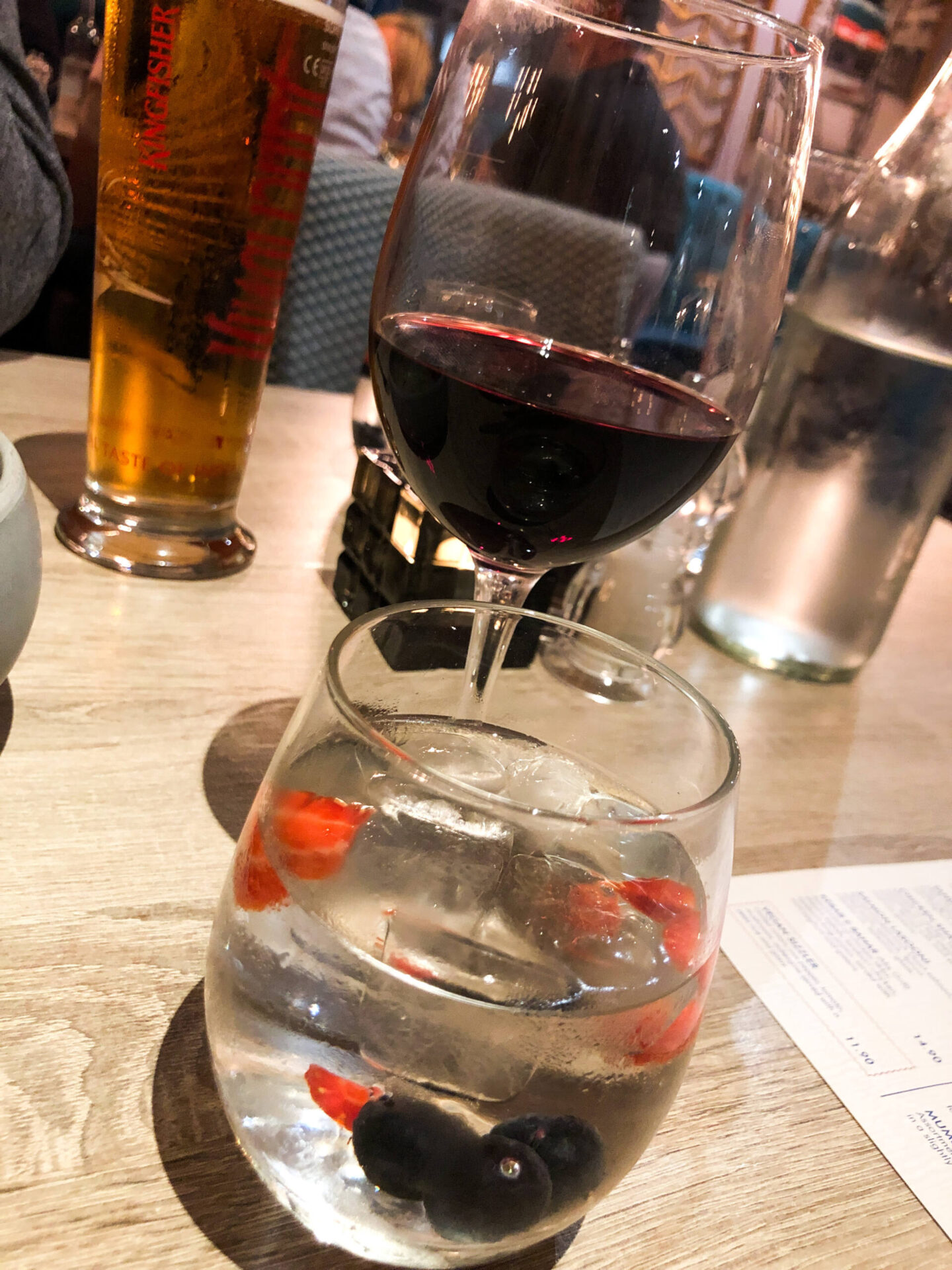 Chef Sudha recommended a few speciality dishes for us to try, other than the normal curry options we would usually opt for. I'm pleased this was the case as it meant trying main dishes I wouldn't tend to order. But first, poppadoms and dips. Arriving within minutes of ordering, alongside my red wine of choice. The water came with blueberries and strawberries, ice cold. Pappadoms are light, either spicy or plain flavoured and are suitable for vegetarians – costing 80p each. The chutney tray, arrives in a metallic tray and comes with the standard mint sauce, onion salad, mango chutney, and a generous bowl of chilli sauce (£2).
Starters call for French trimmed Tandoori Lamb Cutlets (£7.90). Larger portions are available for £14.90. They were melt-in-your-mouth beautiful, and I'll go as far to say they were the best cutlets I've had the pleasure of eating inside a restaurant. Effortlessly tender, the meat was ripped straight off the boneand they are deliciously charred. Pairing excellently with the sweet fruit salsa, balsamic glaze and Asian slaw, you need to visit Entouraj for these alone. Accompanied by a Samosa Chaat (£5.50) it was the perfect balance of spicy and creamy, combined with chickpeas, yoghurt and tamarind coulis.
A signature dish of Sudha's is the Seafood Moilee (£16.90) – a light, fragrant and utterly delicious south-Indian-style curry, packed with juicy chunks of seafood, tempered with coconut milk. This creamy king prawn, cod and scallop dish with plenty of rich sauce has easily become one of my favourite comfort dishes. Standing at such a reasonable price for such a superb main meal, I can understand why people go here. The Keema Naan, nicely shared between two, complimented the smooth and silkiness of the fish.
Lamb Rack Nawabi (£16.90) is a gorgeous looking plate of more spiced meat, root vegetables, keema kedgeree and roganjosh jus. The skin was juicy and encased with the right amount of fat. Arriving a deep-blush pink, it was easy to slice through like butter and paired exceptionally with the concoction of spiced lentils, rice and fried onions. We didn't over-order as we wanted to experience the chef's cooking without feeling too sick afterwards and this was the perfect amount to eat. Again I want to state that these dishes are somewhat out of the ordinary for a typical Indian restaurant, they push boundaries in terms of flavour and seasoning, and the presentation is also flawless. The portions themselves aren't obnoxious either which sets this place miles apart from various other restaurants.
With just enough room for pudding, I ordered the Mango Brulee with Shortbread (£5.50) – a rather small dish with an exotic hit of the mango. It was the least appetising dish of the meal, but the mains and starters speak volume. Other desserts are a simple choice of: ice cream, or the frozen dairy dessert of kulfi.
We stayed until dark. The visit to Entouraj was honestly so good and I went with every intention of paying for this meal. It was kindly gifted to us before being shown around the kitchen and meeting some of the staff who work behind the scenes to bring the menu to life. If you're on the hunt for somewhere different with a touch of class and intricate cooking, I urge you to come here. Considering our plates, and others around us were wiped entirely clean, that's all you need to know.
The full menu can be found on their website and takeaways also available to the local area.
OPENING HOURS
Sunday – Thursday: 5:30pm – 11:00pm
Friday – Saturday: 5:30pm – 11:30pm
Kidderminster Road, Cutnall Green, Droitwich Spa, WR9 0PW
Please note: I was invited for a meal which was later gifted. As ever, opinions and photos are completely my own.