I've possibly experienced one of the best weeks of my life. Aside from the fact I only had a 3 day working week, I flew over to Edinburgh for 6 days to celebrate my best friends 22nd birthday. It's great to have so many friends in different parts of the country, as it means I get to travel and experience new things. On Thursday night, Laura and I went to a Google event. My Bessie is super talented and does marketing and blogging so she gets invited to loads of events. I was lucky enough to be able to go with her this time. The night was called Experimental Edinburgh. When we arrived, we were bound in doctors lab coats, and thrusted into the Cage Bar. What I should have mentioned is that the event was set in an old animal hospital. A bit eerie but super fun. We got free cocktails, and were the first ones to try the experimental THAI NOODLE SOUP in which we were also given a syringe, where you piped coconut milk into the food to form noodles. Secondly we ate some funky chicken and egg concoction. We then went onto other rooms into the event where they were testing NASA space ice cream, UV Jelly and Gin, and…. Er…. Crickets. We ate dead crickets, and it's weird to say, they actually were pretty tasty. Laura and I got chatting to one of the Google workers, and we became friends with him. We later took to the Google photo booth where you got print outs for free. It was super fun. Laura and I also did this rope challenge where you had to untangle ourselves from each other. As well as doing weird drinking challenges and experiments. In all, the night was insanely fun, and since it was my first event, it's left me wanting more.

The next morning, my girl and i headed out for a little browse in Edinburgh. i was being a proper tourist and taking loads of photographs. i just love the atmosphere up there, it's really relaxing and the air actually tastes different. afterwards, we headed back for a costa coffee. we both tried the new Black Forest hot chocolate. We died and went to heaven. Not long afterwards, we headed back, and started to get ready for Laura's big night out. We were going to Vodka Revs for a cocktail masterclass. It was bloody great fun. I made cocktails first with Laura. We were given extra shots for answering questions right. I was given two shots of a creamy liquor. Afterwards, we played loads of games and ate pulled pork and chips. After our class, we headed off to several bars, and ended up in a nightclub called HIVE. It's my second time in HIVE and I love still love it as much as the first time I went. It's not too crowded and the music was just right. They played some of my favourite music, as well as The Offspring. We stumbled back in the late hours of the morning, pretty drunk. Here are a few pictures of the day.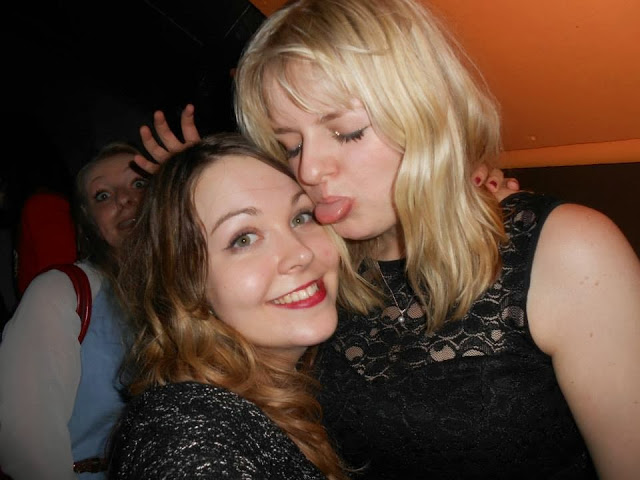 The day after this was a tiny blurr. i tried haggis for the very first time during the BEST FREAKIN' BREAKFAST IVE EVER HAD IN MY WHOLE ENTIRE LIFE. I need to calm down, but I can't explain how delicious it was. It was at a place 2 minutes away from the house. It was called Montpeliers. Laura managed to get a voucher for us, so we got the best food of our lives for 6 pounds. This included a full scottish breakfast, tea, orange juice and toast. We plodded back to the house afterwards and spent the rest of the day, in PJ's, in bed, with chinese food and Catfish. It was bliss. We also slept for about 50 hours.

On the fourth day, we headed back out to Edinburgh for a little more shopping. We headed off to the German Market for an Apple Struddel Pimms drink.

We were sitting next to this HORRIFYING fair ride which literally throws people around in the air. It kinda made my whole life feel sick, just by looking at it.

Afterwards, I found out we were going to be treated to a little Afternoon Tea, with many thanks to Mary, Laura's momma as a birthday treat to us both (How sweet!). We headed to The Carlton Hotel, a luxurious little retreat just across the Edinburgh bridge. We ate cake, drank tea, ate scones and sandwiches and generally became fatter. By this time, I was about 50 stone heavier. This is us having a whale of a time.

Shortly after, we waddled home, ready to be picked up by her rents. we were about to be driven home for the night, back to the Boarders, for a chill night at the Crawford residence. I got there, and was fed Beef bourguignon. Delicious homecooked food, and soon after, I was drinking 36% vodka with laura's mom. We slept REALLY well that night. The next day, it was finally Laura's birthday. It had been leading up to this day. We were so chilled and comfy. We awoke to a gorgeous breakfast made by mary. Bagels and smoked salmon with cheese sauce. Laura then went on to open the SHIT LOAD of presents I bought her. (I always do my best friends little gift bags with loads of things in for their birthdays – it's become kind of a ritual)… afterwards, we chilled and slept a little more. And then ate two loads of birthday cake.

Later on the night, we got changed into pretty dresses and drove back to Edinburgh with the rents. We were heading for a restaurant called Monteiths. I'd heard so much about this place, so I was hoping it was going to live up to its name. I have no words for the food they served there. I ended up having chilli jam and squid, and the best steak and duck fat chips. And the place itself was GORGEOUS. The walk way to the front door alone was covered in fairy lights. It was beautiful.

I had such an amazing time. I came home the day after with the biggest smile on my face, the fattest stomach ever, and brilliant memories of spending birthday time with my best girl. This weekend has been one of the best ever, and I thank you Laura for always being such a shining star in my life 🙂