Pisa is such a beautiful city that you can conquer in a day. Lucky for me though, I stayed there for three days at the start of this month, riding bikes to the Leaning Tower, drinking more wine and melting away in the heat. You may have already seen my 'Blogger Trip to Tuscany' where I was kindly invited out to Italy to review a hotel. It was one of the best trips of my life. Driving to Pisa on the way back meant staying in a beautiful apartment that we had found on airbnb.  The place was crisp white, cosy and packed full of books and vinyl.
The house definitely has a 70's vibe. Each morning, Josh and I would eat our breakfast at the table (the owners kindly left us eggs, ham, cheese, crossaints, bread, nutella!) and we would put some music on the vinyl player while we got ready for the day ahead.  Art work is dotted all around the house, there was something new to look at every time we came downstairs. We had free reign over the DVD selection and they even left bottles of wine and snacks to purchase if we felt peckish. They even left us English teabags…

Our first afternoon in Pisa meant taking the bikes out for a spin. We rode along the River Arno into the centre where we eventually found the Leaning Tower. It took us around 10 minutes to ride there, and it was so refreshing to bike instead of walk. It was around 34'C every day we were there. It was sweltering but we embraced the sunshine. As you know it's the law to take the bog standard 'Pisa Pushing' photograph…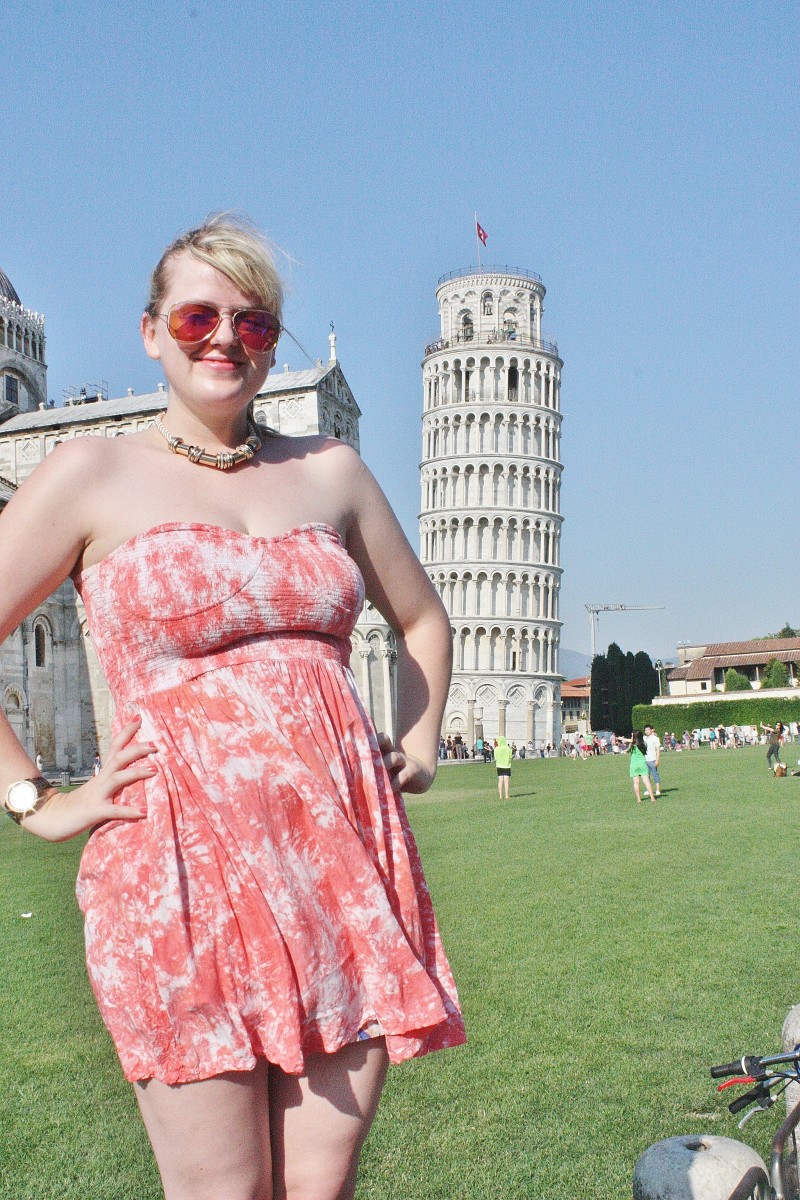 We thought it would be ideal on day two to visited the beautiful city of Florence as we heard so many great things about the place. We caught the train early the next morning and wondered through the streets. Josh thought it was a good idea to run up the bell tower in the middle of the square. Little did we know it was 414 steps up to the top. Try walking up that in 30 degree heat, with a heavy camera bag and very limited water. Christ I could have killed him. But my goodness, the view at the top! (can you spot the people opposite?)

We glided through the streets, admiring the beautiful buildings. We were tempted to try and get into one of the cathedrals but they were making the women cover up on entry. We found a wonderful restaurant and gulped down several bottles of water before demolishing a plate of spaghetti. As Josh said continuously while we were in Italy… "when in Rome!". I've never tried tuna pasta like this before, it was SO delicious!

One of the holiday highlights was eating Pasta next to Pisa. If you've never been to Tuscany, Florence, Pisa or Sienna before, I suggest you book yourself a flight, pronto! The overall holiday was a genuinely amazing experience and I feel like the luckiest blogger, ever!  What do you think of my Pisa & Florence City Break?