I love a good spa day. Taking some time to kick back, relax and float like a starfish in a pool is the ultimate stress buster. But my recent visit to The Club & Spa at The Cube Birmingham was a little different. Before I had the chance to even think about jumping into the pool or visit the steam room, I had my butt handed to me in a hardcore personal training session. Needless to say it was the best gym experience I've had.
I was recently invited to the spa to experience all the club has to offer. I unknowingly coordinated my clothes with the pink walls which was a good start. The day itself consisted of a half hour personal trainer session, half  hour climbing wall session, and a relax in the spa afterwards to cool off. I spent most of the day with the beautiful blogger Bella and Robot and we pushed each other in times of physical desperation. Considering I spend most of my time writing about food, you would't believe that I'm a former female Tae Kwon Do champion would you? I enjoy going to the gym so this was the perfect way to test both my mental and physical health. Beforehand, we had a look around and I love the fact a Laurent-Perrier nail bar is plonked right in the middle – I would love to treat myself to a champagne and pamper at some point.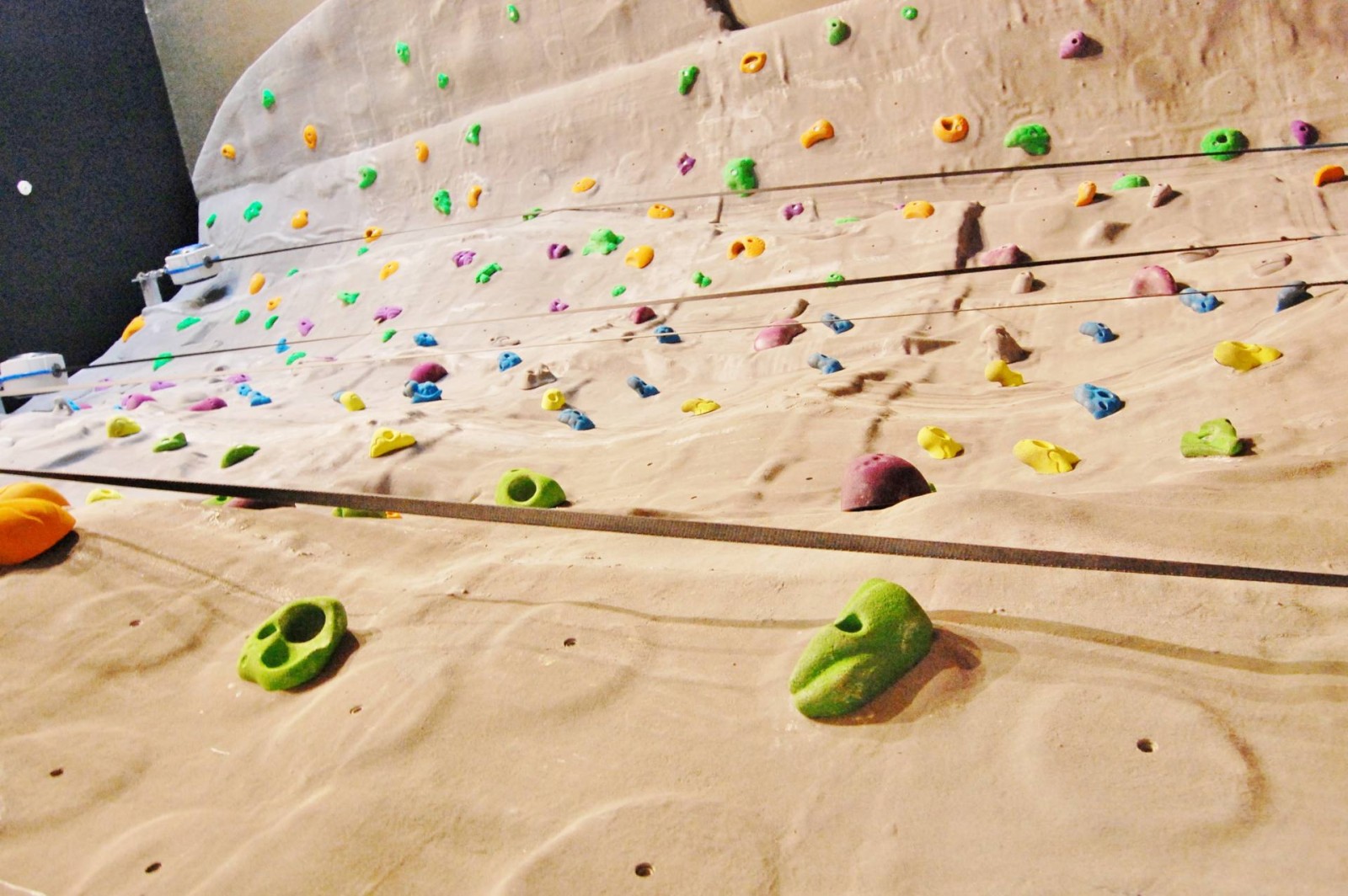 We were introduced to our trainer for the day, Connor, who by the end got a mouthful from me after I walked away with numb legs, a sore head and sweat dripping down places I never thought possible. We were tasked with climbing up a rock wall. After being harnessed up safely, I started up the wall and heard someone shout behind me "she's like Spidergirl". I forgot how much upper body strength you need for it, and after just 15 minutes, Alev and I were already feeling the strain (or maybe it was the wine and pizza from the night before…). The adrenaline certainly kicked in after letting go of the wall from such a great height.
Then came the hard part… the PT session. I get butterflies even now just thinking about it. I instantly recognised another of the PT trainers, Kellie, who shouted encouraging words at us most of the way through our session, so I thank her kindly for that! We started out on the rowing machines, then moved onto the stability balls (throwing a heavy ball at a target for 3 minutes isn't easy!) and before I knew it, I was sled training (pushing a heavy sledge across the floor like you see in American Football). The hardest part by far was the battle ropes. Anyone who has trained with them before knows how much determination you need to complete them successfully. I'm certain the things were determined to kill me and I acquired a stitch half way through. However I pushed on with the thought of a well-deserved spa treat afterwards.
The final fitness task we endured was a 10 minute spin session. Having another person doing it with me on the day made the experience so much more enjoyable. If you are considering joining the club on membership basis, they provide fantastic packages and PT sessions at slightly pricey (but rewarding) costs.
Onto the relaxing part… the spa is labelled as a 'restful sanctuary where time stands still'. Hanging beds, tranquillity and relaxation is number one priority when it comes to unwinding in the luxury rooms. I've visited a numerous amount of luxury spas over the years and this stands as a high contender. It was relatively busy on the Saturday I visited, and the pool area is small so we couldn't find available lounge chairs. But as we spent most of the time in the water and in the steam / sauna and salt rooms, this wasn't a huge issue.
The spacious spa stretches out over one entire floor, so the area never felt cramped. The spa also delivers hourly treatments if you wished to book in for a massage or facial after a gym session. If you can't afford the extra cost, they provide wet and dry thermal rooms alongside the vitality pool which is complete with massage jets and a waterfall to use at your leisure. If I were to come again, I'd definitely visit on a week day.
I am extremely grateful to have been invited to The Club & Spa and to experience a personal and professional PT session. The staff are extremely pleasant and talk you through every step of the training. I also admire the fact they just let you get on with your experience without trying to shove a membership down your throat. If you like the look of my experience, don't forget that the spa also sells gift vouchers  to allow treatments, spa days and overnight breaks. It was a very memorable occasion and I appreciate everyone looking after us bloggers on the day. Would you consider visiting here?
The Cube, Mailbox District, Birmingham B1 1RN 
Disclosure: I was invited to experience a free PT session and Spa day, courtesy of The Club and Spa, Birmingham. I have written a review on my own accord and my opinions are 100% honest and are my own.