This blog post has been a long time coming. Mainly because I wasn't sure if I wanted to blog about my trip to Rome back in May as I just wanted to relax and not have to worry about taking images for my blog at every turn. However we ended up having the BEST time while doing a mini tour around Italy so I wanted to share some photos with you. At first, we were just planning on going to Rome but then planned an excursion to the Amalfi Coast and Sorrento too so I'll share those with you soon. I'll go as far to say it's been one of the best trips away that we've as a couple, I'd recommend doing this trip to anyone, it's insane.
Rome – River Palace Hotel 
Via Flaminia 33, 00196 Rome, Italy
We arrived at our hotel early morning after catching the train from Rome's main airport – Leonardo da Vinci–Fiumicino. The River Palace Hotel is a stone throw away from the centre of Rome, so it was fairly quiet but close enough to walk to everywhere without being disrupted. The tram line was also right outside our window in case we wanted to take a trip somewhere for the day. From the airport, it was so easy to find our hotel which was around an hour away, but lucky for me, Josh took the lead and organised train times for us. We were kindly given a choice of rooms which is a little peculiar! The large double room had a bath and had tea and coffee facilities, so we decided to pay a tiny bit more for a bigger room and bathroom as we were staying for a few days. The room was clean, bed was comfy and we had everything we would need for our stay. The wifi was great too for uploading pictures to Instagram after sightseeing for the day. For 3 nights, we paid around £450 for our stay which actually wasn't too bad.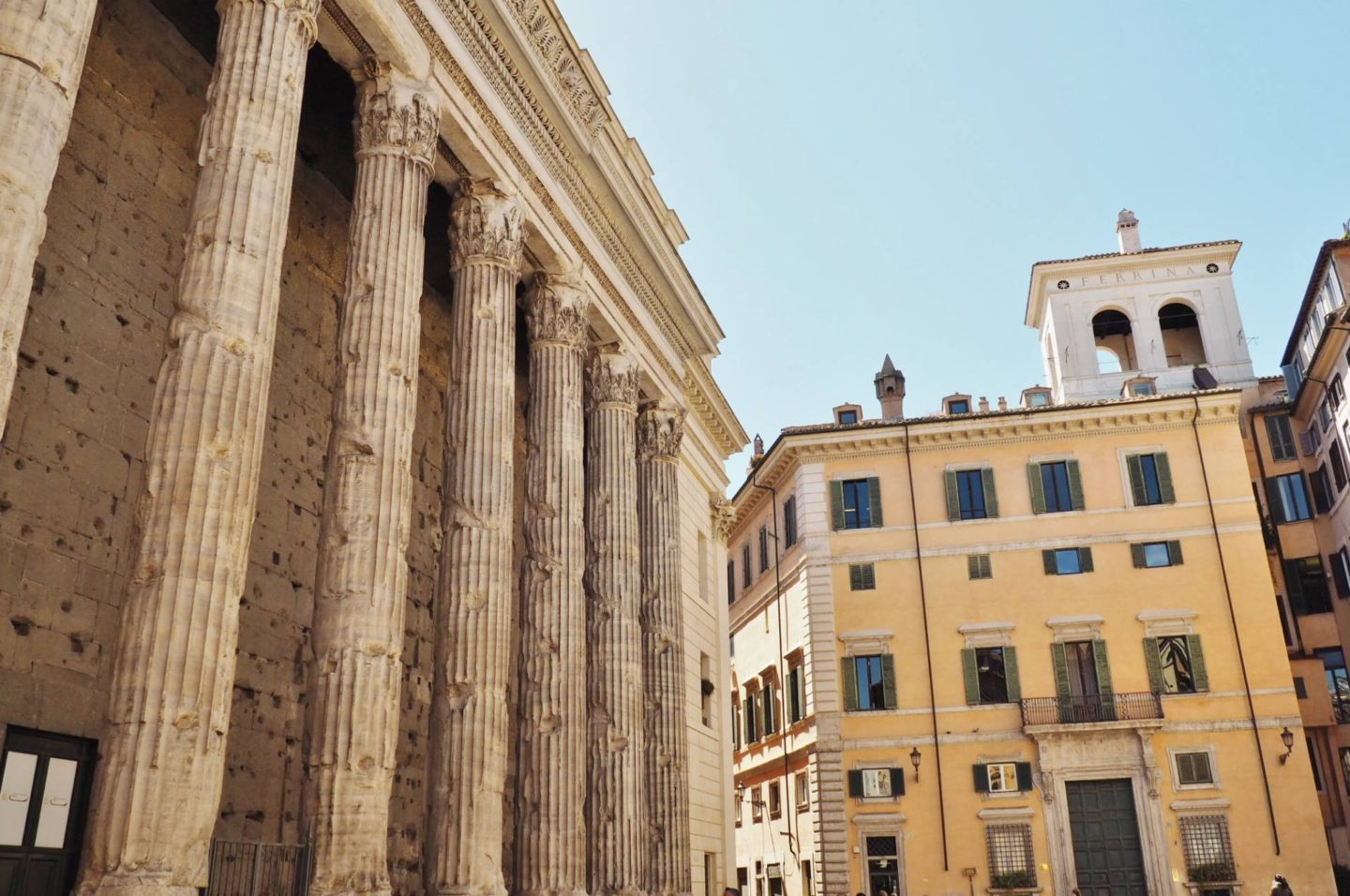 We left our hotel pretty much straight away to go and look around the centre of Rome. There's so much to see and do and around every corner, there's always beautiful building to stare at. Priorities first obviously, and we went out for ice cream and pizza near the Trevi Fountain. Bear it in mind that the closer you get to the main attractions, the more expensive the food will be. Consider it as a tourist trap, but it's so so worth it to be able to say you ate ice cream at the Trevi Fountain. It's what dreams are made of!
Trevi Fountain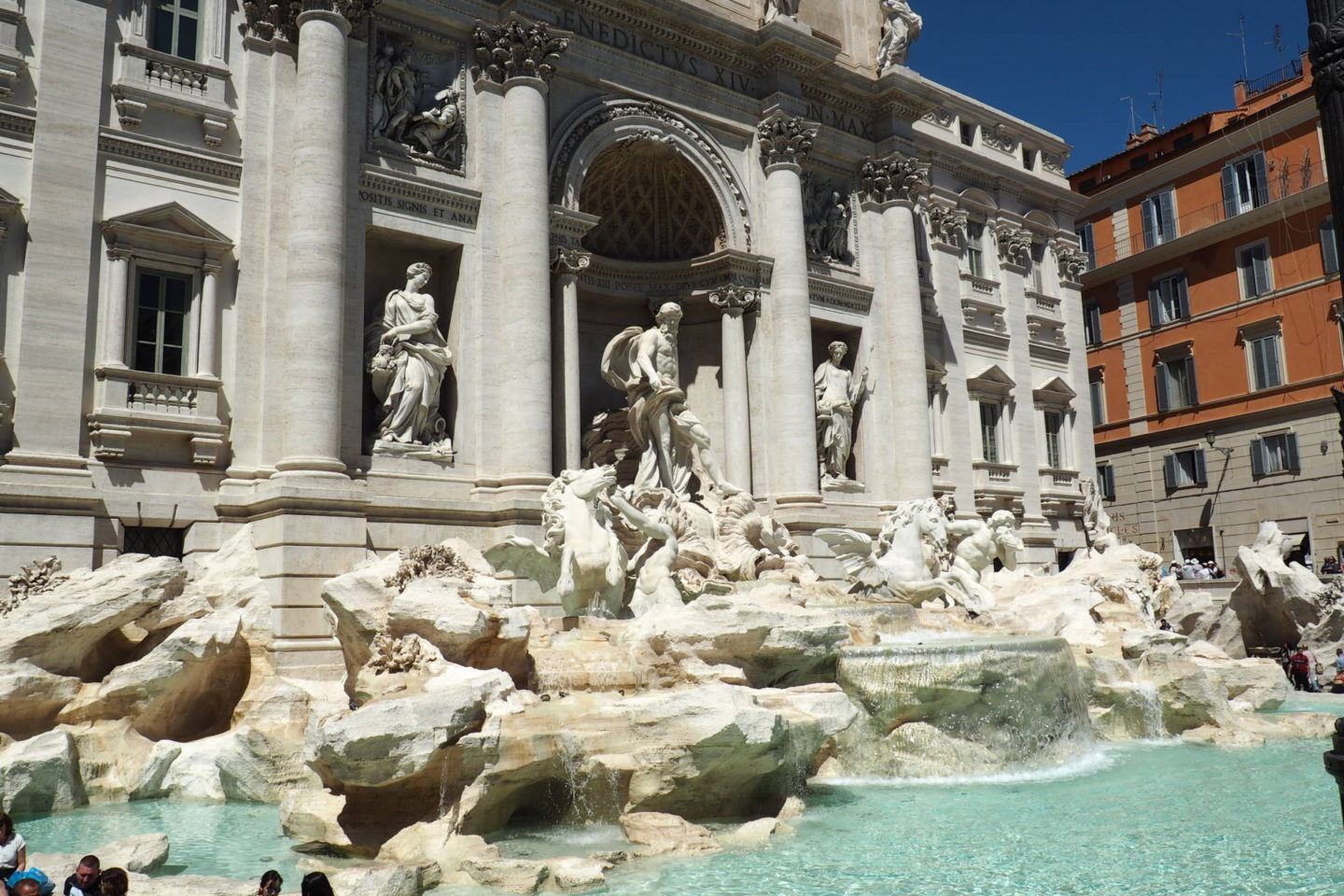 No trip to Rome is complete without a visit to the Fontana di Trevi, or Trevi Fountain. It's localted in the Quirinale district of Rome, and is better known as one of the most stunning fountains in the world. But there's a lot more than just beauty behind this famous fountain! We headed straight there from our hotel and expected some kind of build up to it, but it's actually just there when you turn a corner off a main road, it's really bizarre. The fountain is definitely something you need to see with your own eyes because I couldn't believe how big it was. It was crowded with tourists too so it was hard to get a good shot, but we headed down near the water and threw a coin in and made a wish. Just be aware of the men that go around asking to 'take a picture' for you and then charge you about £10. Just say no, I'm sure they hear it quite often.
The Spanish Steps
The Spanish Steps was actually one of the first things we saw when in Rome. Dominated by the Trinità dei Monti church at the top, it's definitely somewhere you have to visit while here, it's so pretty. It was lovely to walk half way up, sit down on the steps and see the crowds of people taking selfies and photographs, it really is a sight to see. We actually found it by chance from walking down a side street, so again, we didn't expect it to be there right in front of us. Clearly we're very natural tourists.
The Pantheon
The Pantheon is a actually known as former Roman temple but has now been converted into a church. I actually found out that The Roman Pantheon is the most preserved and influential building of ancient Rome. The inside of the building and the streets around it are just stunning, there really is something new to see at every head turn. I also love how blue the sky was that day, it really felt like a proper holiday, tourist or not!
This is just a small amount of the food we ate in Rome, and the pasta tastes one million times better than it does anywhere in the UK. The best meal we had was in a quaint little restaurant down a random side street somewhere, and I ate the most gorgeous cheesy pasta with truffle on top. I can't remember the name of the restaurant as I wasn't taking note to blog about it. We had such an amazing time in Rome and it's a place I would 100% go back to as it's just stunning and the food and wine is unreal. I'll be posting my blog post soon on our trip to the Colosseum, our trip to the Vatican and our tour to Sorrento and Positano – so keep your eyes peeled! Have you visited Rome before? I'd love to know where you stayed and what you did.