I hadn't long woken up from my slumber at Luxury Hotel, Netherstowe House the other week when I was whisked away to review the new Almanack Restaurant in Kenilworth – sister pub to the Highfield in Edgbaston. Whenever I'm invited to review a restaurant, the first thing I do is look at the menu. What food do they serve? How expensive is it? Are the prices right for what they're offering? From the invitation, I was promised to try some 'fantastic food and drinks' from their brand new summer menu, at a top notch lunch spot. Although Kenilworth is a bit out of my way for a Birmingham food blogger, Josh and I thought we'd make a weekend out of luxury treats and drive over to see what all the fuss was about.
On arrival
We parked around the corner as the restaurant sits on a main road. I was curious to see what the interior would be like, also what does Almanack even mean? Open all day, seven days a week, they serve a variety of breakfast options, cakes, teas, coffee, lunch, drinks & dinner – everything you could ever ask for. We spotted dozens of fancy wooden tables, brightly coloured chairs and cosy little booths occupied by couples, large families, groups of friends, with a few men standing at the bar; it was very eclectic mix of people for a Saturday afternoon. We were quickly shown to a booth by a wonderful young waiter, bouncy and full of life. The atmosphere was warm, cosy and equally relaxed and I was excited to dive into the menu.
Let me just tell you now, even after years of reviewing, I never quite know whether to officially announce I'm there for review purposes. It just sounds so snobbish, even after being invited. We were offered some menus to browse through while deciding on drinks and when our waiter returned, I needed to clarify whether he knew or not. And guess what, he personally had no idea. Funny thing is, the service was fantastic even before he knew I was critiquing. Needless to say, the service was still impressive afterwards. 
The menu
Although I love that there's plenty of options at The Almanack, there's a lot to choose from. The summer menu is packed full of light options for brunch, fresh vegetables, delicious meats and an abundance of fish. There really is something for everyone, however I feel they could have bulked out the veggie options a bit more. There's also a specials board which they bring around to customers which I found to be unnecessary. Even Jack our waiter complained of having to carry it around from table to table, poor thing! I feel the menu could have been downsized but would remain equally as impressive. I mean it took me a while to consider what to have for starters! Shortly after our drinks had arrived, in good time, we asked to sample the Warm Mini Loaf & Garlic Butter (£3) and a Pot of Crackling & Apple Sauce (£2.75).
It looks huge in pictures but believe me when I say, the loaf just about covered my palm. It was incredibly dinky, like something you'd find in Alice & Wonderland. The garlic butter was delicious but felt it could have been improved with a bit more garlic… that's what you expect anyway! The starter was fabulous as we had not long eaten breakfast so didn't want to go in heavy with starter dishes. The pork came in a little pot on a wooden slab. The style of serving is similiar to The Botanist if you fancy that fancy-pants style dining. Somehow at this restaurant, it worked without appearing overly hipster and the starters were great value for money.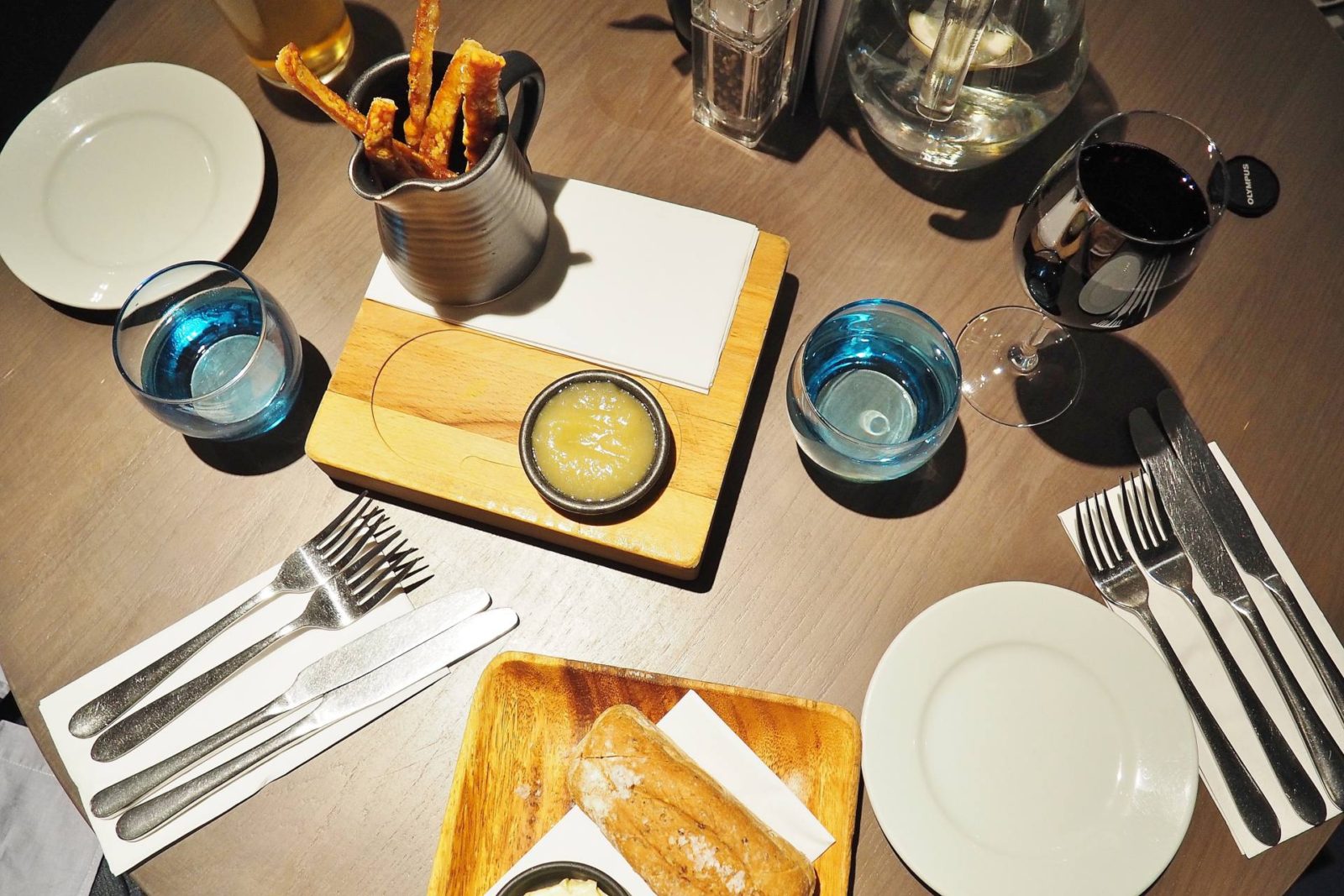 For my main, I asked Jack our waiter what he thought I should sample from the menu. Considering I was drinking a large glass of red wine, he figured the 'Slow 'n Low Braised Duck Legs, Creamy Mash with Cherry Jus' (£16.75) off the specials menu would go down a right treat. Josh went for the Maple-Cured Gammon Rib Eye Steak, Poached Eggs and Chips (£13.50) off the normal menu… how very British.
The presentation itself deserves a round of applause, the plate came out piping hot and you could tell everything had been made from scratch, from the mash to the cherry sauce. Every bite was delicious and I love it when the duck skin is crispy but still has a tender texture. I was very impressed with the meal I chose. I liked it so much I had to ask for a second helping of the cherry jus' just to satisfy my cravings.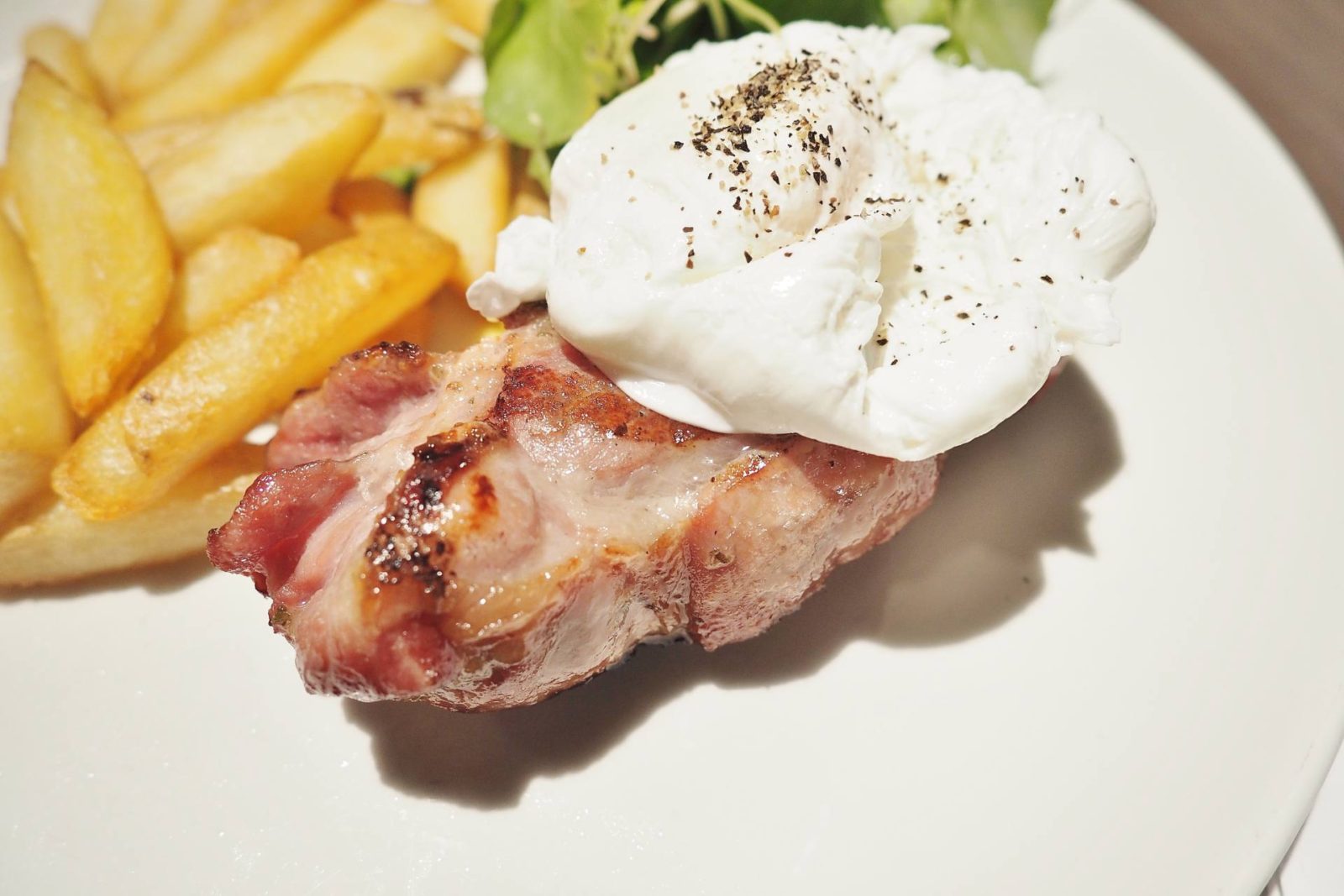 Josh can't eat a meal without an array of condiments at his side so lucky for us, they served a range of dips and sauces. He especially asked for some mustard to which they replied, 'English, French, Mild, Strong?' – a good selection, brilliant! Josh especially loved his poached egg on the gammon, and when he cut into it, the egg oozed all over his plate. I had a bite myself and even I thoroughly enjoyed it. Portions are just about right but feel the plate was too big for the gammon meal – but maybe I'm just being picky!
Once we had let our mains slide down, we were asked to try the dessert menu. As Josh was driving, the manager, Mark requested that we try the Erdinger, a 0.5% beer. It sounds horrific, but it's genuinely one of the nicest beers.  A few of them bad boys and you'd be having a real good time! Also, how great is the packaging? Very Instagram worthy. The pudding menu was a whopper, meaning it was full of cheeses, puddings, brownies, ice creams sorbets, spirits, the lot. You really are spoiled for choice, however I was thinking that they don't serve a large range of vegan options for main meals, so be cautious upon ordering.
As part of the new summer menu (and as Wimbledon was in full force at the time) they suggested I try the Strawberry Medley (£5). This consists of strawberries, cold melted chocolate, creams and shortbread. Truth be told, I felt what the dessert lacked in flavour it triumphed in presentation. I know lots of people who would hate this sort of thing, but you pay for the experience and if you don't like it, just ask for a plate. I expected the chocolate to be warm so I had a big shock to find it was more of a milkshake texture.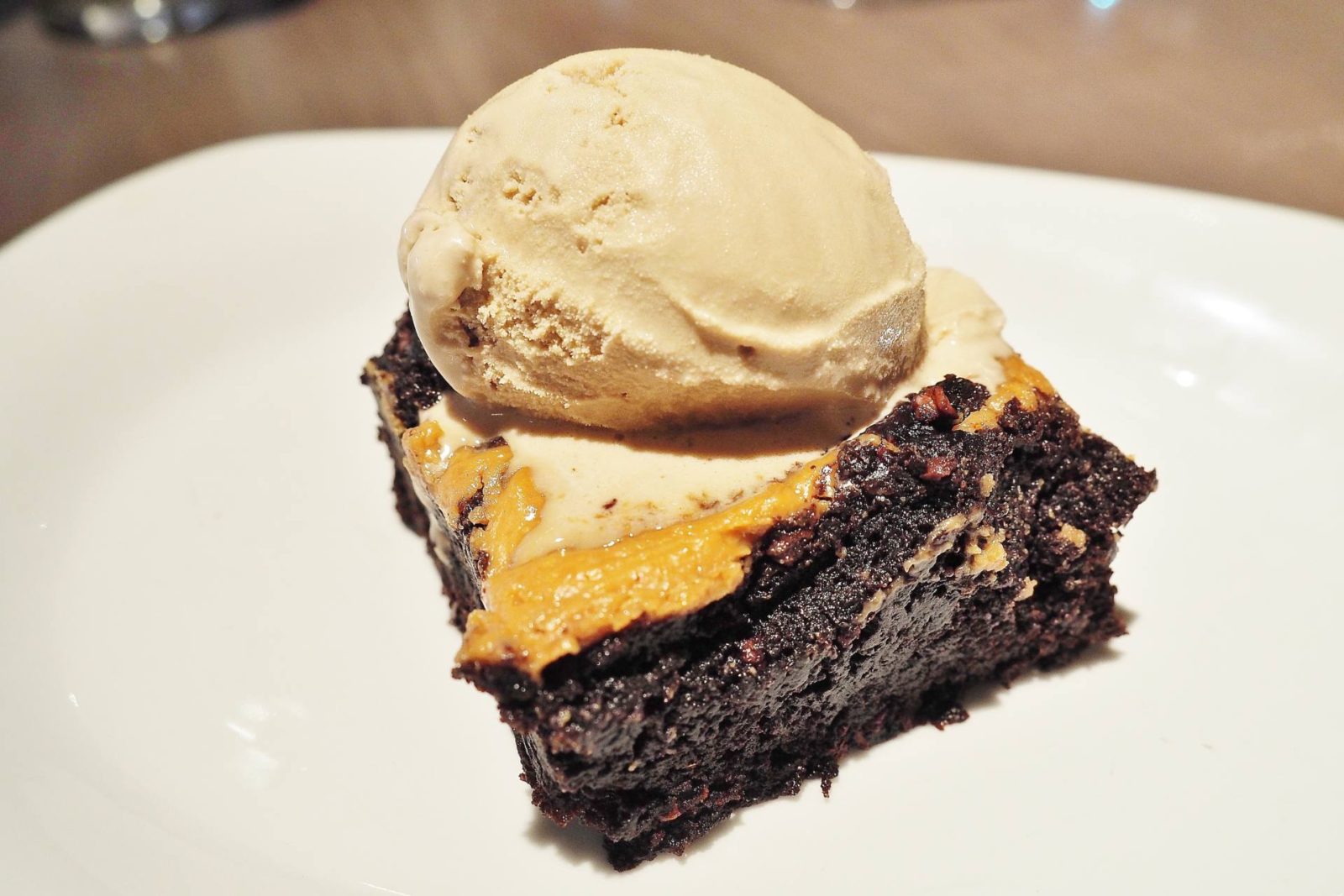 Unfortunately Josh wasn't too keen on his Peanut Butter Brownie with Banana Ice Cream (£5.75), he found it way to sickly so I ate it instead. Again, the plate was way too big for the amount of food on the plate – little plates shall do guys! Overall, we were really impressed with the top quality food and high standard of the restaurant. Considering it's a little too far out of Birmingham City Centre, there's nothing stopping me from going back for a meal as it's not too far from my work and we both thought it was impressive. Have you ever visited the Almanack before or would you go after reading this review?
Full menus can be found here. Almanack: Abbey End, Kenilworth CV8 1QJ
Disclosure: Please note, I was invited to The Almanack to try their summer menu options with complimentary meals, drinks and puddings. All opinions are 100% honest and are my own.