Sleeping in luxury hotels is becoming quite the hobby for me. I wish I could get paid for doing it because I'd be minted by now. I'm very lucky to be the type of blogger I am, as I get given so many incredible hotel opportunities. As you may have already seen in my hotels category, I'm building up a portfolio of some of the most stunning hotels across the West Midlands, with plenty more in the pipeline. There are not enough words to describe how in love I was with Netherstowe House, a former water mill and a stunning Georgian-style hotel. And I don't even need to state how chic the bathroom was.  I mean, just look at it…
I have to throw it out there, with the majority of blogging opportunities I receive, it's not what I know – it's usually who I know. When an old classmate got in touch with me asking me if I would like to review the Penthouse Suite at Netherstowe House, I jumped at the chance. Then I jumped some more as I was so excited to have a relaxing weekend of doing nothing but eating, sleeping and lazing in the bath tub.
Just over five years ago…
Netherstowe House was recently transformed by the current owners – the Heathcote family – into a stunning boutique hotel and restaurant. They're a family run hotel and it's evident they pride themselves on delivering sincere, five-star hospitality. A memorable part of my experience was staff saying 'Hello Miss Stokes' each time they saw me. It really is the 'personal touch' that makes the experience. The hotel undeniably reflects a mood of relaxation, with a hint of leisure and romance thrown in for good measure. I very much admired the old fashioned decor with vintage suitcases piled up on the landing, and floral carpets…
St Chad's Penthouse Suite
The hotel delivers some incredible packages and serve afternoon tea which I hear is delicious. Our Penthouse Suite itself was gorgeously sleek, with sequin bed throws, pillows, various skylights and various seating areas. We were given a personalised key to open and lock our door and once at the top, the room is set out into four sections. The bedroom, writing area, the lounge and the bathroom. As elegant and modern as the room is, there was no consistent theme and all pillows and throws were mismatched. This didn't stop me looking around for a good 15 minutes however as there was something new to find at every glance.
The ceilings in the St Chad's Penthouse Suite are fairly low and I found it comical they had to put a cushion on top of a beam to make sure you didn't smack your head (oh and the curse of having a 6″6 boyfriend!). The room is certainly a romantic retreat and is impressively spacious, with a wide super king bed for a deep slumber. I like how they gave us fresh water and some tasty macaroons on a tray opposite the bed to snack on when we arrived. What I found amazing is that they have their own beauty department, giving you the option to order a massage or a manicure straight to your room. I'm gutted I didn't get to try this out.
The Bathroom
I am in no way going to deny it. The luxury en-suite is what I came for. With a luxury freestanding bath and double shower at the side of the room, you already know I'm a sucker for a rolltop and ultimate goal is to have one of my own. This stand alone tub was one of the best hotel baths I have tried so far and I was so in love that they provided us with a selection of fluffy towels, flannels, and a selection of shampoos, conditioners and body wash to try at our leisure. Inevitably, I jumped in straight after our evening meal.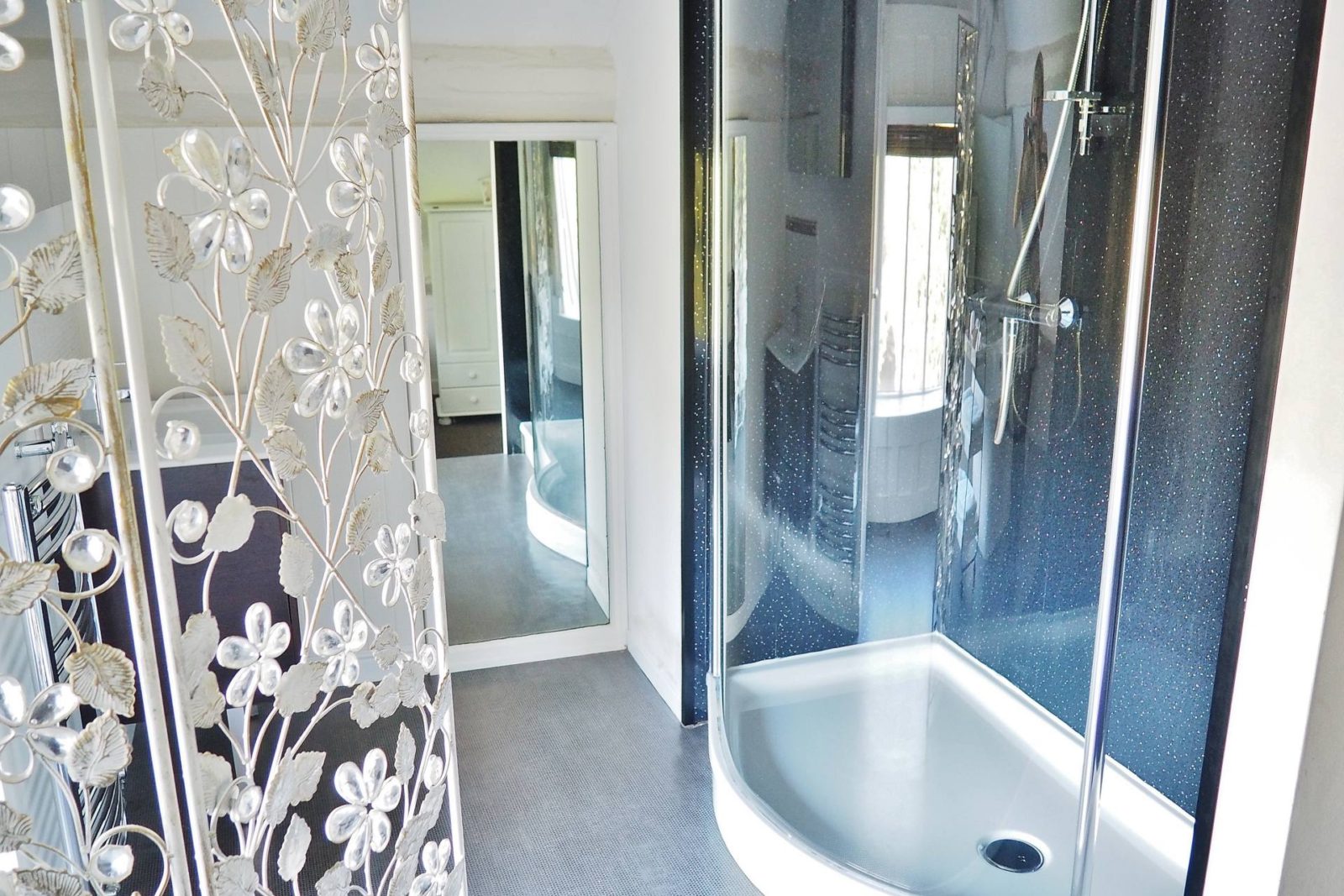 We'd only been at the hotel for 10 few minutes and we were already thoroughly impressed with our room, the service and the elegance of the hotel. The weekend was much needed and was ideal for spending some quality time with Josh. We had booked in for a meal at 7pm in the restaurant and as I hadn't looked at the menu before visiting, I was excited to see what options they had in store.
Fine dining
Dining was an integral part of our evening experience! They market a candlelit restaurant with various tables, and while drinking, we noticed a room across from us which had been set up for a large group of guests. Netherstowe House serve a small classic British menu with amazing steaks and a fantastic selection of cocktails and wines to be drunk in a relaxed vintage atmosphere. The food was fairly pricey but what you would expect for a luxury hotel. For starters I opted for the seared scollops with chorizo and cauliflower (£12) and Josh chose the KFQ Spiced Southern Fried Quail. They were both equally tasty.
We happened to sit next to a couple who were celebrating their anniversary but I do feel we were seated really close, we may as well have been sitting on their laps! As the room started to fill, more people entered the hotel and I was enticed by the bay window section where a couple were giggling away, assuming it to be their anniversary dinner. The atmosphere radiated a homely charm and the servers were always polite to us and bought our food out in great time. Since my friend, aka Head Chef, was hard at work cooking away in the kitchen that night, I feel privileged to have been able to sample his cooking – it was sensational.
The best part of the weekend by a million miles was the steak. Oh my god, the steak. I chose the 8 0z Rib-Eye (£23) with peppercorn sauce and it just melted in my mouth. I cut through the steak like butter, it was tantalisingly delicious. Hand on my heart, it's been one of the best meals I've eaten in a long time. Although the meal was simple, with the steak, rectangular chips and a bit of greenery delicately placed on the plate, I wasn't blown away by the presentation however the taste of the steak and homemade peppercorn sauce certainly made up for it. Top tip: Josh chose the Sirloin steak but told me I had made the better choice.
I don't know how or why but there's always room for dessert, isn't there? We were encouraged by the friendly waitress to try the Pistachio and Cherry Bakewell (£7) with Vanilla Ice Cream and Cherry Syrup and the Milk Chocolate Mousse (£7) Honeycomb with Raspberries and Mint. (Stephen if you're reading this, I NEED this recipe it was beyond anything I've ever tasted in a dessert. It was like eating a giant crunchie bar, mmm!). My pudding was sweet and had the right balance of fruit and crunch of honeycomb. Even though it's a little on the pricey side, you get what you pay for and that's a quality meal – Full menu here.
We fell asleep quicky that night in bed watching Alien, we were full on great food and wine. I nearly cried at Josh the next morning because he wouldn't allow me to order the champagne breakfast (£27.50) in bed but thought it was best saved for an anniversary weekend. Breakfast is served from 8:00am to 10:00am on weekends and there were already a few families dining when we sat down at 8. The Free Range Scrambled Eggs and Oak Smoked Salmon sounded like a breakfast of champions so that's exactly what I went for. Breakfast is charged at £12.50 per person to non-resident guests.
Huge thanks to Netherstow House for being the perfect hosts and I'm sad we couldn't stay longer. I can honestly say you certainly delivered five-star hospitality and superb value on every level. It is also evident that they care passionately about working with local suppliers as they source as much local produce as possible from neighbouring farms and regional suppliers. If you're looking for a hidden gem in Lichfield (somewhere you can run away to for the weekend, put your feet up and indulge in high quality food) then this is the place for you. Netherstowe House is currently ranked as #2 of 11 B&Bs / Inns in Lichfield on Tripadvisor. 
Please note: I was invited for a one night complimentary stay with breakfast. I paid 50% of the food and drinks bill on the night. The Bed & Breakfast stay in St Chad's Penthouse Suite would have cost £195. Opinions are my own. More information can be found on Netherstowehouse.com