Continuing with the run of Italy themed posts, I wanted to share just a few snaps of when Josh and I headed over to Sorrento after visiting Rome. If you haven't already seen them, my last few posts talked about How To Visit The Vatican Without Crowds and what we got up to when in Rome. So here goes… we arrived in Sorrento by train and ferry which took about two hours and I'm so glad we did now, because I honestly think it's one of the most beautiful places I have ever visited. The water is a gorgeous shade of blue, the scenery is something out of a film, and the food is ridiculously amazing. I mean, look how gorgeous it is!
Sorrento Main Square
Before our trip we researched where was best to stay once in the centre. Luckily we came across this beautiful B&B – Piazza Tasso and stayed for four nights. What we didn't know was that on arrival, the lovely landlady kindly upgraded us to the best room with a sea view, overlooking the main square. This allowed us to open the french doors, and eat on the balcony when having breakfast each morning. The room had a TV, bathroom, cleaning products and the cosiest bed you could imagine. Needless to say, we slept really well.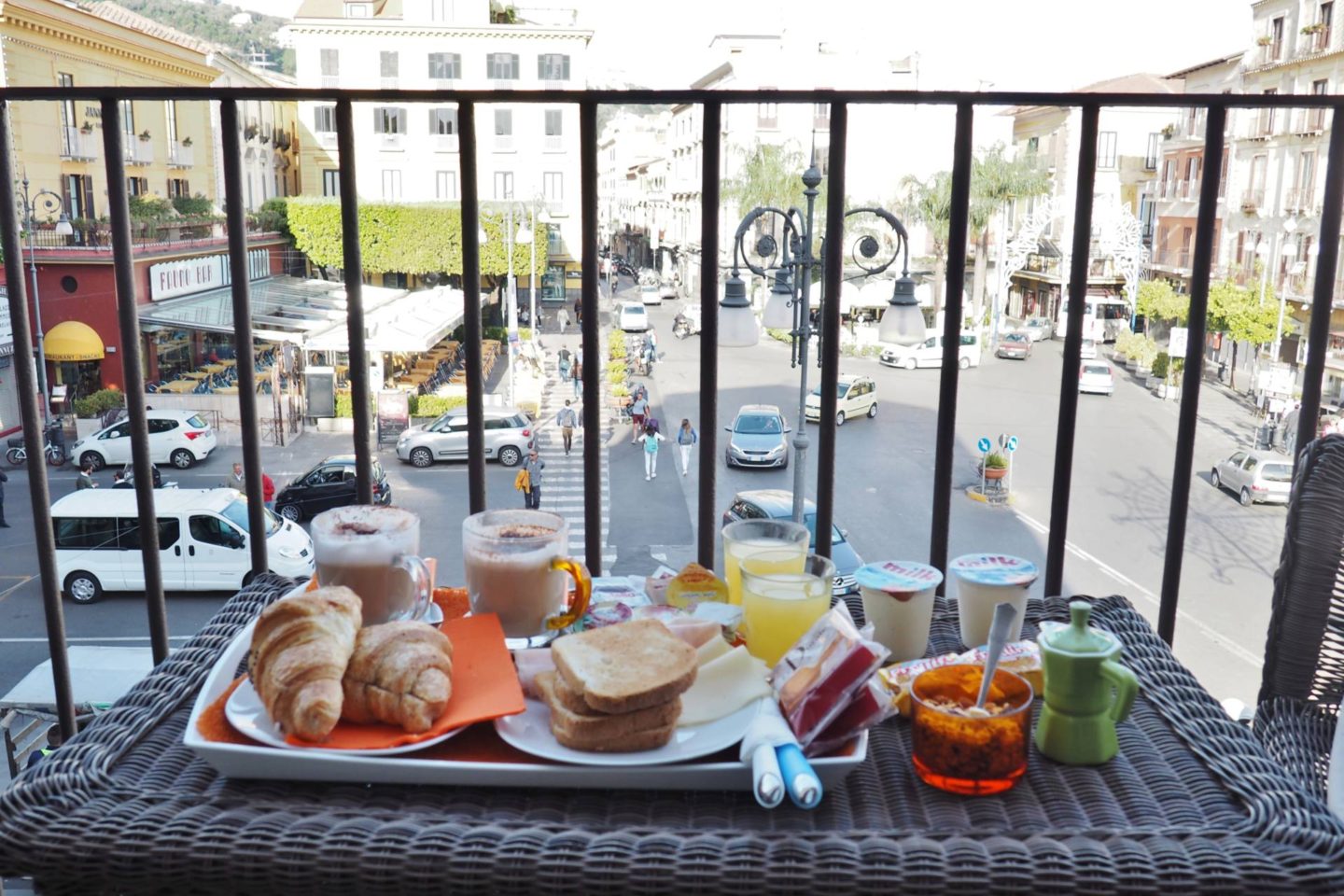 Breakfast was brought to the room each morning at our preferred time of 8am. I know we should have had a lie in but there is so much to see in Sorrento that we wanted to wake up early and start the day on a good note. The breakfast was incredible, coffees, croissants, juice, ham, cheese, yoghurts, biscuits – everything you need to fill your stomach for the day. I would happily go back to this B&B for the breakfast alone.
What we ate and drank
While in Sorrento, we ate the best food and drank tonnes of Limoncello – the famous lemon liquor which is sold by the bottle when walking around the local markets. Everywhere you look, there is just yellow drinks, yellow bars of soap, lemons… everywhere! Since we only had 4 nights before heading back to Rome, we wanted to eat the best grub the area has to offer. There are tonnes of restaurants dotted around the square and down the side streets and we ate at different places each night. As you would expect, the pasta and seafood was incredible. We dined at Porta Marina Seafood twice on different occasions, I would highly recommend the place. The fish is caught fresh and the portions are just phenomenal. It didn't cost loads either to have a really hearty meal with a beer. I want to go back now…
On other nights, we wondered around the buzzing streets that are filled with people looking for good bars and food. The market stalls and shops are open until late too, so you never feel unsafe walking around the area. Here's just a few more pictures of the type of food we ate and the things we saw while here…
Of course, we couldn't leave Sorrento without trying one of the best kebabs around. If you're ever visiting, definitely try out Kebab Ciampa, you won't leave disappointed. I hope you've enjoyed my little post of Sorrento, I've wanted to post about it for a while but I'm glad I've finally gotten around to doing so. Keep your eyes peeled for my upcoming posts on Positano and the Amalfi Coast, I'm really excited to share the final few posts with you. Have you visited Sorrento before or are you planning on going any time soon?